News
USA Wrestling
International
College
High School & Youth
Women
USAW
Still time to register for the USMC Women's Nationals in Spokane, April 14-16, with eight age-level events
by Gary Abbott, USA Wrestling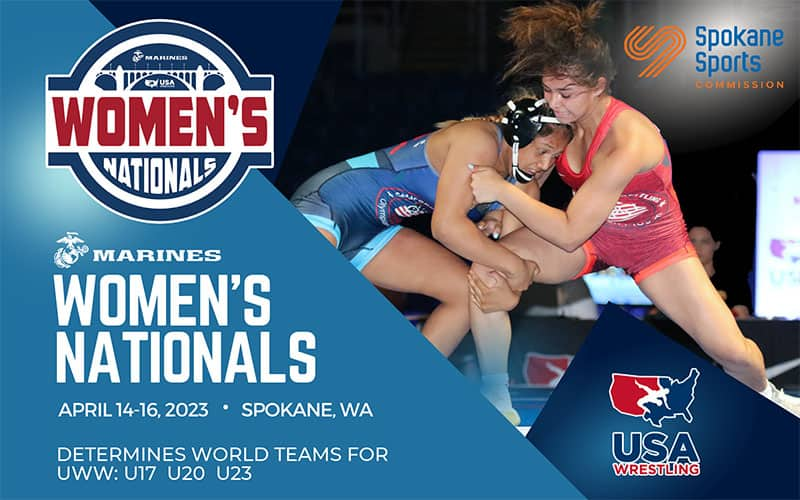 The nation's best age-group young women will compete at
U.S. Marine Corps Women's Nationals
at The Podium in Spokane, Wash., April 14-16.
The event will host
eight different age-group national competitions
over three days of high-quality action. There is still time for athletes from across the nation to register to compete.
Register for USMC Women's Nationals
The event will help determine the
U.S. World Teams
at three different age-levels (U17, U20, U23).
Champions of the U17 World Team Trials qualify to compete at the U17 World Championships in Istanbul, Turkey, July 31 – August 6.
Champions of the U20 World Team Trials qualify to compete at the U20 World Championships in Warsaw, Poland, August 14-20.
Champions at the U23 World Team Trials may compete at the U23 World Championships in Tampere, Finland, October 23-29, unless an age-eligible member of the 2023-24 U.S. Senior National Team chooses to compete at the weight class, as determined by the U23 World Team Selection Procedures.
The USA had a highly successful 2022 season in women's freestyle at the age-group levels, winning 14 age-group World medals including seven U20 World medals medals, four U23 World medals and three U17 World medals.
The U15 National Championships is a major qualifying event for the U15 Pan American Trials, which will held at a site and date later this summer to be announced. The winners of the U15 Pan American Trials will compete in the U15 Pan American Championships in Panama City, Panama, October 23-29.
The World Team Trials process is open to all U.S. citizens eligible to represent the United States of America at the World Championships as governed by United World Wrestling and USA Wrestling rules.
Athlete must be a United States citizen; and have completed USA sporting nationality with UWW prior to the athlete's World Team and Pan Am Games Tryout event.
For complete details on qualifying for a U.S. World or Pan American Team, please visit
USA Wrestling Team Selection Criteria
.
In addition, this is the freestyle national championships event for girls in the 8U, 10U, 12U and 14U age groups.
The USMC Women's Nationals is one of four events where athletes can get credit for the 2023 Girls 16U and Junior Triple Crown.
For athletes in grades 8-12, this event will greatly impact the next National Girls High School Rankings, which will be published in early May.
For more information, visit the
USMC Women's Nationals website
USMC WOMEN'S NATIONALS
At Spokane, Wash., April 14-16
Friday, April 14
Session 1
10:00 am - 2:30 pm - Preliminaries and Consolation - U23 Women and U17 Girls
Session II
3:30 pm – 7:30 pm - Session 2– Quarterfinals, Semifinals, and Consolation - U23Women and U17 Girls
Saturday, April 15
Session III
10:00 a.m. - 1:00 p.m. - Best 2 out of 3 Championship Finals and 3rd, 5th, 7th place matches - U23 Women and U17 Girls
10:00 am – 1:00 pm - Preliminaries and Consolation - 14U Girls
Session IV
2:00 pm - 7:30 pm - Preliminaries, Quarterfinals, Semifinals, and Consolations - U20 Women
2:00 pm – 6:00 pm - Semifinals, Consolations & All Medals - 14U Girls
Sunday, April 16
Session V
10:00 am – 2:00 pm - Preliminaries and Consolations - U15 Women
10:00 am- 1:00 pm - Consolation, Consolation-Semi, Best 2 out of 3 Finals and Placements - U20 Women
10:00 am – 3:00 pm – Preliminaries, Consolations & All Medals - 8U, 10U, 12U Girls
Session VI
3:00 pm – 6:30 pm - Quarterfinals, Semifinals, Consolations, & all Medals - U15 Women
2022 USMC WOMEN'S NATIONALS CHAMPIONS
8U
50 - Hanna Hensen (Michigan)
55 - Rosalie Wood (Pace Rockwall Training Center)
60 - Emma Yamamoto (Grapplers HI)
70 - Whitney Hensen (Michigan)
85 - Hannah Hocker (Legends of Gold Las Vegas)
10U
55 - Annabel Choo (Gracie Barra Westchase Wrestling Club)
60 - Paityn Mccann (Lady Outlaws
65 - Piper Weaver (Lady Outlaws)
70 - Bella Reyes (Top Dog Wrestling Club)
77 - Yamilette Hernandez (Top Dog Wrestling Club)
90 - Melissa Gallo (Gladiator Wrestling)
100 - Sarah Barajas (North Valley Predator Wrestling Club)
12U
65 - Vanessa Torres (Victory Wrestling-Central WA)
70 - Madyn Overman (Nebraska Wrestling Academy)
75 - Emma Grimes (Wyoming Seminary Wrestling Club)
80 - Addison Hunt (Texas Takedown Academy)
85 - Elle Changaris (Iron Horse Wrestling Club)
90 - Reana Spangler (Maize Wrestling Club)
95 - Kaydence Golding (Curby 3 Style Wrestling Club)
100 - Mercedes Carrasco (Caravan Kids Wrestling Club)
110 - Ava Guilmette (Connecticut)
127 - Lyla Hensen (Michigan)
14U
72 - Brynn Engel (Ringers Wrestling Club)
79 - Hailey Delgado (NXT Level Wrestling Academy)
85 - Morgan Turner (Toss Em Up Wrestling Academy)
92 - Bianca Eide (Pinnacle Wrestling Club)
97 - Lauren Elsmore (Twin Cities Regional Training Center)
101 - Charlie Wylie (New York)
105 - Stevie Joyce Martin (California)
110 - Danica Torres (Arizona)
119 - Kaili Manuel (Michigan Revolution Wrestling Club)
127 - Taina Fernandez (HeadHunters Wrestling Club)
136 - Matilda Hruby (Brighton Wrestling Club)
145 - Greta Garbuzovas (706 Wrestling)
185 - Millie Azlin (Team Tulsa Wrestling Club)
U15
33 kg - Brynn Engel (Ringers WC)
36 kg - Jaclyn Bouzakis (Florida)
39 kg - Morgan Turner (Toss Em Up Wrestling Academy)
42 kg - Bianca Eide (Pinnacle WC)
46 kg- Emma Bacon (Pennsylvania)
50 kg- Julianna Ocampo (Beast Mode WC)
54 kg - Isabella Marie Gonzales (Titan Mercury WC)
58 kg - Taina Fernandez (HeadHunters WC)
62 kg - Isis France (Arizona Girls Wrestling)
66 kg - Sarah Henckel (Team Tugman WC)
U17
40 kg - Megan Valdez (California)
43 kg – Erica Pastoriza (Wyoming Seminary WC)
46 kg – Gabriella Gomez (Illinois)
49 kg –Audrey Jimenez (Sunkist Kids WC)
53 kg – Elena Ivaldi (MatTime)
57 kg – Shelby Moore (Takedown Express WC)
61 kg – Valerie Hamilton (Sot-c)
65 kg – Lizzie Shunn (Champions WC)
69 kg – Jasmine Robinson (Best Trained Wrestling)
73 kg –Amarisa Manuel (Michigan Revolution WC)
U20
50 kg - Audrey Jimenez (Sunkist Kids WC)
53 kg - Katie Gomez (California)
55 kg - Adriana Dorado Marin (Army (WCAP)
57 kg - Sofia Macaluso (New York)
59 kg - Savannah Cosme (Sunkist Kids WC)
62 kg - Adaugo Nwachukwu (Swamp Monsters WC)
65 kg - Reese Larramendy (Wyoming Seminary WC)
68 kg - Destiny Rodriguez (All-Phase WC)
72 kg - Amit Elor (Titan Mercury WC/NYCRTC)
76 kg - Tristan Kelly (Army WCAP)
U23
50 kg - Nyla Valencia (Bulldog WC)
53 kg - Felicity Taylor (Titan Mercury WC)
55 kg - Alisha Howk (Sunkist Kids WC)
57 kg - Nichole Moore (Kansas)
59 kg - Brenda Reyna (Army WCAP)
62 kg - Macey Kilty (Sunkist Kids WC)
65 kg - Ashlynn Ortega (Team Tornado WC)
68 kg - Ana Luciano (Team Tornado WC)
72 kg - Amit Elor (Titan Mercury WC)
76 kg - Yelena Makoyed (Titan Mercury WC)