News
USA Wrestling
International
College
High School & Youth
Women
USAW
Elor, Welker, Blades, Shilson, Kilty among stars registered for USMC Women's Nationals in Spokane, April 14-16
by Gary Abbott, USA Wrestling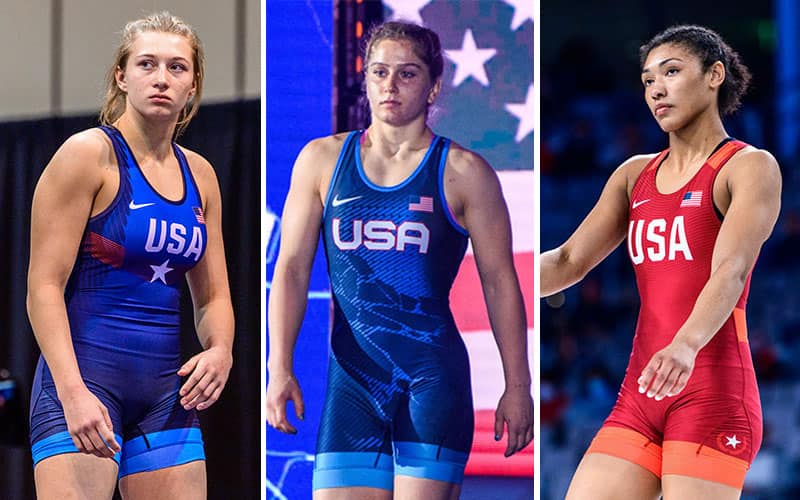 Competition portraits of Kylie Welker, Amit Elor and Kennedy Blades by Tony Rotundo, Wrestlers Are Warriors.

SPOKANE, Wash. – Registration is picking up for the
USMC Women's Nationals
in Spokane, Wash., but there still is time for athletes to enter and test themselves against the nation's best at their age division.
The event will host eight different age-group national competitions over three days of high-quality action. There is still time for athletes from across the nation to register to compete.
Register for USMC Women's Nationals
We will take a quick peak at the four age groups which are part of the U.S. Team Trials process: U23, U20, U17 and U15.
One of the top stars in the world,
Amit Elor
will return to seek repeat titles at the U20 and U23 levels. Elor became the first U.S. wrestler to win three age-group World titles in the same year in 2022, claiming Senior, U23 and U20 World titles last summer. Overall, Elor has won six UWW World titles (2022 Senior, 2022 U23, 2022 U20, 2021 U20, 2021 U17, 2019 U17Beach)
Another past U.S. Senior World Team member is registered in the U20 World Team Trials,
Kyle Welker
at 76 kg. Welker was second in the 2020 U.S. Olympic Team Trials and a 2021 U20 World champion.
Kennedy Blade
s, also a 2020 U.S. Olympic Team Trials runner-up and 2021 U20 World champion, is registered for the U20 Nationals at 76 kg.
Three-time age-group World champion
Emily Shilson
is registered at 50 kg at the U23 Nationals. Shilson won a 2018 U17 World title, and two World titles in 2021, U20 and U23. Shilson also was a 2018 Youth Olympic Games champion. Shilson is a five-time college national champion, with four NCWWC national titles and a WCWA national title.
Macey Kilty
, who has won five age-group World medals, including a 2018 U17 World title, is entered at 65 kg at the U23 level. Kilty has been a past member of the U.S. Senior National Team.
Katie Gomez
, a 2021 U17 World champion, is registered at 53 kg at the U20 Nationals.
As of earlier this morning, there are literally dozens of past age-group World medalists, ranked high school wrestlers and college All-Americans who have registered, with many more expected in the coming days.
Among the 2023 college national champions registered at this time are NCWWC champions Shilson of McKendree,
Katerina Lange
of Augsburg and
Marlynne Deede
of Augburg, NAIA champions
Adaugo Nwachukwu
of Iowa Wesleyan and
Kaylyn Albrecht
of Baker, plus NJCAA national champions
Victoriana-Catherine Kim
of Southwestern Oregon and
Ferny Hernandez
of Iowa Western.
Returning Women's Nationals champions who are registered at the same age level as last year include
Emma Bacon
(50 kg) and
Taina Fernandez
(58 kg) at the U15 Nationals plus
Gabriella Gomez
(49 kg) and
Jasmine Robinson
(69 kg) at the U17 Nationals. There are seven 2022 U20 champions registered to return:
Audrey Jimenez
(50 kg), Katie Gomez (53 kg),
Sofia Macaluso
(57 kg),
SaVannah Cosme
(62 kg), Adaugo Nwachukwu (62 kg),
Reese Larramendy
(65 kg) and Amit Elor (72 kg). At the U23 level, the four returning champions now registered are
Alisha Howk
(55 kg),
Nichole Moore
(57 kg), Macey Kilty (65 kg) and Amit Elor (72 kg).
USMC Women's Nationals website
USMC WOMEN'S NATIONALS HIGHLIGHTED ENTRIES
As of April 4, 2023 (10:00 a.m. MT)
(returning champions, high school rankings, college All-Americans, World medals)

U15 Nationals
42 kg
HS No. 26 Lilly Breeden MO Victory Wrestling
Hailey Delgado TX NXT Level Wrestling Academy – 2022 14U Nationals champion
50 kg
Emma Bacon PA Team Pennsylvania 2022 U15 champion
Stevie Joyce Martin CA Livermore Elite Wrestling Club 2022 14U champion
HS No. 30 Sara Pauls NY New York
54 kg
HS No. 19 Kaylyn Harrill NE The Best Wrestler
No. 25 Zorina Johnson OR West Hills Wrestling Club
Danica Torres AZ Arizona 2022 14U champion
58 kg
HS No. 5 Taina Fernandez MD HeadHunters Wrestling Club 2022 14U champion, 2022 U15 champion
62 kg
HS No. 29 Lilliana Banks WI Aviators Wrestling
HS No. 29 Timberly Martinez CO MJ Mustangs Wrestling
66 kg
Matilda Hruby CO Brighton Wrestling Club 2022 14U champion
HS No. 6 Leilani Lemus CA Red Wave Wrestling
Kaili Manuel MI Michigan Revolution Wrestling Club 2022 14U champion
U17 Nationals
43 kg
HS No. 1 Morgan Turner IL Sunkist Kids Wrestling Club – 2022 14U champion, 2022 U15 champion
HS No. 7 Katey Valdez CO Betterman Elite Wrestling
46 kg
HS No. 14 Brooke Corrigan WI Wisconsin
HS No. 2 Caley Graber MN Summit Wrestling Academy
HS No. 11 Leeana Mercado NJ NJ Scorpions Wrestling School, LLC
HS No. 6 Rianne Murphy IN Region Wrestling Academy
HS No. 19 Joely Slyter ID Team Idaho Wrestling Club
49 kg
Emma Bacon PA Team Pennsylvania 2022 U15 champion
HS No. 11 Gigi Bragg MI Michigan Revolution Wrestling Club
HS No. 6 Heather Crull IN Northeastern Wrestling Club
HS No. 4 Gabriella Gomez IL Illinois 2022 U17 champion
HS No. 20 Harlee Hiller IL Illinois
HS No. 19 Zeta Lee WA FordDynastyWrestlingClub
HS No. 8 Mary Manis FL Spartan RTC FL
Stevie Joyce Martin CA Livermore Elite Wrestling Club 2022 14U champion
HS No. 9 Libby Roberts WA Inland Northwest Wrestling Training Center
HS No. 5 Reanah Utterback IA Sebolt Wrestling Academy
HS No. 12 Jillian Worthen IA Immortal Athletics WC
53 kg
HS No. 6 Molly Allen IA The Best Wrestler
HS No. 5 Karlee Brooks AZ Arizona Girls Wrestling
HS No. 20 Leah Edwards NC Darkhorse Wrestling
HS No. 2 Isabella Marie Gonzales CA Wolf Den Wrestling Club 2022 U15 champion
HS No. 25 Zorina Johnson OR West Hills Wrestling Club
HS No. 11 Ashley Naranjo WA Ascend Wrestling Academy
HS No. 8 Angelina Vargas MO Greater Heights Wrestling
HS No. 3 Ava Ward MO Sunkist Kids Wrestling Club
HS No. 24 Savannah Witt PA Team Pennsylvania
57 kg
HS No. 17 Lilyana Balderas CA Sunkist Kids/Monster Garage
HS No. 19 Margaret Buurma MI Michigan Revolution Wrestling Club
HS No. 5 Carley Ceshker WI Ringers Wrestling Club
HS No. 3 Persaeus Gomez CO Pomona Elite (PWCC)
HS No. 23 Mia Hargrove CO Betterman Elite Wrestling
HS No. 21 Evelyn Holmes-Smith AL Assassins Wrestling
HS No. 2 Everest Leydecker AZ Thorobred Wrestling Club
HS No. 21 Ragan Retell NY Curby 3 Style Wrestling Club
HS No. 18 Samantha Sachs CA Glendora High School Wrestling
HS No. 7 Bella Williams OK Edmond North High School Wrestling
61 kg
HS No. 29 Lilliana Banks WI Aviators Wrestling
HS No. 28 Kiara Djoumessi IA U17 Women 61 Waverly Area Wrestling Club
HS No. 11 Jordyn Fouse PA U17 Women 61 Team Pennsylvania
HS No. 29 Timberly Martinez CO U17 Women 61 MJ Mustangs Wrestling
HS No. 2 Lauren Walton KY U17 Women 61 Carr Wrestling Academy
65 kg
HS No. 23 Sofia Delgado FL Florida
HS No. 28 Elly Janovsky IN Indiana
HS No. 3 Skylar Little Soldier MN Victory School of Wrestling
HS No. 25 May Prado GA Level Up Wrestling Center
HS No. 14 Marissa Rumsey PA Team Pennsylvania
HS No. 5 Skylar Slade IA Moen Wrestling Academy
69 kg
HS No. 8 Genevieve An GA Level Up Wrestling Center
HS No. 10 Sarah Henckel CT Connecticut 2022 U15 champion
HS No. 17 Skylur Lewis AR Arkansas
HS No. 2 Jasmine Robinson TX Allen High School Wrestling 2022 U17 champion
HS No. 28 Raegan Snider PA Team Pennsylvania
73 kg
HS No. 21 Alison Evans CO Betterman Elite Wrestling
HS No. 2 Piper Fowler TN Higher Calling Wrestling Club
HS No. 19 KyLee Lindsley MT Bozeman Wrestling Club
HS No. 17 Rachel Schauer WI Fennimore High School Wrestling
U20 Nationals
50 kg
NCWWC 2nd - Jenavi Alejandro NV Nevada
HS No. 9 Juliana Alejandro NV Nevada
NAIA 5th - Avery Ashley TX Firebrand Wrestling Club
HS No. 11 Gigi Bragg MI Michigan Revolution Wrestling Club
HS No. 6 Heather Crull IN Northeastern Wrestling Club
Sterling Dias NV Hawkeye Women's Wrestling Club
HS No. 2 Anaya Falcon CA Pounders WC
Emilie Gonzalez CA Hawkeye Women's Wrestling Club
NAIA 2nd - Erin Hikiji HI Argo Wrestling Club
HS No. 14 Alexsys Jacquez CO Betterman Elite Wrestling
HS No. 1 Audrey Jimenez AZ Sunkist Kids Wrestling Club 2022 U17 champion, 2022 U20 champion
NCWWC 2nd - Sage Mortimer UT Titan Mercury Wrestling Club (TMWC)
NAIA 2nd - Mia Palumbo IL Illinois
NCWWC 6th - Kaelani Shufeldt CA Orange County RTC
HS No. 3 - Valarie Solorio PA Team Pennsylvania
HS No. 2 Kiely Tabaldo CA Royalty Wrestling Club
Nyla Valencia CA Hawkeye Women's Wrestling Club 2022 U23 champion
NAIA 6th - Karina Vang CA Tiger Wrestling Club
53 kg
HS No. 5 Karlee Brooks AZ Arizona Girls Wrestling
Katie Gomez CA Sunkist Kids Wrestling Club 2022 U20 champion
NCWWC 6th - Emily Klein NJ New Jersey
HS No. 4 Alexis Montes TX Montwood High School Wrestling
NJCAA 2nd - Flavia Nagatani 53 Iowa
HS No. 8 Angelina Vargas MO 53 Greater Heights Wrestling
HS No. 24 Savannah Witt PA 53 Team Pennsylvania
55 kg
HS No. 23 Mia Hargrove CO Betterman Elite Wrestling
NJCAA champion - Victoriana-Catherine Kim HI Hawaii Wrestling Academy
HS No. 7 Olivia Moreno TX 3F Wrestling
HS No. 22 Brooklyn Pace UT Champions Wrestling Club
HS No. 4 Carissa Qureshi CA Orange County RTC
57 kg
HS No. 21 Karianne Baldwin WA Ascend Wrestling Academy
HS No. 9 Anna DiCugno WA White River Hornets Wrestling Club
NCWWC 7th - Ally Fitzgerald NY New York
NCWWC 6th - Sofia Macaluso NY New York 2022 U20 champion
HS No. 1 Shelby Moore WA White River Hornets Wrestling Club 2022 U17 champion
NAIA 3rd - Cristelle Rodriguez CA Tiger Wrestling Club
59 kg
Korina Blades IL Sunkist Kids Wrestling Club
HS No. 6 Piper Cadden AZ Thorobred Wrestling Club
HS No. 20 Alessandra Elliott NY Tottenville High School Wrestling
HS No. 3 Emily Frost NY Curby 3 Style Wrestling Club
HS No. 2 Janida Garcia CO Swamp Monsters Wrestling Club
HS No. 7 Kylie Rule WI Team Nazar Training Center
NAIA 2nd - Sarah Savidge CO Colorado
NCWWC 8th - Lily Sherer PA Team Pennsylvania
HS No. 1 Emily Sindoni NY Spartan Combat RTC
62 kg
SaVannah Cosme CO Sunkist Kids Wrestling Club 2022 U20 champion
HS No. 12 Morgan Edwards PA Blairstown Wrestling Club
HS No. 14 Kaidance Gerg ID Team Idaho Wrestling Club
HS No. 26 Caroline Gilstrap SC Daughters Of Zion Wrestling
HS No. 3 Taylor Graveman SD South Dakota
Skylar Hattendorf NH New Hampshire
HS No. 8 Allyssa Johnson ND Grand Forks Gladiators Wrestling Club
HS No. 25 Aileen Lester AK Alaska
Lilly Luft IA Immortal Athletics WC
No. 10 Alondra Morales WA Ascend Wrestling Academy
NAIA champion - Adaugo Nwachukwu CA Swamp Monsters Wrestling Club 2022 U20 champion
HS No. 9 Nicole Poussier WA White River Hornets Wrestling Club
NCWWC 3rd - Paige Wehrmeister MO BullTrained Wrestling
65 kg
HS No. 23 Sofia Delgado FL Florida
HS No. 29 Paityn Delong VT Curby 3 Style Wrestling Club
'22 NCWWC 6th - Claire DiCugno WA White River Hornets Wrestling Club
HS No. 5 Elleni Johnson UT Army (WCAP)
HS No. 21 Maddie Kubicki MO Victory Wrestling
Reese Larramendy NV Hawkeye Women's Wrestling Club 2022 U20 champion
HS No. 15 Zoey Lints NY New York
HS No. 3 Skylar Little Soldier MN Victory School of Wrestling
HS No. 11 Ruby Rios WA Washington
NCWWC 4th - Grace Stem PA Pennsylvania
68 kg
HS No. 4 Mia Furman ID Team Idaho Wrestling Club
HS No. 7 Maggie Graham TN Bluff City Wrestling Club
NCWWC champion - Katerina Lange MN Twin Cities Regional Training Center
NCWWC 5th - Nina Makem MN Minnesota Storm
Isabella Mir NV Hawkeye Women's Wrestling Club
NCWWC 8th - Madison Sandquist TX Rise RTC
HS No. 28 Raegan Snider PA Team Pennsylvania
72 kg
HS No. 30 Trinity Bouchal AZ Arizona Girls Wrestling
Amit Elor CA Titan Mercury Wrestling Club (TMWC) 2022 U20 champion, 2022 U23 champion
HS No. 18 Brynn Green MI Michigan Revolution Wrestling Club
HS No. 11 Alexandra Hofrichter WI Antigo Wrestling Club
NAIA 8th - Desiree Jones CA California
NJCAA 3rd - Suravieve Robertson AR ARK Angels Wrestling Club
HS No. 3 Stella Steigler VA Hornet Wrestling Club
HS No. 4 Haley Ward MO MO West Championship Wrestling Club
76 kg
Kennedy Blades IL Sunkist Kids Wrestling Club
HS No. 5 Rose Cassioppi IL Illinois
HS No. 16 Alyssa Favara PA Bishop McCort High School Wrestling
NCWWC 6th - Brooklyn Hays UT Utah
HS No. 1 Sabrina Nauss MI Michigan Revolution Wrestling Club
HS No. 4 Naomi Simon IA Iowa
NCWWC 7th - Jacklyn Smith CT South Side Wrestling Club
Kylie Welker WI Hawkeye Women's Wrestling Club
HS No. 2 Alivia White WA Washington
U23 Nationals
50 kg
NAIA 4th - Elizabeth Dosado VA Patriot Wrestling Club
HS No. 2 Anaya Falcon CA Pounders WC
HS No. 1 Audrey Jimenez AZ Sunkist Kids Wrestling Club 2022 U17 champion, 2022 U20 champion
NCWWC 2nd - Sage Mortimer UT Titan Mercury Wrestling Club (TMWC)
NCWWC champion - Emily Shilson MN Titan Mercury Wrestling Club (TMWC)
NCWWC 6th - Kaelani Shufeldt CA Orange County RTC
HS No. 2 Kiely Tabaldo CA Royalty Wrestling Club
53 kg
NJCAA 6th - Kendall Martin OR Sandy High School Wrestling
National Team No. 2 - Felicity Taylor IL Hawkeye Women's Wrestling Club 2023 U23 champion
55 kg
Alisha Howk WI Sunkist Kids Wrestling Club 2023 U23 champion
NAIA 2nd - Alana Vivas CA 55 Menlo Wrestling Club
57 kg
NCWWC 3rd - Mia Macaluso NY New York
Nichole Moore KS U23 Women 2022 U23 champion
NJCAA 2nd - Emma Truex OR Northwest Wrestling Club
59 kg
HS No. 6 Piper Cadden AZ Thorobred Wrestling Club
Xochitl Mota-Pettis TX Rise RTC
NCWWC 8th - Lily Sherer PA Team Pennsylvania
62 kg
NAIA 4th - Waipuilani Estrella-Beauchamp HI Argo Wrestling Club
HS No. 25 Aileen Lester AK Alaska
NAIA champion - Adaugo Nwachukwu CA Swamp Monsters Wrestling Club 2022 U20 champion
NAIA 7th - Louisa Schwab CA California
NCWWC 3rd - Paige Wehrmeister MO BullTrained Wrestling
65 kg
Macey Kilty WI Sunkist Kids Wrestling Club 2023 U23 champion
NCWWC 5th - Nina Makem MN Minnesota Storm
NCWWC 4th - Grace Stem PA Pennsylvania
68 kg
NAIA champion - Kaylynn Albrecht TX Texas
NJCAA champion - Ferny Hernandez IA SWIFT Wrestling Club
NCWWC champion - Katerina Lange MN Twin Cities Regional Training Center
72 kg
NCWWC champion - Marlynne Deede UT Minnesota Storm
Amit Elor CA Titan Mercury Wrestling Club (TMWC) 2022 U20 champion, 2022 U23 champion
76 kg
NCWWC 4th - Cara Broadus CT KT Kidz Wrestling Club
NCWWC 6th - Brooklyn Hays UT Utah
NCWWC 7th - Jacklyn Smith CT South Side Wrestling Club