News
USA Wrestling
College
USAW
Illinois announces plans for Illinois Wrestling Training Center, a $14 million facility to be completed in late 2025
by Kent Brown, Illinois Athletics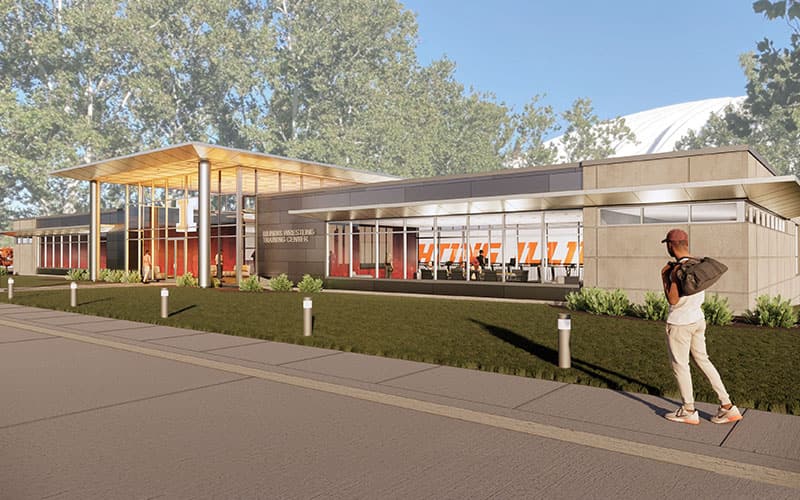 Artist rendering of Illinois Wrestling Training Center courtesy of Illinois Athletics
$10 Million in Donations Lead Effort for Latest Addition to Illini Athletics Facilities
CHAMPAIGN, ILL – The
Fighting Illini wrestling program
is set to receive a best-in-class facility following today's announcement of the
Illinois Wrestling Training Center
by Illinois Director of Athletics Josh Whitman. In the coming months, DIA will present the project for formal approval by both institutional authorities and the University's Board of Trustees.
"Wrestling is one of our most storied programs at the University of Illinois," Whitman said. "For generations, Fighting Illini Wrestling has competed at a high level, including a run of All-Americans that is virtually unmatched, with facilities that do not meet our standard of excellence. It has taken us years of evaluating, planning, and fundraising, but we are so pleased to deliver to our wrestling program a facility of this caliber. This facility, combined with Coach Mike Poeta's leadership, will propel our program to new heights."
The $14 million Illinois Wrestling Training Center will be located on the south lawn of State Farm Center, directly across St. Mary's Road from the Illinois Conference Center. It will feature approximately 19,000 square feet of space, including a wrestling room with three mats, strength and conditioning and sports medicine facilities, team locker room, coaches' locker room and offices, and a multipurpose meeting room. Another $1.3 million in site work and improvements to State Farm Center parking will be included in this project. Groundbreaking is scheduled for spring 2024, with completion expected in late 2025.
"With this facility, the University of Illinois is demonstrating its commitment to Fighting Illini Wrestling," Poeta said. "The Wrestling Training Center will be state-of-the-art and is a reflection of the quality of wrestlers and character of the students involved in our program – past, present and future. The support we have received from the wrestling community, donors and alumni has been unprecedented. As the head coach, I am honored beyond words to be part of this journey. This collective effort by so many makes our goals of winning Big Ten and NCAA titles more attainable."
As part of today's news, Illinois Athletics announced $10 million in private philanthropic support for the Illinois Wrestling Training Center. In particular, Whitman recognized three sets of donors, Mark and Carol Mestemacher, Ron and Melody Domanico, and Doug and Allison Waggoner, who made substantial gifts to bring the Illinois Wrestling Training Center to fruition.
"From the beginning of my tenure almost seven years ago, we have been humbled by the generous support of so many people who have made our ambitious facilities agenda possible, and this project was yet another example," said Whitman. "Illinois Wrestling has a number of passionate, loyal followers, led by the Mestemachers, the Domanicos and the Waggoners. Without them, we are not in this position, and I cannot thank them enough for supporting this bold initiative to advance our wrestling program."
"I am truly excited about the future of Illinois Wrestling as this facility will be a huge benefit in the wrestling experience of our current and future Illini wrestlers," said Mark Mestemacher. "I am so thankful for the perseverance and persistence of our Athletic Director Josh Whitman and his staff in making this facility become a reality. It has been a long road to get to this point and the can-do attitude that Josh, Howard Milton, Coach Poeta and many more Illini faithful exhibited in the last two years needs to be applauded. I don't believe a facility has ever won a championship, but I do believe facilities go a long way in drawing recruits to a program, and this facility will elevate Coach Poeta and his staff's ability to draw even more top-notch wrestlers to the University of Illinois program. This truly is an exciting day for Illini Wrestling."
"The state of Illinois produces some of the best wrestlers in the nation, and this new wrestling facility will attract, develop, and retain top student-athletes who will positively impact our communities for generations," said Ron Domanico. "We are proud to be a part of it."
"Illinois Wrestling has the privilege of competing in the Big Ten, which has long had a reputation for having the toughest competitors in the world," said Doug Waggoner. "Illinois Wrestling is putting all the pieces together to rise to the top of the conference and the entire NCAA wrestling field. Getting a world-class facility is an important ingredient for training our athletes and achieving our goals."
Illini wrestlers have trained and worked out at Huff Hall for decades, where competitions were held until matches were moved to State Farm Center starting with the 2021-22 season. The Fighting Illini have had at least one wrestling All-American for 30 consecutive years, with four NCAA qualifiers from 2022 returning for the upcoming season. Poeta has seven starters returning, including All-American Lucas Byrd (133).