News
USA Wrestling
International
Beach
College
USAW
Box, Garvin, Stemmet place fifth at Beach World Series in France
by Gary Abbott, USA Wrestling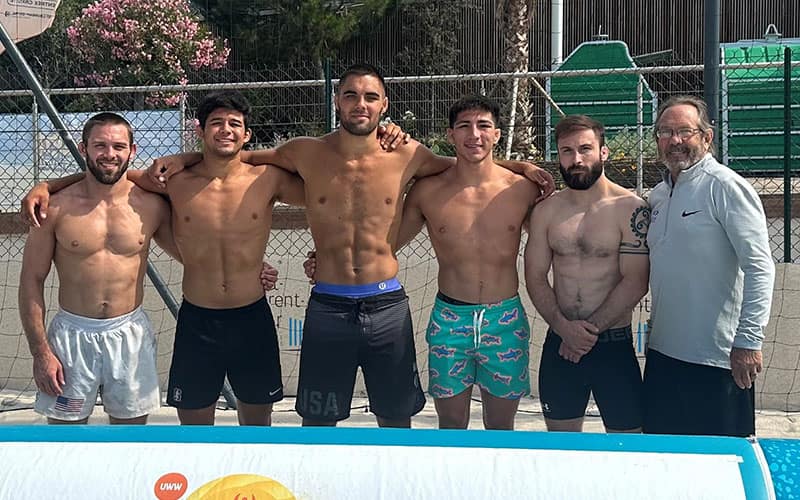 U.S. Beach World Series Team in France (l to r): Mitchell Cook, Hunter Garvin, Nick Stemmet, Daniel Cardenas, Tim Box, Rusty Davidson. Photo courtesy of Tim Box.
SAINT-LAURENT-DU-VAR, France – Three U.S. men wrestlers placed fifth in their weight class at the UWW
Beach World Series
in France on Friday.
Placing fifth for Team USA were
Tim Box
at 70 kg,
Hunter Garvin
at 80 kg and
Nikolas Stemmet
at 90 kg.
Saturday morning featured the third round of the Group competitions. None of the five U.S. wrestlers competing in Saint-Laurent-Du-Var were able to advance to the elimination bracket, which featured four wrestlers based upon Group competition results.
Box won his only match on Friday, stopping fellow U.S. wrestler Mitchell Cook with a pin in 33 seconds. Box finished the tournament with a 2-1 record and was second in Group B, but did not score enough classification points to reach the elimination bracket.
Garvin was defeated in his final more Group A match by Nika Kentchadze of Georgia, who is currently ranked No. 1 in the Beach World Series rankings at 80 kg. Garvin finished with a 1-3 record for the tournament and was third in Group A.
Stemmet lost his final Group A match to the No. 1 ranked wrestler at this weight class Ibrahim Yusubov of Azerbaijan,.3-0. Stemmet ended up with a 2-2 record for the tournament.
Placing eighth in their weight classes were
Mitchell Cook
of Illinois (70 kg) and
Daniel Cardenas
of Colorado (80 kg). Cook finished with a 1-2 record and was third in Group B. Cardenas was beaten in his knockout round match by Garvin, his only bout of the event.
Cook and Box are veterans of the Beach World Series, while Stanford teammates Garvin, Stemmet and Cardenas were wrestling in their first Beach World Series. This was the third of five UWW Beach World Series events for the 2023 season.
BEACH WORLD SERIES SAINT LAURENT DU VAR

At Saint-Laurent-Du-Var, France, June 30


Men's medalists
70 kg
Gold - Oleksii Boruta (Ukraine)
Silver - Yunus Coskun (Turkey)
Bronze - Ramiz Hasanov (Azerbaijan)
80 kg
Gold - Nika Kentchadze (Georgia)
Silver - Vasile Diacon (Moldova)
Bronze - Vasyl Mykhailov (Ukraine)
90 kg
Gold - Ibrahim Yusubov (Azerbaijan)
Silver - Mahmut Seyfi Ozkaya (Turkey)
Bronze - Dato Piruzashvili (Georgia)
Over 90 kg
Gold - Fatih Yasarli (Turkey)
Silver - Mamuka Kordzaia (Georgia)
Bronze - Oyan Nazariani (Azerbaijan)
Women's medalists
50 kg
Gold - Emine Cataloglu (Turkey)
Silver - Yuliia Zasulska (Ukraine)
Bronze - Justine Fanny Vigouroux (France)
60 kg
Gold - Daria Medvetska (Ukraine)
Silver - Sofiia Kushnir (Ukraine)
Bronze - Joséphine Haemmerle (France)
70 kg
Gold - Oksana Herhel (Ukraine)
Silver - Olena Nikitinska (Ukraine)
Bronze - Agoro Papavasileiou (Greece)
Over 70 kg
Gold - Angelique Gonzalez (France)
Silver - Liudmyla Pavlovets Tychyna (Ukraine)
Bronze - Stefania Zacheila (Greece)
U.S. Senior Men's Results
70 kg: Mitchell Cook, Orland Park, Ill., 8th place
LOSS Ramiz Hasanov (Azerbaijan), 3-1, 1:16
WIN Clement Gonzalez (France), pin 1:35
LOSS Timothy Box (USA), pin 0:33
70 kg: Timothy Box, Oceanside, Calif., 5th place
WIN Clement Gonzalez (France), 3-2 1:19
LOSS Ramiz Hasanov (Azerbaijan), 3-1, 1:12
WIN Mitchell Cook (USA), pin 0:33
80 kg: Daniel Cardenas, Arvada, Colo., 8th place
LOSS Hunter Garvin (USA), 3-0, 2:36
80 kg: Hunter Garvin, Iowa City, Iowa, 5th place
WIN Daniel Cardenas (USA), 3-0, 2:36
LOSS Vasile Diacon (Moldova), 3-1, 2:26
LOSS Traian Capatina (Moldova), 4-1, 2:23
LOSS Nika Kentchadze (Georgia), 3-0, 0:33
90 kg: Nikolas Stemmet, Yorkville, Ill. , 5th place
WIN Kostiantyn Zadoainchuk (Ukraine), 1-1, 3:00
WIN Mathis Mayrand (France), 3-0, 1:43
LOSS Mahmut Ozkaya (Turkey), pin 3:42
LOSS Ibrahim Yusubov (Azerbaijan), 3-0, 1:08