News
USA Wrestling
International
Women
USAW
Dan Gable, Clarissa Chun named Honorary Team USA World Cup Coaches in Coralville, December 10-11
by Nick Pfeiffer, Think Iowa City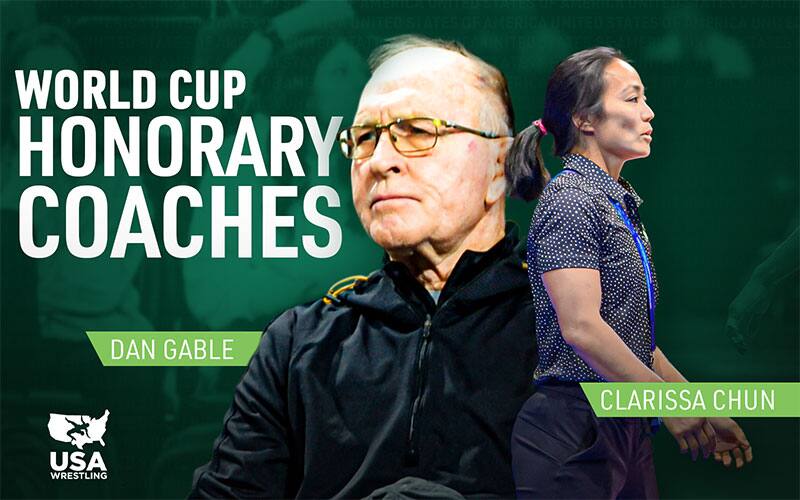 (Coralville, IA) – November 21, 2022 –
USA Wrestling
announced today that
Dan Gable
and
Clarissa Chun
will serve as honorary coaches at the
UWW Freestyle and Women's World Cup
at Xtream Arena in Coralville December 10-11. It is the first time that men's freestyle and women's freestyle will be held together side-by-side at the World Cup.
"It is an honor. A big piece of my journey through the Team USA system and then my journey here at Iowa is all because of the collaboration and opportunities provided by USA Wrestling," said Chun. "Doing this alongside Coach Gable -- anytime you can be around that man it's a blessing. He is a genius, he is the best, and I always look forward to the opportunity to learn from him."
The World Cup is the annual international dual meet championships, conducted by United World Wrestling. The top five teams in men's freestyle and the top five teams in women's freestyle from the 2022 Senior World Championships in Belgrade, Serbia in September have confirmed their participation. There is also an All World Team in each discipline, featuring the top available athlete from the World Championships in each weight class that were not from a nation which qualified for the World Cup.
"I'm really honored. But especially to share this stage with Coach Chun," said Gable. "In my day there weren't many women wrestling. We are at a point now where our sport is expanding. Iowa should be proud of the history we are making by hosting this event."
During Gable's legendary coaching career at the University of Iowa, he coached 152 all-Americans, 45 national champions, 106 Big Ten Champions, 12 Olympians, and 8 Olympic medalists. His teams won 21 Big Ten Conference championships and 15 NCAA titles. He is a three-time Olympic head coach (1980, 1984 and 2000). The 1984 Olympic team, which featured four Hawkeyes, won seven gold medals. He was an assistant freestyle coach at the 1976 and 1988 Olympics. Gable also served as head coach of the World Team in 1977, 1978, 1979, 1983, 1994 and 1999, as well as 10 World Cup teams winning three team golds in the World Cup competition. Gable also coached the U.S. team to a bronze medal at the 1986 Goodwill Games and has led several all-star teams to Europe and the Soviet Union.
Chun is the first head coach of the University of Iowa women's wrestling team. She previously was an assistant coach on the women's national team from 2017-21 where she helped lead the United States to 17 World medals, including seven gold, four silver, and six bronzes, as well as an Olympic gold, Olympic silver, and two Olympic bronzes. A two-time Olympian, she took fifth at the 2008 Beijing Games before earning a bronze medal at the 2012 London Games, competing at 48 kg. Chun wrestled at five Senior World Championships, which included a gold-medal performance at the 2008 Worlds in Tokyo. She also competed at the 2000, 2009, 2011 and 2012 World Championships.
During her career, Chun won five U.S. Open titles. She was a 2011 Pan American Games silver medalist and won four gold medals at the Pan American Championships. She was a runner-up at four U.S. World Team Trials and three U.S. Opens, in a career which spanned 18 years competing at the Senior level.
"The World Cup is the most-fun event on the world stage because it is dual-meet style just like we see at the college or high school level. You get to stand alongside your teammates on the world stage," added Chun. "Then you add in the fact that it's men and women alongside of each other – that hasn't ever happened! History is being made in Iowa."
"You don't have to be a wrestling fan to get into this," added Gable. "Look at the teams that are coming here. Iowa is putting the world back together."
Tickets to the UWW Freestyle and Women's Wrestling World Cup are available at
WorldCupCoralville.com
or the Xtream Arena box office.