News
USA Wrestling
International
High School & Youth
Beach
USAW
Indiana Hungary Tour Blog: Three more days of training and exploring the Hungarian lake community
by Team Indiana delegation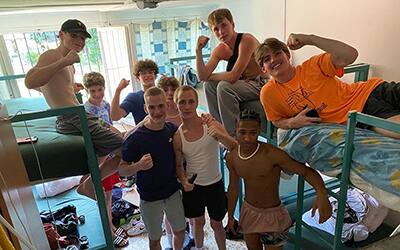 The Indiana boys in the bunk house. Photo courtesy of Danny Struck.July 1 Update: Day 3.5 and 4
Wrapping up Friday, Coach Lou Silverman (North Central, Indiana) said "I am watching the relationships with the Hungarians and Americans blossom and I'm excited to see these relationships grow even after we leave."
The training has been intense! One on Tuesday evening. Then two on Wednesday and two on Thursday. Last night, Wednesday evening, after Missouri left we spent and afternoon at the beaches of Lake Valence, followed by dinner and "second dinner" as the kids were famished.
We had a cookout where a host family cooked out over an open fire. The kids loved an evening of "pork goulash" together before spending more time together and hitting bed.
The 7:00 am wake up call on Friday came early as we spent another morning doing mostly calisthenic exercises on the basketball court. Not one kid has complained yet about the "off the mat training."
"(Hungarian coach) Gabor always says "hot torture" with a smile on his face". These workouts are strengthening my mentality," said Noah Cain.
Then we break for lunch and came back for a beach wrestling workout. Chris Arnold (north centra Indiana) says that the Beach workouts are "fun and creative, and give me a new style to improve on. I kinda like getting dirty. It's a different feel for wrestling, different from a mat. It's fun adapting to a new style."
We have now had three Beach Wrestling practices conducted by the Hungarian coaches in preparation for Saturday's Hungarian Beach wrestling tourney.
"Training for beach wrestling, with coaches that have done it before is super interesting. They have strategies and tactics through through before hand that make the practices interesting and informative immediately," said Coach Struck."
Once lunch came, the team got some free time. Many boys broke off with the Hungarian team for beach time. Others caught up on sleep due to thr time change. But coaches Tom Bartle, Danny Struck and teammates Collin Cain, Aiden Stellato, Chris Arnold and Oliver Wilson took off on bikes around Lake Valence.
Oliver Wilson (North Central, Indiana) said "we rode out a few miles, and rented a paddle boat with a slide. It was fun seeing the country side on the bike."
Coach Bartle and Struck (Jeffersonville. Indiana) continued the 22 miles around Lake Valence riding through the small towns surrounding the lake.
Night time came and the teams all gathered together again for a Hot Dog cookout in the courtyard of the sports camp for a late dinner.
All boys are excited about Saturdays Beach wrestling tourney and a trip on Sunday into Budapest city. After 5 practices and all the travel, and new friends. The team is ready for the first competition tomorrow in Soltvadkert Hungary.
June 28 update from Hungary: Long travel day followed by unique first two days of trainingDay One -
We had a meeting at 10:30 am on Monday morning and arrived Tuesday morning in Hungary.
Team Indiana spent 24 hours traveling to find their final destination at Lake Valence, Hungary! For many kids simply the experience of travel was unique! Two athletes had never traveled and six had never left the country. Furthermore, we believe all 11 of them had never been overseas to Europe. So with that, 11 wrestlers and 3 coaches left the continent!
The coaches for this trip are our Cultural Exchange Director Lou Silverman, ISWA State coach Danny Struck, and Team Jeff Wrestling Club Coach Tom Bartle. There is no shortage of travel experience with the coaching staff.
Coach Lou has traveled for years with Team Indiana, wrestling in Israel and coaching in Poland. Coach Struck has been to 24 countries, three of those being for USA Wrestling age group worlds and 3 age group pan and; while Coach Bartle used to run security detail for two different presidents helicopters while a Marine. Zeke Moon said "I have had lots of fun traveling with all my new friends and to meet new people. I'm loving seeing new things that I don't see back home- people are very nice and I'm happy to be here!"
Team Indiana Members:
Team Jeff wrestling club: Aiden Stellato, Zeke Moon, Noah and Colin Cain, and Hyden Bartle
Southmont Wrestling club: Marlin Williams, Maddox Cade
North Central Wrestling Club: Oliver Wilson and Chris Arnold
Carmel USA: Eli Penquitte, Alex Ryan
After stops in Atlanta, Paris, and Budapest, our wrestlers were final picked up by the head coach of the Buda wrestling club, Gabor Birkozasute from Buda, and taken to the a sports club by Lake Valence to live and train.
On night one, we had our first practice on the basketball courts, which was all stand-up wrestling and conditioning. Our practices are eye-opening to our new travelers as they are finding ways to take what is given and run with it. Limiting the ways of training opens up a whole world of training! The kids worked for an hour and a half on "on your feet drills", strength training and conditioning drills, before breaking and spending two hours on the beach at Lake Valence. We ended with dinner with some traditional Hungarian Meat and Potatoes topped with meat sauce. The kids spent the remainder of the evening talking and trading languages. "
It's always amazing how kids don't need a langauge. They wrestle, they play, and they show us that language doesn't have a barrier as far as kids are concerned" said coach struck.
Team Indiana is learning how good teams can be with less resources. Training and conditioning works when you make it work!
Day 2 -
Team Indiana woke up and started practice again at 7:30 a.m.
After an hour long of standing wrestling drills, conditioning drills and calisthenics, a break was taken for breakfast consisting of traditional European cold cuts and rolls. By 10:00 a.m., Indiana was back at practice, but this time being accompanied by Team Missouri and Ohio.
Being a part of the US GRIT (Greco Roman Initiative Team), GRIT members Coach Marty Hauck (Rolla, Mo.), Coach Bryan Church (Columbus, Ohio), Coach Rusty Davison (Grants, N.M.) and Coach Danny Struck (Jeffersonville, Ind.) all made it a point to meet on this day for training. These four USA Wrestling gold level coaches got together to make their tour trips cross.
"We like to make the world a little smaller for our kids, wrestling can make kids from around the world seem a little closer to home," said Coach Struck.
Led by the Hungarian staff, this practice consisted of soccer, strength training on outdoor gymnastics equipment, and beach wrestling.
"The practices are fun and practicing with Hungarians is cool, I like seeing how they wrestle," said Oliver Wilson.
Afterwards, the wrestlers are taking a break from training for a beach afternoon before a cookout with the Hungarian team.
"I love watching our kids training with kids from other places. So far, I think that these experiences are going to last a lifetime. I'm really looking forward to the Hungarian National Beach Wrestling Championships and looking forward to our stay in Budapest, " said Coach Lou Silverman.
The second half of day two and more on day three to come!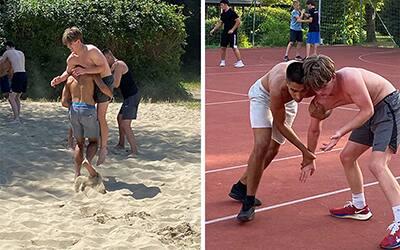 Training on the beach and on the soccer field, Photos courtesy of Danny Struck