News
USA Wrestling
International
Women
High School & Youth
Beach
USAW
Elliott wins silver, Michaelson and Riner get bronze medals at U17 Beach World Championships in Romania
by Gary Abbott, USA Wrestling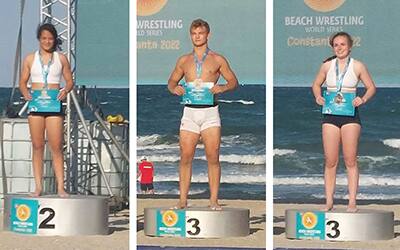 2022 U17 Beach World medalists from the USA: Alessandra Elliott (silver), Lars Michaelson (bronze), Ciara Riner (bronze). Photos by Cheryl Baynard.

CONSTANTA, Romania – The United States had a great day at the U17 Beach World Championships at Mamaia Beach on Thursday afternoon, coming home with three medals.
Claiming a silver medal at 60 kg in the women's division was
Alessandra Elliott
of Staten Island, N.Y. in the women's division. Adding bronze medals were
Lars Michaelson
of Bremerton, Wash. at 80 kg in the men's division and
Ciara Riner
of Huntington, W.Va. at 60 kg in the women's division.
Elliott was edged in the finals by Florintina Mantog of Romania by a 3-1 score. Elliott finished with a 4-2 record. She placed second in Group A, but reached the finals after defeating teammate Riner in the semifinals.
Riner was the winner of Group B, and went into the bronze-medal bout after the loss to Elliott. She won the bronze medal with a 2-2 decision over Lily Cohen of France.
Michaelson won his bronze medal with a 51 second pin over Arthur Giacomazzi of France. He was second in Pool A. His only two losses came to eventual champion Anar Jafarli of Azerbaijan, in the Group rounds and in the semifinals.
The other U.S. entry in the event,
Kane (Foley) Devall
of New Bern, N.C. placed 10th at 80 kg in the men's division.
With the three U17 World Beach medals this year, the USA has won a total of five U17 World medals since the event was created. The only U.S. wrestler to win a U17 World Beach gold medal was Amit Elor of Walnut Creek, Calif., the Over 50 kg champion in 2019.
In the final National Girls High School rankings of 2021-22, Elliott was ranked No. 21 at 127 pounds and Riner was ranked No. 28 at 127 pounds.
The USA placed fourth in the women's team standings with 20 points. Only the highest place winner from each nation in each weight class scores points. With Elliott and Riner in the same weight class, only Elliott's points were in the team total. Romania won all four women's gold medals, and dominated the team standings.
The U.S. placed in a tie for seventh among the men, based upon Michaelson's points. Azerbaijan scored the most points in the men's standings and swept all four gold medals.
The U20 Beach World Championships will be held on Friday. Team USA is expected to enter nine athletes, including seven women and two men. Elliott is scheduled to also enter the U20 Worlds.
UWW Beach Wrestling website
Information on Beach Worlds on UWW website
U17 BEACH WORLD CHAMPIONSHIPS
At Constanta, Romania, September 1

Women's U17 medalists
40 kg
Gold - Diana Boiculescu (Romania)
Silver - Bianca Iancau (Romania)
50 kg
Gold - Alexandra Voiculescu (Romania)
Silver - Ana Maria Gianina Rotaru (Romania)
Bronze - Juliette Camille Lescure (France)
60 kg
Gold - Florentina Georgiana Mantog (Romania)
Silver - Alessandra Elliott (USA)
Bronze - Ciara Paige Riner (USA)
70 kg
Gold - Maria Magdalena Pantiru (Romania)
Silver - Ionela Georgiana Cojocaru (Romania)
Bronze - Florentina Georgiana Biru (Romania)
Men's U17 medalists
50 kg
Gold - Huseyn Sevdimov (Azerbaijan)
Silver - Gaspard Camille Cheynoux (France)
Bronze - Marcel Andronache (Moldova)
60 kg
Gold - Ziya Goyushov (Azerbaijan)
Silver - Ionut Triboi (Moldova)
Bronze - Adam Alhafez (Romania)
70 kg
Gold - Vusal Aliyev (Azerbaijan)
Silver - Ilias Rafail Karmavas (Greece)
Bronze - Kaloyan Atanasov Atanasov (Bulgaria)
80 kg
Gold - Anar Jafarli (Azerbaijan)
Silver - Ion Laurentiu Marcu (Moldova)
Bronze - Lars Michaelson (USA)
U.S. U17 women's results
60 kg – Ciara Riner, Huntington, W.Va., bronze medal
WIN Florentina Mantog (Romania), pin 0:08
WIN Evangelia Tranou (Greece), pin, 0:55
WIN Leana Serra (France), 3-2, 1:00
LOSS Alessandra Elliott (USA), pin, 0:08
WIN Lily Cohen (France), 2-2, 3:00
60 kg – Alessandra Elliott, Staten Island, N.Y. (Tottenville High School), silver medal
WIN Silviana Popescu (Romania), 0:37
WIN Madalina Prisacari (Moldova), pin 0:18
LOSS Lilya Cohen (France), pin, 1:17
WIN Florentia Rotaru (Romania), 3-2, 1:45
WIN Ciara Riner (USA), pin 0:08
LOSS Florentina Mantog (Romania), 3-1, 0:57
U.S. U17 men's results
80 kg – Lars Michaelson, Bremerton, Wash. (NWWC), bronze medal
WIN Jozsef Jeresztesi (Romania), fall 0:35
WIN Constantin Badea (Romania), fall, 0:11
LOSS Anar Jafarli (Azerbaijan), 3-2, 1:43
LOSS Anar Jafarli (Azerbaijan), 3-0, 1:03
WIN Arthur Giacomazzi (France), pin 0:51
80 kg – Kane (Foley) Devall, New Bern, N.C., 10th place
LOSS Andrei Cazacu (Romania), fall, 0:54
LOSS Arthur Giacomazzi (France), 3-0, 0:45
LOSS Lars Olaussen (Norway), 3-0, 0:55
Women's Team Standings
1. Romania, 100
2. France, 27
3. Greece, 21
4. United States, 20
5. (tie) Slovenia and Ukraine, 9
7. Moldova, 8
Men's Team Standings
1. Azerbaijan 100
2. Moldova, 61
3. France, 48
4. Romania, 47
5. Greece, 26
6. Norway, 18
7. (tie) Bulgaria and United States, 15
UWW U17 Beach World Medals from the USA
(2019-present)
Women
Amit Elor, Walnut Creek, Calif. (2019 U17 Worlds Gold at Over 50 kg)
Alessandra Elliott, Staten Island, N.Y. (2022 U17 Silver, 60 kg)
Ciara Riner, Huntington, W.Va. (2022 U17 Bronze, 60 kg)
Men
Caspian Grabowski, Pacifica, Calif. (2019 U17 Worlds, Bronze at Over 70 kg)
Lars Michaelson, Bremerton, Wash. (2022 U17 Bronze, 80 kg)