News
USA Wrestling
High School & Youth
Women
USAW
Bommarito repeats as USMC Junior National champion, California continues their reign as Junior National team champions
by Koral Sugiyama, Special to TheMat.com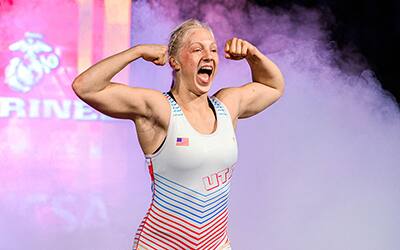 Photo of Brooklyn Hays of Utah running through the tunnel before her Junior finals match at 164 pounds. Photo by Tony Rotundo/WrestlersAreWarriors.

FARGODOME, N.D.––The USMC Women's Nationals came to an end this afternoon at the conclusion of the Junior division. The arena was loud with the competitors' teammates cheering from the moment the All-Americans were presented until the last whistle at 225 pounds.
No. 7 pound-for-pound wrestler and now back-to-back Junior Nationals champion Eliana Bommarito of Brighton, Mich. defeated last year's 16U runner-up Dasia Yearby of Wellford, S.C. Yearby tried to throw Bommarito as she was being pushed out of bounds right off the whistle. Bommarito landed on top for four points. Yearby got a takedown and turn herself, but Bommarito ended it early as she drove through Yearby for a 1:21 pin.
After winning, Bommarito held up a sign that read "ADD 235", "#GrowWomensWrestling" and "#EveryBODY." In her interview she stated that she had to drop weight just to be able to compete at 225 pounds. The highest women's weight is not just an obstacle at the high school level. Collegiately, the heaviest weight is 191 pounds which is forcing many girls' wrestling careers to end after high school. Many of the nation's top athletes are not able to compete internationally either, with the heaviest weight being 76 kg (167.2 lbs). Bommarito was the only 2021 Junior Nationals champion to repeat this year.
Two states earned their first Junior Women's National champion—Nevada and Massachusetts.
University of Iowa signee Sterling Dias of Las Vegas, Nev. defeated Makennah Craft of Urbana, Ohio who is ranked No. 21 at her weight. The two previously wrestled in the finals of 2020 Super 32s where Dias defeated Craft, 9-2.
Dias was awarded the first point, but with a snap down to a go-behind, Dias captured the first takedown of the match. In the second period, pressure on the edge got Dias another two points and a pushout. Craft's first points came from a step out and a fleeing penalty which left her still trailing 9-2. With ten seconds left, Craft scored another two with a crotch lift, but it's not enough to stop Nevada from earning their first Junior women's title, by a 9-4 margin.
Skylar Hattendorf of Hooksett, N.H, who competes with Team Massachusetts, wrestled Amitria McNack out of Clinton, Missouri. Hattendorf racked up a quick eight points out of the gate and another takedown in the second minutes gave her the 10-0 tech over McNack for the 138-pound national title. Neither Massachusetts nor New Hampshire previously had a Junior National champion.
FloWrestling handed out their coveted Who's Number One Golden Tickets to two champions—Alexandra Szkotnicki and Janida Garcia.
At 112 lbs, Szkotnicki of Maryland defeated Easton, Pa. rising sophomore Aubre Krazer. Szkotnicki chased the corner from a standing front headlock into the single to capture the first two points. A perfectly timed level change and attack to Krazer's lead leg gave Szkotnicki her third takedown. Krazer got on the board with her own single leg attack to bring the score 6-2 with only 40 seconds left, but the Maryland star held onto the two-on-one until the clock ran out. The traditional Maryland rubber chicken was thrown onto the stage as Szkotnicki became the state's first Junior National women's champion since Helen Maroulis in 2008. Maroulis became the first U.S. woman to win an Olympic gold medal.
No. 2 Janida Garcia from Lathrop, Calif. defeated Skylar Little Soldier of Welch, Minn. in the 132-pound final bout of highly ranked stars. Garica scored the first two points after exposing Little Soldier as she tried to scramble out of Garcia's leg attack. Garcia earned a takedown to lead 4-0 in the first period. She got another quick takedown after the second-period whistle blew and unsuccessfully attempted to turn her with a bow and arrow. They were brought back to their feet and Little Soldier got her first score of the match with a takedown; she tried to transition into a leg lace on the edge, but was unable to get the ankles crossed. With 20 seconds left, Little Soldier got another takedown and the ref blew the whistle before she was able to get the exposure. Time ran out to solidify Garcia's defeat over Little Soldier, a two-time16U Nationals champion 6-4.
Minnesota's other two-time 16U champion, Ella Pagel, also fell in the finals. At 164 pounds, Brooklyn Hays of Linden, Utah attacked low and finished. Pagel came in for a double and powered through to finish with a big suplesse, but got caught and gave Hays two more points. Hayes stopped Pagel again when she attempted a lateral-drop and another two points were added for Hayes. The Augsburg signee capitalized off of Pagel's attack once more to spin behind Pagel's shot for an 8-0 lead. Hayes pushed for the step-out on the edge, but when Pagel pressured back, the Utah wrestler took Pagel down for an outstanding 10-0 tech-fall. This is a mighty feat for Hays who has only been wrestling less than two years after switching to wrestling from her high school basketball team as a junior.
Three 2022 16U champions did double-up this week, adding a 2022 Junior Nationals title—Mishell Rebisch, Sabrina Nauss, and Savannah Isaac.
Rebisch of Washington, Mich. pinned Stella Steigler of Orange, Va. for the 152-pound title. Steigler opened the match powerfully and snapped Rebisch where she pushed her out for one point. Steigler scored another takedown from her single leg for a 4-0 lead. Rebisch shut it all down though when she tripped Steigler to her back with a confirmed pin at 1:57.
Nauss, of Brighton, Mich., took down Alivia White of Lake Stevens, Wash. on the edge to start out the 180-pound final match. White got a takedown of her own along with an exposure, but Nauss came back with another takedown to tie the score 4-4. White took the lead back when she crotch-lifted Nauss, but Nauss ended any doubt when she took White to her back for the fall in 3:25.
Savannah Isaac of Toledo, Ohio scored the first takedown on 2021 Junior Nationals champion Sam Calkins of California. With the clock counting down its last seconds in the first period, Calkins powered through Isaac for her own two points. Isaac came back from the break to recapture the lead with a push-out. Isaac went for a head-an-arm. The refs called it for a slip and Isaac needed injury time. The two returned back to the match with 53 seconds left and Isaac leading 3-2. Isaac was able to hold the lead and stop Calkins attacks, and double up her 220-pound national titles.


At 106 lbs, No. 7 Clare Booe of Tarpon Springs, Florida wrestled two-time state champion Aspen Blasko of Forest Lake, Minn. The two wrestled each other here in Fargo last year in the 16U quarterfinals, where Blasko won 5-2.
Booe earned the first takedown off Blasko's attack. Blasko attempted the same attack twice more and Booe caught her arm each time. Blasko's shoulder flexibility saved her and she only gave up a takedown. With another takedown before the break and another after the break, Booe scored a technical fall over Blasko, 10-0.
At 117 pounds, Juliana Diaz of Orlando, Fla. defeated Alexis Montes of El Paso, Texas. Diaz won their last meeting at U20 Women's Nationals in a challenge deciding match, 13-11. Diaz, who will attend Missouri Baptist in the fall, captured her first takedown and ran right into a cradle. Montes fought off her back and soon returned the favor and put Diaz to her back, but was also unsuccessful in the pin attempt. Diaz captured another takedown with the same cradle lock up late in the second period for another takedown and defeated Montes 6-2 for the 117-pound title.
The 122-pound final bout featured Cadence Diduch of Freeport, Ill. and Emily Sindoni from Nichols, N.Y. This was Diduch's third time under the Mat 1 finals spotlight. She was 16U champion last year and runner-up on Sunday in the 2022 16U finals against Skylar Little Soldier from Minnesota at 127 pounds
Diduch scored the first takedown with a leg attack. Sindoni slid in for two fireman carries and was rewarded exposure on the second. Diduch captured two more points after finishing an attack and leg laced her way to a Junior National title to a 12-2 technical fall.
Junior Folkstyle National champion Sarah Savidge of Colorado Springs, Colo. wrestled Pennsylvania state champion Jordyn Fouse of Roaring Springs, Pa. in the 127-pound final bout. Three double legs gave Savidge an eight point lead in the first period, and another double leg 20 seconds into the second period earned Savidge the 10-0 technical fall.
At 144 pounds, Sydney Perry from Batavia, Ill. wrestled Michigan's Clarissa Agostini from Ontario, Canada, a U.S. citizen who competes for Michigan. Perry overpowered Agostini in an upper body fight for the first confirmed points in the match. Agostini earned two points for herself. After getting back to their feet, Perry shot in and finished out the backdoor for two points for a 6-2 lead at the break. Perry sprawled and scored off of another one of Agostini's shots for another two points. The Michigan wrestler answered each of Illinois's scores with her own and brought herself to trail 13-10 with 10 seconds left. Agostini exposed Perry one more time, but it wasn't enough as Perry won the 144-pound title, 13-12.

California won the team title with 165 points, maintaining its traditional dominance in women's Junior wrestling. The Golden State had one champion, but a total of 18 All-Americans. Michigan was second with 122 points, and Illinois third with 106 points. Rounding out the top five were Missouri and Texas.

The 16U Men's Greco-Roman second session is already underway. Brackets can be followed along on FloWrestling. For any other Fargo updates, visit our USMC 16U and Junior Nationals Special Section.
USMC JUNIOR WOMEN'S NATIONALS
At Fargo, N.D., July 20, 2022.
100
1st Sterling Dias (Nevada) dec. Makennah Craft (Ohio), 9-4
3rd Gigi Bragg (Michigan) fall Rianne Murphy (Indiana), 3:34
5th Mia Zuniga (Washington) fall Avy Perez (California), 0:25
7th Makenize Smith (Indiana) tech fall Erin Hikiji (Hawaii), 16-6 3:00
106
1st Clare Booe (Florida) tech fall Aspen Blasko (Minnesota), 10-0 3:25
3rd Ava Ward (Missouri) dec. Chloe Dearwester (Ohio), 6-0
5th Mikayla Garcia (California) dec. Jenavi Alejandro (Nevada), 7-5
7th place match Jasmine Luedtke (Iowa) tech fall Alexsys Jacquez (Colorado), 10-0 4:37
112
1st Alexandra Szkotnicki (Maryland) dec. Aubre Krazer (Pennsylvania), 6-2
3rd Karlee Brooks (Arizona) tech fall Cecilia Williams (Michigan), 10-0 5:04
5th Kiely Tabaldo (California) tech fall Avery Ashley (Texas), 10-0 2:35
7th place match Janessa George (Colorado) fall Diana Gonzalez (California), 6-1 3:29
117
1st Juliana Diaz (Florida) dec. Alexis Montes (Texas), 6-2
3rd Bella Williams (Oklahoma) dec. Torieonna Buchanan (Indiana), 3-2
5th Isabella marie Gonzales (California) fall Arieana Arias (California), 2:45
7th place match Fernanda Lopez (Texas) fall Kira Cole (Ohio), 5:50
122
1st Cadence Diduch (Illinois) tech fall Emily Sindoni (New York), 12-2 2:57
3rd Alyssa Randles (Idaho) tech fall Zao Estrada (South Carolina), 12-2 3:43
5th Haylie Jaffe (Pennsylvania) tech fall Alejandra Valdiviezo (California), 10-0 4:35
7th place match Anna Krejsa (Indiana) tech fall Savannah Witt (Pennsylvania), 10-0 1:00
127
1st Sarah Savidge (Colorado) tech fall Jordyn Fouse (Pennsylvania), 10-0 3:22
3rd Alexis Janiak (Illinois) dec. Ella Jauregui (California), 6-4
5th Natasha Markoutsis (Illinois) tech fall Jaclyn Dehney (Massachusetts), 10-0 2:54
7th Ayana Medina (Oregon) fall Estella Gutches (Oregon), 1:05
132
1st Janida Garcia (California) dec. Skylar Little soldier (Minnesota), 6-4
3rd Alicen Dillard (Texas) dec. Zoe Griffith (New York), 6-0
5th Taylor Fierbach-graveman (South Dakota) inj dft Taydem Khamjoi (California)
7th Ella Schmit (Iowa) fall Camryn Brown (Connecticut), 10-2 4:31

138
1st Skylar Hattendorf (Massachusetts) tech fall Amitria Mcnack (Missouri), 10-0 1:33
3rd Netavia Wickson (Illinois) fall Liv Wieber (Idaho), 1:05
5th Alessandra Elliott (New York) VIN Kryssceah Ravenelle (Rhode Island), 0-0 0:00
7th Nicole Poussier (Washington) fall Gianna Dibenedetto (California), 5:02
144
1st Sydney Perry (Illinois) dec. Clarissa Agostini (Michigan), 13-12
3rd Maddie Kubicki (Missouri) dec. Nebi Tsarni (Maryland), 11-9
5th Allyssa Johnson (North Dakota) fall Caitlyn Davis (South Carolina), 3:44
7th Elleni Johnson (Utah) fall Savannah Gomez (California), 2:04
152
1st Mishell Rebisch (Michigan) fall Stella Steigler (Virginia), 1:57
3rd Eduarda Rodrigues (California) tech fall Johanna Forman (California), 10-0 3:40
5th Genevieve An (Georgia) dec. Aspen Barber (Colorado), 9-4
7th place match Rose Cassioppi (Illinois) tech fall Delise e Villa (California), 12-0 2:20
164
1st Brooklyn Hays (Utah) tech fall Ella Pagel (Minnesota), 10-0 5:02
3rd Shannon Workinger (Washington) fall Yasmine Kalilly Oliveira (Alabama), 0:44
5th Piper Fowler (Tennessee) fall Naomi Simon (Iowa), 12-1 4:56
7th place match Haley Ward (Missouri) tech fall Jael Miller (Pennsylvania), 10-0 1:48
180
1st Sabrina Nauss (Michigan) fall Alivia White (Washington), 3:25
3rd Katelyn Lewis (Wisconsin) fall Isabella Renfro (Missouri), 1:06
5th Maliya Castillo (California) dec. Tirza Twoteeth (Montana), 12-4
7th Henlee Haynes (Florida) dec. Taylor Knox (Colorado), 14-7
200
1st Savannah Isaac (Ohio) dec. Sam Calkins (California), 3-2
3rd Riley Dempewolf (Indiana) dec. Madeline Welch (Texas), 2-1
5th Mariyah Brumley (Missouri) fall Brooke Bennett (Missouri), 1:36
7th Ella Murphey (Tennessee) fall Zoe Adam (South Dakota), 2-0 1:02
225
1st Eliana Bommarito (Michigan) fall Dasia Yearby (South Carolina), 1:21
3rd Rewa Chababo (Texas) fall Kiara Ganey (Illinois), 1:10
5th Alysse Phillips (California) dec. Andrea Smith (Florida), 7-1
7th Karla Padilla Zepeda (Utah) fall Ciara Monger (Colorado), 2:42
Team standings
1 California 165
2 Michigan, 122
3 Illinois, 106
4 Missouri, 83
5 Texas, 74
6 Florida, 62
7 Minnesota, 60
8 Ohio, 59
9 Pennsylvania, 53
10 (Tie) Indiana and Washington, 49
12 Colorado, 43
13 New York, 41
14 South Carolina, 39
15 Maryland, 37
16 Utah, 35
17 (Tie) Massachusetts and Nevada, 32
19 Idaho, 27
20 Virginia, 20
21 Iowa, 17
22 (Tie) Arizona, Oklahoma and Wisconsin, 15
25 Tennessee, 14
26 Alabama, 12
27 South Dakota, 11
28 (Tie) Georgia and North Dakota, 9
30 (Tie)Montana, Oregon and Rhode Island, 7
33 Connecticut and Hawaii, 2
Outstanding Wrestler
152 - Mishell Rebisch of Michigan at 152
Most falls in the least amount of time
164 - Katelyn Lewis of Wisconsin with 6 pins in 4:16