News
USA Wrestling
High School & Youth
Women
USAW
Day 4 Preview: Junior athletes take over the mats with day 1 of women's freestyle plus the men's freestyle finals
by Koral Sugiyama and Adam Engel, USA Wrestling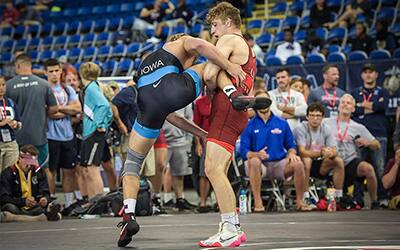 Connor Mirasola of Wisconsin secures a high single in the Junior Nationals semifinals. Photo by Jennifer Peterson.
The women are back on the mats again Tuesday morning, with the start of the Junior Women's division, before breaking for the 1 p.m. Junior Freestyle finals. Then the Junior women return to wrestle through the quarterfinals on Tuesday evening.
WHAT'S NEW: Junior women's freestyle begins their 20th year at nationals
.
Junior women celebrate their 20th year in the FargoDome, and the growth since year one has been exponential. In 2002, 103 athletes began the national championship journey. This year, 992 weighed in. This is a jump of 330 from last year. There's no denying how the growing number of sanctioned states has affected the numbers and the level of wrestling here at Fargo.
Not only that, a huge number of ranked high school girls have come to put it on the line, including many graduated seniors. Winning the Junior Nationals is a major accomplishment, and the top high school women are here to battle for stop signs.
Four returning champions look to repeat in the Junior women's freestyle division. They are Alexis Janiak of Illinois at 127, Savannah Gomez of California at 144, Sam Calkins of California at 180 and Eliana Bommarito of Michigan at 225.
Isabella Marie Gonzales of California at 117 is the only Triple Crown eligible wrestler that will be competing.
Several 16U champions from Sunday will also compete in the Junior division. They are Katey Valdez of Colorado at 94, Rianne Murphy of Indiana at 100, Ava Ward of Missouri at 106, Skylar Little Soldier of Minnesota at 127, Nebi Tsarni of Maryland at 144, Mishell Rebisch of Michigan at 152, Ella Pagel of Minnesota at 164, Sabrina Nauss of Michigan at 180 and Savannah Isaac of Ohio at 200.
WHAT FINISHES: Junior Men's freestyle champions will be crowned

The Junior Men's freestyle national finals have been set, with three wrestlers hunting for a repeat title: Hunter Taylor of Missouri (113), Kannon Webster of Illinois (132) and Joshua Barr of Michigan (170). Three other wrestlers are looking to win the second leg of the Triple Crown, Mack Mauger of Idaho (106), Cory Land of Alabama (132) and Aden Attao of Idaho (285).
Junior Men's Freestyle Final Pairings
100 - Javaan Yarbrough (Ohio) vs. Tyler Garvin (Maryland)
106 - Mack Mauger (Idaho) vs. Kolter Burton (Idaho)
113 - Hunter Taylor (Missouri) vs. Deion Johnson (Illinois)
120 - Caden Horwath (Michigan) vs. Nathanael Jesuroga (Iowa)
126 - Mason Gibson (Pennsylvania) vs. Luke Stanich (New Jersey)
132 - Kannon Webster (Illinois) vs. Cory Land (Alabama)
138 - Ryder Block (Iowa) vs. Ismael Ayoub (Ohio)
145 - Beau Mantanona (California) vs. Kyle Dutton (Missouri)
152 - Cody Chittum (Tennessee) vs. Ty Whalen (New Jersey)
160 - Aiden Riggins (Iowa) vs. Nicco Ruiz (California)
170 - Joshua Barr (Michigan) vs. Rocco Welsh (Pennsylvania)
182 - Connor Mirasola (Wisconsin) vs. AJ Heeg (Oklahoma)
195 - Cody Merrill (California) vs. Rylan Rogers (Idaho)
220 - Kolby Franklin (Iowa) vs. Bradley Hill (Iowa)
285 - Aden Attao (Idaho) vs. Dillan Johnson (Illinois)
The team race is probably over, since Iowa has 176 points, followed by California with 102, Pennsylvania with 97, Idaho with 87 and New Jersey with 75. Iowa punched five athletes into the finals, and have eight other All-Americans, giving them 13 on the podium this year. The 220 pound champion will be from Iowa, as Kolby Franklin and Bradley Hill both made the finals. The next team in terms of All-Americans are California and Wisconsin with nine. It has been a great year for Iowa, which won both styles at the Junior Duals this year. Their Fargo t-shirts have the signature of the late Mark Reiland on it, who served many years as Iowa state chair before his passing.
TUESDAY'S SCHEDULE
:
9:00 a.m. - 12:00 p.m. — Junior Women: Session I — Preliminaries and Consolations
1:00 p.m. - 3:30 p.m. — Junior Freestyle: Session V — Finals, Medal Matches, & Awards
4:00 p.m. - 3:30 p.m — Junior Women: Session III — ⅛ Championship, Quarterfinals and Consolations