News
USA Wrestling
College
USAW
Three No. 1 seeds power Wisconsin to Midlands lead over host Northwestern as semifinals are set
by Adam Engel, Special to the TheMat.com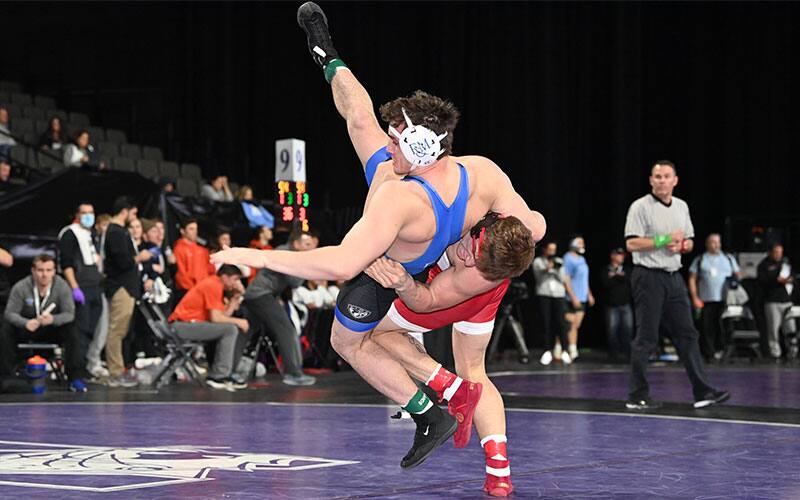 Braxton Amos (Wisconsin) tosses John Crawford (F&M) in the Midlands quarterfinals. Photo by Sam Janicki.
A
Wisconsin
party in Illinois.
The Badgers lead the
Midlands Championships
after the first day with six semifinalists and 78.5 points.
Northwestern
, the hometown squad, sits second at 73 points with four semifinalists.
Three top-seeded Badgers rolled through their brackets with nine bonus point wins in nine matches. Star sophomore Dean Hamiti used two pins and a major decision to meet Northern Illinois' Izzak Olejnik in Saturday's semifinal at 165 pounds.
Another No. 1 seeded Badger, Eric Barnett, did the same at 125. He tallied two major decisions along with a technical fall. Rutgers' Dean Peterson awaits him in the semifinal.
At 197, Braxton Amos sped through the day with two pins and a technical fall. Amos will scrap with Pittsburgh's Mac Stout in the semifinals. A brother vs brother final remains possible with Princeton's Luke Stout in the other semifinal.
Unseeded Drew Scharenbrock of Wisconsin also advanced to the semis at 157 pounds. He spent 79 seconds on the mat for his first two bouts. Scharenbrock will get the test of Rutgers' Andrew Clark, another upset-heavy competitor. Clark beat No. 1 Anthony Artalona of Penn, 5-3, in overtime.
Badgers heavyweight Trent Hilger found himself in the semifinals in a wrecked bracket. In the same weight, Pittsburgh's Dayton Pitzer earned one of the day's biggest upsets with a 4-0 win over Arizona State's Cohlton Schultz. Northwestern All-American Lucas Davison will see SIU Edwardsville's Colton McKiernan in the other semifinal.
Schultz became an NCAA finalist last season and Pitzer entered unseeded. The Panther exposed Schultz with a full second-period ride.
Schultz and Artalona are the only No. 1 seeds into the consolation round.
Rounding out the top five teams are
Pittsburgh
in third with 61.5 points,
Rutgers
in fourth with 60 points and
Penn
in fifth with 58 points.
The action resumes 11 a.m. CT Saturday with the semifinals, consolation bouts and the seventh-place match. The first Midlands women's division begins at the same time.
Every bout will be streamed on Big Ten Network Plus and can be viewed here. (https://www.bigtenplus.com/en-int/playerpage/1560837)
MIDLANDS CHAMPIONSHIPS
At Hoffman Estates, Ill.

Semifinal pairings (with seeds)
125 pounds
No. 1 Eric Barnett (Wisconsin) vs No. 4 Dean Peterson (Rutgers)
No. 3 Killian Cardinale (West Virginia) vs No. 2 Brandon Courtney (Arizona State)
133 pounds
No. 1 Lucas Byrd (Illinois) vs No, 4 Michael Colaiocco (Penn)
No. 3 Chris Cannon (Northwestern) vs No. 7 Ryan Crookham (Lehigh)
141 pounds
No. 1 Cole Matthews (Pittsburgh) vs Saul Ervin (SIU Edwardsville)
Josh Edmond (Missouri) vs No. 2 Sammy Alvarez (Rutgers)
149 pounds
No. 1 Kyle Parco (Arizona State) vs Caleb Tyus (SIU Edwardsville)
No. 3 Doug Zapf (Penn) vs No. 2 Yahya Thomas (Northwestern)
157 pounds
No. 8 Andrew Clark (Rutgers) vs Drew Scharenbrock (Wisconsin)
No. 3 Trevor Chumbley (Northwestern) vs No. 2 Garrett Model (Wisconsin)
165 pounds
No. 1 Dean Hamiti (Wisconsin) vs No. 5 Izzak Olejnik (Northern Illinois)
No. 6 Dan Braunagel (Illinois) vs No. 2 Quincy Monday (Princeton)
174 pounds
No. 1 Edmond Ruth (Illinois) vs No. 5 Alex Cramer (Central Michigan)
No. 3 Nick Incontrera (Penn) vs Daniel Wask (Navy Prep)
184 pounds
No. 1 Brian Soldano (Rutgers) vs No. 5 Jaritt Shinhoster (Wisconsin-Whitewater)
No. 3 Anthony Carman (West Virginia) vs No. 2 Reece Heller (Pittsburgh)
197 pounds
No. 1 Braxton Amos (Wisconsin) vs No. 4 Mac Stout (Pittsburgh)
No. 3 Luke Stout (Princeton) vs No. 2 Zac Braunagel (Illinois
Heavyweight
Dayton Pitzer (Pittsburgh) vs No. 3 Trent Hillger (Wisconsin)
No. 6 Colton McKiernan (SIU Edwardsville) vs No. 2 Lucas Davison (Northwestern)
Quarterfinal results (with seeds)
125 pounds
No. 1 Eric Barnett (Wisconsin) maj. dec. No. 8 Sheldon Seymour (Lehigh), 13-4
No. 4 Dean Peterson (Rutgers) dec. No. 5 Ryan Miller (Penn), 3-2
No. 3 Killian Cardinale (West Virginia) dec. Markel Baker (George Mason), 12-6
133 pounds
No. 1 Lucas Byrd (Illinois) dec. No. 9 Julian Chlebove (Arizona State), 4-0
No. 4 Michael Colaiocco (Penn) dec. No. 5 Taylor Lamont (Wisconsin), 8-1
No. 3 Chris Cannon (Northwestern) dec. Hunter Adrian (Brown), 4-1
No. 7 Ryan Crookham (Lehigh) dec. No. 2 Joe Heilman (Rutgers), 2-1
141 pounds
No. 1 Cole Matthews (Pittsburgh) dec. No. 9 Joe Olivieri (Rutgers), 2-1
No. 2 Brandon Courtney (Arizona State) dec. No. 7 Blake West (Northern Illinois) 4-3
Saul Ervin (SIU Edwardsville) dec. No. 4 Jesse Vasquez (Arizona State), 6-3
Josh Edmond (Missouri) dec. No. 6 Brian Courtney (Unattached), 3-2
149 pounds
No. 1 Kyle Parco (Arizona State) dec. No. 9 Johnny Lovett (Central Michigan), 3-1
Caleb Tyus (SIU Edwardsville) dec. No. 5 Sam Hillegas (West Virginia), 4-2
No. 3 Doug Zapf (Penn) dec. No. 6 Jarod Verkleeren (Virginia), 9-3
No. 2 Yahya Thomas (Northwestern) dec. Tyler Badgett (Pittsburgh), 12-5
157 pounds
No. 8 Andrew Clark (Rutgers) sudden victory No. 1 Anthony Artalona (Penn), 5-3
Drew Scharenbrock (Wisconsin) tech fall Cael Berg (Harvard), 18-3
No. 2 Garrett Model (Wisconsin) dec. No. 7 Derek Gilcher (Indiana), 4-2
No. 3 Trevor Chumbley (Northwestern) maj dec. No. 6 Marcus Robinson (Cleveland State), 8-0
165 pounds
No. 1 Dean Hamiti (Wisconsin) maj. dec. No. 9 Cardi Wilson (SIU Edwardsville), 9-0
No. 5 Izzak Olejnik (Northern Illinois) dec. No. 4 Justin McCoy (Virginia), 3-2
No. 6 Dan Braunagel (Illinois) dec. No. 3 Peyton Hall (West Virginia), 7-6
No. 2 Quincy Monday (Princeton) dec. No. 7 Holden Heller (Pittsburgh), 6-2
174 pounds
No. 1 Edmond Ruth (Illinois) won by decision over Luca Augustine (Pittsburgh), 5-3
No. 5 Alex Cramer (Central Michigan) dec. Kole Mulhauser (Princeton), 4-0
No. 3 Nick Incontrera (Penn) maj. dec. Josh Otto (Wisconsin), 10-1
Daniel Wask (Navy Prep) dec. No. 2 Troy Fisher (Northwestern), 4-3
184 pounds
No. 1 Brian Soldano (Rutgers) fall Evan Bates (Northwestern), 3:54
No. 5 Jaritt Shinhoster (Wisconsin-Whitewater) dec. No. 4 Neil Antrassian (Virginia) Dec 7-3
No. 3 Anthony Carman (West Virginia) dec. Dylan Fishback (NC State), 6-4
No. 2 Reece Heller (Pittsburgh) sudden victory No. 10 Dylan Connell (Illinois), 2-0
197 pounds
No. 1 Braxton Amos (Wisconsin) fall No. 9 John Crawford (Franklin & Marshall), 2:33
No. 4 Mac Stout (Pittsburgh) inj. def. No. 5 Austin Cooley (West Virginia), 4:20
No. 3 Luke Stout (Princeton) tech fall No. 6 Cole Urbas (Penn), 20-4
No. 2 Zac Braunagel (Illinois) dec. No. 10 Michael Battista (Virginia), 4-1
285 pounds
Dayton Pitzer (Pittsburgh) dec. No. 1 Colton Schultz (Arizona State), 4-0
No. 4 Trent Hillger (Wisconsin) dec. No. 5 Boone Mcdermott (Rutgers), 6-0
No. 6 Colton McKiernan (SIU Edwardsville) dec. No. 3 Yaraslau Slavikouski (Harvard) Dec 9-2
No. 2 Lucas Davison (Northwestern) maj. dec. No. 7 Ben Goldin (Penn), 8-0
Top 10 teams after day one
No. 1 Wisconsin 78.5
No. 2 Northwestern 63.0
No. 3 Pittsburgh 61.5
No. 4 Rutgers 60.0
No. 5 Penn 58.0
T-6 Illinois and West Virginia 48.5
No. 8 SIU Edwardsville 44.5
No. 9 Princeton 42.5
No. 10 Arizona State 40.5