News
USA Wrestling
International
College
Women
USAW
Soldier Salute wrestling event, set for Coralville, Iowa, Dec. 29-30, partners with UFC
by Nick Pfeiffer, Think Iowa City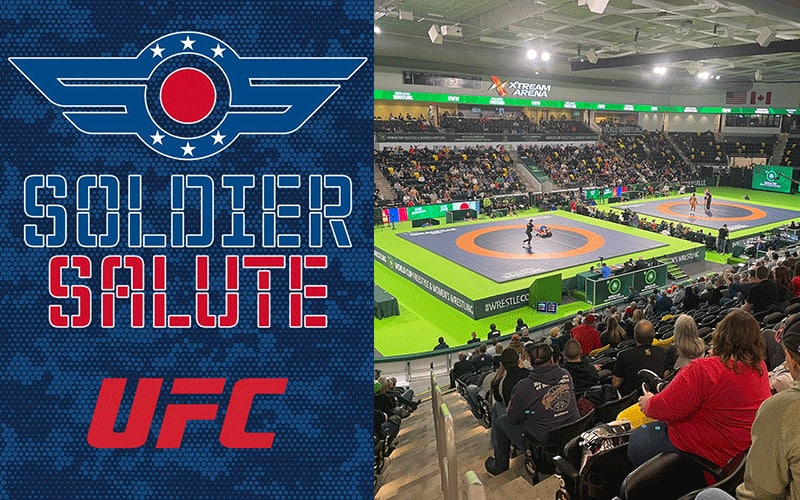 CORALVILLE (December 22, 2022) – Following in the footsteps of a new alliance between UFC and the men's and women's University of Iowa wrestling programs,
Soldier Salute
is pleased to announce a formal partnership with
Ultimate Fighting Championships (UFC),
the world's premier mixed martial arts organization. The partnership will center on the continued promotion and development of girls and women's wrestling
"We couldn't be more excited to welcome UFC as an official partner of Soldier Salute," said Luke Eustice, Director of the Iowa City Area Sports Commission. "Soon after their recent announcement with the Hawkeyes they started asking about UWW World Cup and Soldier Salute. They were very excited to see our efforts in growing girls and women's wrestling and have communicated a desire to partner on more events in the coming years."
UFC's partnership will center on providing complimentary all-session tickets to regional junior high and high school girls programs. They will also be making a significant contribution to the post tournament
girls wrestling growth fund
which will be managed by the head coaches of the participating Solider Salute teams. As previously announced, proceeds from Solider Salute will be split evenly between this fund and the
United Service Organizations (USO) – Iowa
.