News
USA Wrestling
High School & Youth
Women
USAW
2022 Who's Number One Bout Order, Schedule & Tickets announced for Sept. 9 in Ann Arbor
by Andrew Spey, FloWrestling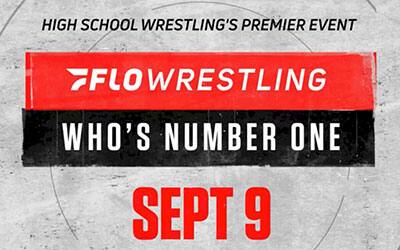 It's nearly here, the 10th annual FloWrestling's Who's Number One, the premiere high school wrestling event of the year!
It all goes down on September 9th inside Cliff Keen Arnea in Ann Arbor, Michigan. A full women's card at 4:00 pm ET will be followed by a complete men's slate starting at 7:00 pm ET.
Click here to buy tickets!
Below are the bout orders.
Women's (rankings are projections, not current rankings)
106: #2 Clare Booe and #3 Gigi Bragg
152: #2 Jasmine Robinson vs #3 Mishell Rebisch
138: #1 Sarah Henckel vs Zaynah McBryde
122: #1 Cadence Diduch vs #2 Everest Leydecker
144: #1 Lizzie Shunn vs #2 Sydney Perry
117: #1 Elena Ivaldi vs #2 Persaeus Gomez
127: #1 Shelby Moore vs #2 Skylar Little Soldier schedule
94: #3 Erica Pastoriza vs Morgan Turner
132: #1 Janida Garcia vs #2 Valerie Hamilton
100: #1 Gabriella Gomez vs #2 Valarie Solorio
112: #1 Alex Szkotnicki vs #2 Ava Ward
Men's
160: #1 Angelo Ferrari vs #4 Braeden Scoles
160: #2 Nicco Ruiz vs #3 Joe Sealey
132: #1 Kannon Webster vs #2 Sergio Lemley
113: #1 Anthony Knox vs #1 (at 106) Christian Castillo
138: #1 Ryder Block vs #2 Nasir Bailey
145: #1 Tyler Kasak vs #2 Beau Mantanona
126: #1 Marc-Anthony McGowan vs #2 Ben Davino
152: #1 Meyer Shapiro vs #2 LaDarion Lockett
182: #1 Brayden Thompson vs #2 Zack Ryder
120: #1 Jax Forrest vs #2 Nate Jesuroga
160: winner of match 1 vs winner of match 2
170: #1 Josh Barr vs #2 Rocco Welsh