News
USA Wrestling
College
Women
USAW
NCAA Div. III Alfred State College in New York to add three new sports; Women's Wrestling; Men's and Women's Lacrosse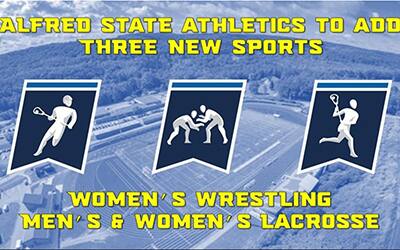 Alfred State College Director of Athletics Jason Doviak announced today the addition of three new varsity sports. Alfred State will add women's wrestling along with both men's and women's Lacrosse.
"We are thrilled to announce the additions of women's lacrosse, women's wrestling, and the reinstatement of men's lacrosse to our department," said Doviak. "The balanced number of sport offerings align well with our strategic efforts to provide even more females the opportunity to compete on our campus and support the growth within the AMCC Conference."
Women's wrestling continues to be a growing presence in the NCAA and Alfred State's program will become the 38th of its kind. The Pioneers are excited to add dedicated female student-athletes to the family. The team is scheduled to start competition in the winter of 2023.
The men's lacrosse program makes a return to the athletic department. After three years the program is now reinstated, meaning new beginnings in the NCAA for men's lacrosse. Scheduled to begin spring of 2025, preparations are already underway.
Women's Lacrosse will be an addition to the department. The program will begin along with the men's program in spring of 2025.
"We are committed to provide our student-athletes with an outstanding experience and the expansion within our department will certainly aid us in these efforts. The additional resources will support our current and future student-athletes enabling them to achieve their goals both in and out of the classroom."
Vice President for Student Affairs Dr. Gregory Sammons chimed in on the news as well. "This is an exciting time at Alfred State! We recognize that the clear majority of our student-athletes choose to attend Alfred State because of the combination of a desirable academic program and the desire to compete in college athletics. The addition of three varsity sports will add even more vibrancy to our residential campus while recruiting more students to benefit from a top-ranked Alfred State education."
These three welcomed athletic additions are more proof that the Alfred State Pioneers continue to prosper in their still short time in the NCAA DIII era.