News
USA Wrestling
International
High School & Youth
USAW
Black, Perez and Carroll still alive for Greco-Roman repechage bid at U20 Worlds
by Taylor Gregorio, USA Wrestling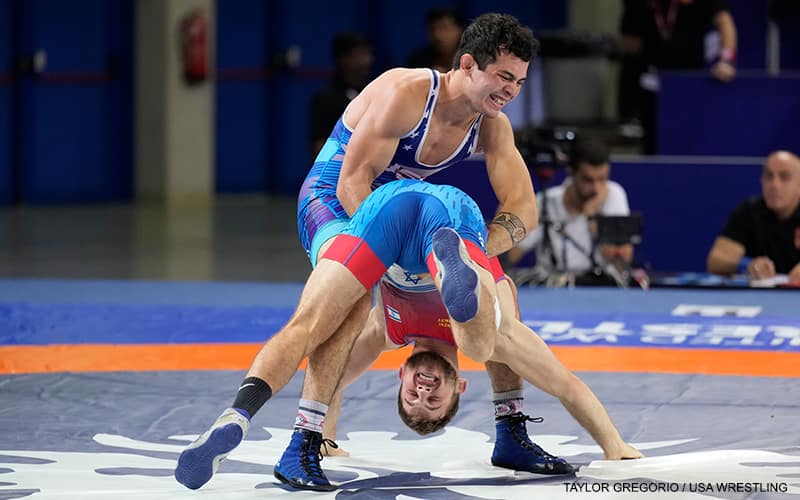 Photo of Robert Perez by Taylor Gregorio/United World Wrestling.
SOFIA, Bulgaria – Three Americans are still alive in Greco-Roman competition with hopes of getting pulled into repechage at the U20 World Championships in Sofia, Bulgaria.
Team USA got off to a great start, winning its first four matches of the morning.
2019 U17 Pan American champion Robert Perez III advanced to the quarterfinals at 67 kg following 8-0 shutouts over Shon Nadorgin of Israel and Zsolt Takacs of Hungary. In the quarterfinals, Perez fell in a close 3-3 battle to 2018 U17 World bronze medalist Din Koshkar from Kazakhstan. Koshkar must win his semifinal tonight to pull Perez into Saturday's repechage.
At 60 kg, Senior U.S. Open runner-up Max Black drew 2019 U17 World champion and 2021 U20 World silver medalist Saeid Esmaeili Leivesi from Iran. Esmaeili defeated Black, 9-0, and went on to advance to the semis. A win from the Iranian tonight would pull Black into repechage.
Representing at 97 kg, Christian Carroll lost his first match to 2022 U20 Asian Championships runner-up Nurmanbet Raimaly Uulu of Kyrgyzstan, who made it to the semifinals, keeping Carroll's repechage hopes alive.
Two U.S. Greco-Roman athletes were eliminated in their first session of action, including Richard Fedalen (72 kg) and Adrian Artsisheuskiy (82 kg). Both wrestlers won their opening bouts but came up short in the round of 16. They were eliminated after their victors failed to advance to the finals.
One American competed in repechage this morning, Payton Jacobson at 77 kg. In his first match, Jacobson cruised past U20 Pan Am bronze medalist Diego Macias Torres of Mexico, 8-0. Later in the session, Jacobson dropped a competitive 3-1 bout to U23 European champion Khasay Hasanli of Azerbaijan, which ultimately eliminated the American from the tournament.
U.S. heavyweight Aden Attao, who advanced to yesterday's semifinals at 130 kg, is set to face two-time age-group African champion Fekry Eissa of Egypt in the bronze medal match on Saturday evening.
Semifinals begins at 4:45 p.m. local time (9:45 a.m. ET) followed by medal matches at 6 p.m. (11 a.m. ET) live on FloWrestling. Follow along for live updates on Twitter @USAWrestling.
For more information on the U20 World Championships, visit USA Wrestling's Special Section.
U20 WORLD CHAMPIONSHIPS
Aug. 15-21, 2022 | Sofia, Bulgaria
U.S. Greco-Roman results
Saturday results

60 kg – Max Black (Castle Rock, Colo./NMU-NTC) – awaiting repechage

LOSS Saeid Esmaeili Leivesi (Iran), 9-0
67 kg – Robert Perez (Long Beach, Calif./Sunkist Kids/USOPTC) – awaiting repechage

WIN Shon Nadorgin (Israel), 8-0

WIN Zsolt Takacs (Hungary), 8-0

LOSS Din Koshkar (Kazakhstan), 3-3
72 kg – Richard Fedalen (Laurel, Md./Warhawks WC) – eliminated

WIN Matthias Hauthaler (Austria), fall

LOSS Georgios Barbanos (Sweden), 13-4
77 kg – Payton Jacobson (Elkhorn, Wisc./Sunkist Kids/NMU-NTC) – eliminated

LOSS Yuksel Saricicek (Turkey), 9-1

WIN Diego Macias Torres (Mexico), 8-0

LOSS Khasay Hasanli (Azerbaijan), 3-1
82 kg - Adrian Artsisheuskiy (Brooklyn, N.Y./Elite Wrestling Academy) – eliminated

WIN Odysseas Roungeris (Greece), fall 3:36

LOSS Leon Rivalta (Italy), fall
97 kg – Christian Carroll (Elkhart, Ind./Midwest RTC) – awaiting repechage

LOSS Nurmanbet Raimaly Uulu (Kyrgyzstan), 9-7
Friday results
55 kg – Jonathan Gurule (Peralta, N.M./NMU-NTC) – eliminated

LOSS Nuristan Suiorkulov (Kyrgyzstan), 7-2
63 kg – Haiden Drury (Yakima, Wash./Brunson UVRTC) – eliminated

WIN Ziya Babashov (Azerbaijan), 8-0
87 kg – Kodiak Stephens (Arnold, Calif./Beaver Dam RTC) – eliminated

WIN Surjeet Singh (India), 8-0

LOSS Robin Uspenski (Estonia), 2-1
130 kg – Aden Attao (Boise, Idaho/Suples WC) – BRONZE MATCH

WIN Parvesh Parvesh (India), 12-4

WIN Adolf Bazso (Hungary), fall 3:00

LOSS Mykhailo Vyshnyvetskyi (Ukraine), 10-0

vs. Fekry Eissa (Egypt)