News
USA Wrestling
International
High School & Youth
USAW
Men's freestyle ends U20 Worlds with four medals and second-place team finish
by Taylor Gregorio, USA Wrestling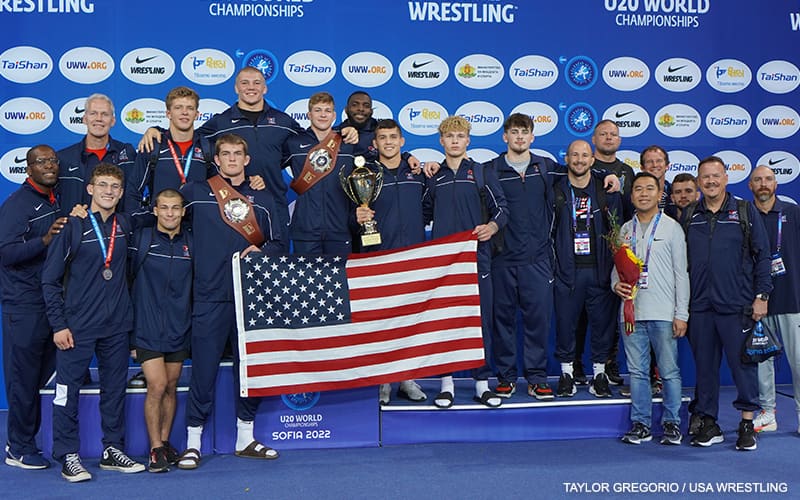 Photo of U.S. men's freestyle team by Taylor Gregorio/USA Wrestling.
SOFIA, Bulgaria – Team USA wrapped up its men's freestyle competition at the U20 World Championships with four medals and a second-place team finish on Wednesday in Sofia, Bulgaria.
Medalists for the Red, White and Blue were champions Jore Volk (57 kg) and Ben Kueter (97 kg) and silver medalists Mitchell Mesenbrink (70 kg) and Bennett Berge (86 kg).
The U.S. scored 132 team points behind team champions Iran with 159 points. India finished third with 112 points.
Tonight, Team USA fell in all three of its medal matches today.
In an impressive international debut, Bennett Berge earned a silver medal at 86 kg, falling to 2021 U20 World silver medalist Rakhim Magamadov from France. The American led 4-1 at the break, but Magamadov put together a strong comeback bid, which included a four-point takedown near the edge for an eventual 10-5 win over Berge.
So proud of @BergeBennett!
He's your World Silver Medalist 🥈 #GetJacked#WrestleSofia pic.twitter.com/PoHGcld7Bv

— Damion Hahn (@damion_hahn) August 17, 2022
Two Americans took fifth in their first World Championships on Wednesday.
Competing at 92 kg, Jaxon Smith lost his bronze-medal match to 2021 U20 European bronze medalist Sergey Sargsyan of Armenia, 12-2. In the bronze match at 125 kg, Nick Feldman lost to 2022 U20 European silver medalist Merab Suleimanashvili from Georgia by fall.
Women's freestyle competition, which began today, continues on Thursday with Katie Gomez (53 kg), Sofia Macaluso (57 kg), Adaugo Nwachukwu (62 kg), Reese Larramendy (65 kg) and Amit Elor (72 kg) taking the mat.
The tournament continues Wednesday, starting at 11 a.m. local time (4 a.m. ET), with semifinals scheduled for 4:45 p.m. (9:45 a.m. ET) followed by medal matches at 6 p.m. (11 a.m. ET). Fans can watch all the action live on FloWrestling and get live updates on Twitter @USAWrestling.
Find all of this week's coverage in the USA Wrestling Special Section.
U20 WORLD CHAMPIONSHIPS
Aug. 15-21, 2022 | Sofia, Bulgaria
U.S. men's freestyle results
57 kg – Jore Volk (Lakeville, Minn./Pinnacle WC.) – GOLD
WIN Ahmad Mohammadnezhadjavan (Iran), 7-5
WIN Azizbek Naimov (Uzbekistan), 7-2
WIN Luka Gvinjilia (Georgia), 13-6
WIN Merey Bazarbayev (Kazakhstan), 3-2
61 kg – Nic Bouzakis (Shavertown, Pa./Ohio RTC) – SEVENTH
WIN Arslan Rakhimov (Uzbekistan), fall 1:26
WIN Abdullah Toprak (Turkey), fall 1:59
LOSS Armin Habibzadehsaroukolaei (Iran), 13-11
LOSS Mykyta Abramov (Ukraine), 16-15
65 kg – Vince Cornella (Lafayette, Colo./Spartan Combat RTC) – FIFTH
WIN Olzhas Olzhakanov (Kazakhstan), 8-0
WIN Ismail Pomakov (Bulgaria), 10-0
WIN Mohammad Shakeri (Iran), 6-5
LOSS Umidjon Jalolov (Uzbekistan), 4-0
LOSS Yoshinosuke Aoyagi (Japan), 6-6
70 kg – Mitchell Mesenbrink (Hartland, Wisc./Askren Wrestling Academy) – SILVER
WIN Muhammad Abdurachmanov (Belgium), 12-0
WIN Kanat Kerimbekov (Kyrgyzstan), 10-0
WIN Hossein Mohammad Aghaei (Iran), 9-7
WIN Hayk Papikyan (Armenia), 6-3
LOSS Kanan Heybatov (Azerbaijan), 13-7
74 kg – Alex Facundo (Essexville, Mich./Nittany Lion WC) – 16TH
LOSS Efran Elahi (Iran), 5-4
79 kg – Brayden Thompson (Lockport, Ill./Izzy Style WC) – NINTH
LOSS Sobhan Yari (Iran), 6-1
LOSS Bekir Ovec (Turkey), 2-1
86 kg – Bennett Berge (Mantorville, Minn./Pinnacle WC) – SILVER
WIN Gurgen Simonyan (Armenia), 10-0
WIN Nandor Hajduch (Hungary), 12-2
WIN Nazar Dod (Ukraine), 10-0
WIN Ismail Kucuksolak (Turkey), 9-7
LOSS Rakhim Magamadov (France), 10-5
92 kg – Jaxon Smith (Acworth, Ga./DMV RTC) – FIFTH
WIN Ion Demian (Moldova), 8-1
LOSS Andro Margishvili (Georgia), 12-2
WIN Kiril Kildau (Germany), 10-0
LOSS Sergey Sargsyan (Armenia), 12-2
97 kg – Ben Kueter (Iowa City, Iowa/Sebolt Wrestling Academy) – GOLD
WIN Dmitri Duscov (Moldova), 10-0
WIN Niraj Niraj (India), 8-1
WIN Luka Khutchua (Georgia), 17-14
WIN Rifat Gidak (Turkey), fall 1:40
125 kg – Nicholas Feldman (Quarryville, Pa./Ohio RTC) – FIFTH
WIN Georgi Ivanov (Bulgaria), 5-1
LOSS Amirreza Masoumi Valadi (Iran), 11-1
LOSS Merab Suleimanashvili (GEO), fall 2:36
Final team standings (top-10)
1. Iran - 159
2. USA - 132
3. India - 112
4. Azerbaijan - 100
5. Georgia - 98
6. Turkey - 78
7. Japan - 60
8. France - 57
9. Ukraine - 56
10. Uzbekistan - 54
Medal match results
57 kg
GOLD – Jore VOLK (USA)
SILVER – Merey BAZARBAYEV (KAZ)
BRONZE – Abhishek DHAKA (IND)
BRONZE – Ahmad MOHAMMADNEZHADJAVAN (IRI)
61 kg
GOLD – Yuto NISHIUCHI (JPN)
SILVER – Armin HABIBZADEHSAROUKOLAEI (IRI)
BRONZE – Khamzat ARSAMERZOUEV (FRA)
BRONZE – Kumar MOHIT (IND)
65 kg
GOLD – Umidjon JALOLOV (UZB)
SILVER – Ziraddin BAYRAMOV (AZE)
BRONZE – Yoshinosuke AOYAGI (JPN)
BRONZE – Sujeet SUJEET (IND)
70 kg
GOLD – Kanan HEYBATOV (AZE)
SILVER – Mitchell MESENBRINK (USA)
BRONZE – Hossein MOHAMMAD AGHAEI (IRI)
BRONZE – Mulaym YADAV (IND)
74 kg
GOLD – Dzhabrail GADZHIEV (AZE)
SILVER – Ryunosuke KAMIYA (JPN)
BRONZE – Sagar JAGLAN (IND)
BRONZE – Jafar CHULIBOYEV (UZB)
79 kg
GOLD – Sobhan YARI (IRI)
SILVER – Mushegh MKRTCHYAN (ARM)
BRONZE – Otari ADEISHVILI (GEO)
BRONZE – Mukhammad ABDULLAEV (KGZ)
86 kg
GOLD – Rakhim MAGAMADOV (FRA)
SILVER – Bennett BERGE (USA)
BRONZE – Aref RANJBARI (IRI)
BRONZE – Ismail KUCUKSOLAK (TUR)
92 kg
GOLD – Amirhossein FIROUZPOURBANDPEI (IRI)
SILVER – Andro MARGISHVILI (GEO)
BRONZE – Adlan VISKHANOV (FRA)
BRONZE – Sergey SARGSYAN (ARM)
97 kg
GOLD – Ben KUETER (USA)
SILVER – Rifat GIDAK (TUR)
BRONZE – Amirali AZARPIRA (IRI)
BRONZE – Niraj NIRAJ (IND)
125 kg
GOLD – Amirreza MASOUMI VALADI (IRI)
SILVER – Mahendra GAIKWAD (IRI)
BRONZE – Merab SULEIMANASHVILI (GEO)
BRONZE – Adil MISIRCI (TUR)