News
USA Wrestling
High School & Youth
Women
USAW
Keller, Gonzales, Fernandez, France, Slade win U15 Pan American Team Trials in girls freestyle
by Gary Abbott, USA Wrestling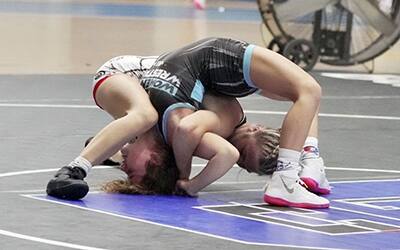 Jayden Keller (MO) works for a fall against Charlie Wylie (NY) in the U15 Pan American Team Trials at 50 kg. Photo by Greg Kaup.

BOYS TOWN, Neb. – Five girl freestyle wrestlers earned spots on the 2022 U.S. U15 Pan American team with victories at Boys Town High School on Saturday.
Winners qualified for the U.S. team for the 2022 Pan American U15 Championships in Apartado, Colombia, November 4-6.
All five weight classes were determined in best-of-three Championships Series, all won in two straight matches.
At 50 kg, Jayden Keller of Missouri completed a strong day of wrestling by sweeping 2022 14U Nationals champion Charlie Wylie of New York. Keller pinned Wylie in 1:26 in bout one, then finished it off with an 11-0 technical fall in bout two. Keller upset 2022 U15 National champion Julianna Ocampo of Indiana in the semifinals, 3-0. Keller was a 14U Folkstyle Nationals champion in 2021, and won the 2021 Preseason Nationals Middle School title.
U15 National champions Isabella Marie Gonzales of California was dominant in her two-match sweep over Evelyn Holmes-Smith of Alabama in the 54 kg championship series. Gonzales won bout one, 9-2, then scored an 11-0 technical fall in the second bout. In Fargo, Gonzales was second and Holmes-Smith was sixth at the 16U Nationals.
At 58 kg, Taina Fernandez of Maryland had little trouble with Timberly Martinez of Colorado, winning with a pair of technical falls, 11-0 in bout one and 10-0 in bout two. Fernandez won 14U and U15 National titles earier this year.
At 62 kg, U15 Nationals champion Isis France of Arizona swept Aleksandra Bastaic of Indiana in the finals series. Bout one was a 13-2 technical fall for France, and bout two was a pin in 1:10. Bastaic was fourth in the U15 Nationals
At 66 kg, Sklyar Slade of Iowa and Jahlia Miguel of Hawaii placed first and second in their three-athlete round robin. Slade dominated their first bout of the series, with a pin in 3:09. In the second bout, Miguel led most of the match, but Slade scored a late takedown to tie it at 3-3 and won by criteria. Slade placed second at the 16U Nationals in Fargo a few weeks ago.
Four weight classes were completed on Friday, with team berths going to Brynn Engel of Wisconsin (33 kg), Jaclyn Bouzakis of Florida (39 kg), Morgan Turner of Illinois (42 kg) and Ysabelle Ocampo of Indiana (46 kg).
No athlete entered at the 36 kg weight class.
U15 PAN AMERICAN TEAM TRIALS

At Boys Town, Neb., August 5, 2022


Girls freestyle results
50 kg – 1st place - Jayden Keller (MO) dec. Charlie Wylie (NY), two matches to none
Bout One – Keller pin Wylie, 1:26
Bout Two – Keller tech fall Wylie, 11-0
3rd Place Match - Julianna Ocampo (IN) pin Stevie Joyce Martin (CA), 1:05
5th Place - Noelani Lutz (NV)
54 kg – 1st place - Isabella Marie Gonzales (CA) dec. Evelyn Holmes-Smith (AL), two matches to none
Bout One – Gonzales dec. Holmes-Smith, 9-2
Bout Two – Gonzales tech. fall Holmes-Smith, 11-0
3rd Place Match - Kaylyn Harrill (NE) dec. Victoria Carbonaro (NJ), 2-2
5th Place - Amaya Hinojosa (CO)
58 kg – 1st place - Taina Fernandez (MD) dec. Timberly Martinez (CO), two matches to none
Bout One – Fernandez tech. fall Martinez, 11-0
Bout Two - Fernandez tech. fall Martinez, 10-0
3rd Place Match - Jayci Shelton (MO) dec. Peyton Hellmann (SD), 5-3
5th Place Match - Dealya Collins (WI) dec. Audrey Rogotzke (MN), 15-12
7th Place - Margaret Buurma (MI)
62 kg – 1st place - Isis France (AZ) dec. Aleksandra Bastaic (IN), two matches to none
Bout One – France tech. fall Bastaic, 13-2
Bout Two – France pin Bastaic, 1:10
3rd Place Match - Carley Ceshker (WI) dec. Matilda Hruby (CO), 10-6
5th Place Match - Mackenzie Pratt (IL) inj. dft. over Jordyn Fouse (PA)
7th Place Match - Addeline Graser (NE) tech. fall Aubrey Brown (OK), 10-0
66 kg – 1st place - Skylar Slade (IA) dec. Jahlia Miguel (HI), two matches to none
Bout One – Slade pin Miguel, 3:09
Bout Two – Slade dec. Miguel, 3-3
Other roundrobin matches
Skylar Slade (IA) tech. fall Emma Peach (IA), 13-2
Jahlia Miguel (HI) tech. fall Emma Peach (IA) (Dec 8-0)