News
USA Wrestling
High School & Youth
International
College
USAW
Vote now on the 50th anniversary Junior Men's Freestyle Nationals fantasy bracket; help pick the best of the half-century
by Gary Abbott, USA Wrestling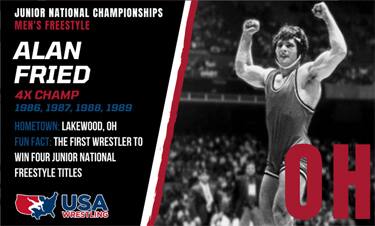 Four-time Junior National freestyle champion Alan Fried bio graphic.
This summer will mark the 50th USA Wrestling Junior National Championships, a major national high-school competition which has had a tremendous impact on the sport in our nation for a half-century.
The first USA Wrestling Junior Nationals was held in the Fieldhouse at the University of Iowa in 1971, and contested only in men's freestyle. With the 2020 event cancelled due to the pandemic, this year's version will be the 50th time our nation's best high school wrestlers have come together to battle for national titles and All-American honors. Numerous World and Olympic champions and medalists have competed in this prestigious event.
The 2021 USA Wrestling USMC Junior and 16U National Championships will be held at the FargoDome in Fargo, N.D., July 16-23, with competition in men's freestyle, Greco-Roman and women's freestyle.
USA Wrestling will celebrate the 50 years of the Junior Nationals in a number of ways in the upcoming months. To kick off this celebration, an interactive 32-athlete bracket featuring the best Men's Junior Freestyle competitors of the last 50 years has been created for fans to vote on.
Since men's freestyle was the only style at the 1971 Junior Nationals, this year's fantasy bracket will focus only on the achievements of the athletes in men's freestyle. Next year will be the 50th year of Junior National Greco-Roman competition and the 20th anniversary of Junior Nationals women's freestyle competition, and fantasy brackets will be created in those styles for fans to enjoy.
Fans will be able to vote on each round for three straight days, with the winners of each pairing announced the next day. There will be five rounds of voting. Here are the launch dates of each round of competition:
• Voting on the Round of 32 will begin on Friday, May 7
• Voting on the Round of 16 will begin on Tuesday, May 11
• Voting on the Quarterfinals will begin on Saturday, May 15
• Voting on the Semifinals will begin on Wednesday, May 19
• Voting on the Finals will begin on Sunday, May 23
USA Wrestling fans will be able cast their vote for each round by going to:
50th Junior Freestyle Nationals - Fantasy Bracket
When you click, you will see the bracket. To vote, click the "Cast Vote Now" button on the top of the bracket. You will be taken to a screen where you see each pairing and you can click a box to vote on the winner. You must enter your email to vote. If you need some additional information on any athlete, click the link for each athlete's name and a graphic with a photo of the athlete and additional data on their Junior National freestyle career will appear.
And now, let's take a look at the 32 high school stars who were selected for this all-star bracket.
All 4,551 past men's freestyle All-Americans were reviewed for consideration. The highest weight was given to the 174 athletes who were Junior National freestyle finalists two or more times. From this group, there were 71 athletes who won Junior National freestyle titles two times or more. There were also only 27 athletes who reached the finals three times.
Here are the contestants in alphabetical order, with their state affiliation and the years they won Junior men's freestyle national titles.
Mark Angle, Pennsylvania (1992, 1993, 1995)
Anthony Cassioppi, Illinois (2017, 2018)
Adam Coon, Michigan (2012, 2013)
Kenny Cox, Oregon (1994, 1995)
Alex Dieringer, Wisconsin (2010, 2011)
Alan Fried, Ohio (1986, 1987, 1988, 1989)
Sean Hage, Georgia (1993, 1994, 1995)
Damion Hahn, New Jersey (1997, 1998, 1999)
Johny Hendricks, Oklahoma (2001, 2002)
T.J. Hill, Missouri (1996, 1997, 1998)
Laurence Jackson, California (1984, 1985)
Mike Land, Iowa (1973, 1974)
T.J. Jaworski, Oklahoma (1987, 1990)
David Kjeldgaard, Iowa (1995, 1996)
Steve Knight, Iowa (1982)
Garrett Lowney, Wisconsin (1996, 1997, 1998)
Brent Metcalf, Michigan (2003, 2004, 2005)
Andre Metzger, Michigan (1977, 1978)
Steve Mocco, New Jersey (1999, 2000, 2001)
Teague Moore, Pennsylvania (1993, 1994, 1995)
Zach Roberson, Kansas (1998, 1999)
Scott Schatzman, Missouri (1994)
Scott Schluchter, Oklahoma (1988, 1989, 1990)
Mark Schwab, Iowa (1982, 1983, 1985)
Coleman Scott, Pennsylvania (2003, 2004)
Nick Simmons, Michigan (1998, 1999, 2000)
Grant Smith, Wisconsin (1977, 1978)
Lee Roy Smith, Oklahoma (1975, 1976)
Pat Smith, Oklahoma (1988, 1989)
Sheldon Thomas, Delaware (1989, 1992)
Nathan Tomasello, Ohio (2011, 2012, 2013)
Teyon Ware, Oklahoma (2000, 2001)