News
USA Wrestling
International
College
High School & Youth
USAW
Men's freestyle finalists set for Bill Farrell Memorial International in New York
by Gary Abbott, USA Wrestling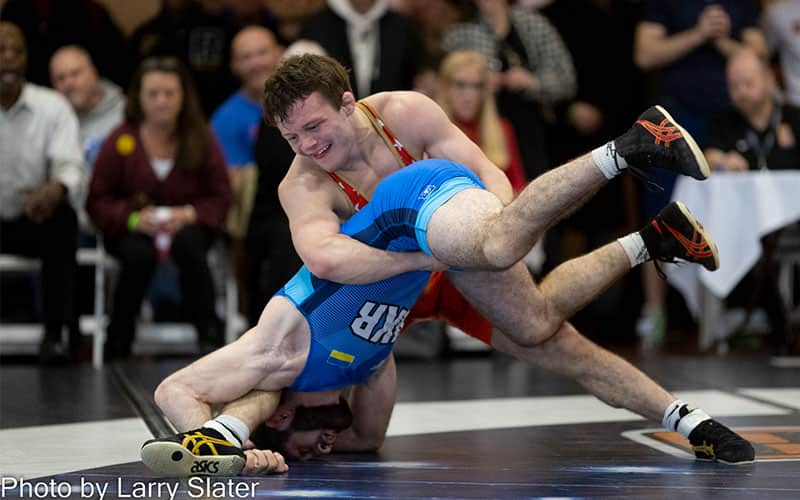 Cody Chittum of the USA works for a turn at the Bill Farrell Memorial International. Photo by Larry Slater.
The Bill Farrell Memorial International is in its final day at the New York Athletic Club in New York City. Finals have been set in men's freestyle.
A total of 10 U.S. wrestlers have earned their berth in the championship finals.
Among the U.S. athletes in the finals are current or past Senior National Team members
Zane Richards
(57 kg),
Nahshon Garrett
(61 kg),
Nick Lee
(65 kg),
Michael Macchiavello
(97 kg) and two-time World bronze medalist
Nick Gwiazdowski
(125).
Among the U.S. finalists is Illinois high school star
Brayden Thompson,
who reached the finals at 86 kg, where he will face 2021 U23 World champion Mukhammed Aliiev of Ukraine. Thompson, who is 18 years old, has signed with Oklahoma State. Aliiev beat 2020 Olympic bronze medalist Myles Amine of San Marino in the semifinals.
Another young American star making the finals is 19-year-old
Cody Chittum
of Tennessee, who will battle former Iowa State star
Ian Parker
of the West Point WC in the finals at 70 kg.
Also in the finals are
Eric Schultz
of the Nebraska Wrestling Training Center and
Morgan McIntosh
of U.S. Army WCAP, who will face each other in the 92 kg finals.
At 57 kg, there is a round robin which includes four athletes. Two rounds of competition have been held, and National Team member Zane Richards is the only unbeaten wrestler going into the final round of wrestling. A victory clinches the gold, while a loss could mean a variety of medal options.
Among the finalists are four from Ukraine,, two athletes from Kyrgyzstan and plus one athlete from Armenia and Georgia,
The finals are happening right now, immediately after the semifinals ended.
BILL FARRELL MEMORIAL INTERNATIONAL

At New York, N.Y
.
Men's freestyle finalist pairings
61 kg - Nahshon Garrett (TMWC/LVWC) vs. Andrii Yatsenko (Ukraine)
65 kg - Nick Lee (Nittany Lion Wrestling Club) vs. Taiyrbek Zhumashbek Uulu (Kyrgyzstan)
70 kg - Cody Chittum (Tennessee) vs. Ian Parker (West Point Wrestling Club)
74 kg - Arman Andreasyan (Armenia) vs. Orozobek Toktomambetov (Kyrgyzstan)
79 kg - Avtendil Kentchadze (Georgia) vs. Vasyl Mykhailov (Ukraine)
86 kg - Brayden Thompson (Illinois) vs. Mukhammed Aliiev (Ukraine)
92 kg - Eric Schultz (Nebraska Wrestling Training Center) vs. Morgan McIntosh (Army WCAP)
97 kg - Michael Macchiavello (Titan Mercury Wrestling Club) vs. Murazi Mchedlidze (Ukraine)
125 kg - Nick Gwiazdowski (Titan Mercury Wrestling Club) vs. Demetrius Thomas (Missouri)
Men's freestyle semifinals
61 kg
Nahshon Garrett (TMWC/LVWC) tech. fall Rakhat Kalzhan (Kazakhstan), 12-1
Andrii Yatsenko (Ukraine) dec. Austin DeSanto (Hawkeye Wrestling Club), 6-6
65 kg
Nick Lee (Nittany Lion Wrestling Club) dec. Patricio Lugo (Hawkeye Wrestling Club), 4-0
Taiyrbek Zhumashbek Uulu (Kyrgyzstan) dec. Anthony Ashnault (New York City RTC), 9-1
70 kg
Cody Chittum (Tennessee) dec. Christian Monserrat (New York Athletic Club), 11-6
Ian Parker (West Point Wrestling Club) dec. Oleksii Boruta (Ukraine), 3-2
74 kg
Arman Andreasyan (Armenia) dec. Mitchell Mesenbrink (Askren Wrestling Academy), 2-1
Orozobek Toktomambetov (Kyrgyzstan) dec. Mitch Finesilver (Israel), 5-1
79 kg
Avtendil Kentchadze (Georgia) tech. fall Alex Marinelli (Hawkeye Wrestling Club), 12-2
Vasyl Mykhailov (Ukraine) dec. David McFadden (Titan Mercury Wrestling Club), 8-6
86 kg
Brayden Thompson (Illinois) dec. Arman Avagyan (Armenia). 4-3
Mukhammed Aliiev (Ukraine) dec. Myles Amine (San Marino/Cliff Keen WC), 4-2
92 kg
Eric Schultz (Nebraska Wrestling Training Center) dec. Jay Aiello (Cavalier WC), 6-5
Morgan McIntosh (Army WCAP) dec. Illia Archaia (Ukraine), 4-3
97 kg
Michael Macchiavello (Titan Mercury Wrestling Club) tech. fall Nishan Randhawa (Canada), 1-0
Murazi Mchedlidze (Ukraine) dec. Morgan Smith (LVWC), 6-0
125 kg
Nick Gwiazdowski (Titan Mercury Wrestling Club) tech. fall Christian Lance (Sunkist Kids Wrestling Club), 11-0
Demertius Thomas (Missouri) tech. fall Mamed Ibragimov (Kazakhstan), 12-2

Round Robin results
57 kg
(First two rounds completed, one to go)
Dalton Henderson (Davis Wrestling Enterprises, LLC) dec. Guesseppe Rea Villarroel (Ecuador), 5-4
Zane Richards (Titan Mercury Wrestling Club) tech fall Joseph Manchio (New York City RTC), 11-0 1:52
Guesseppe Rea Villarroel (Ecuador) pin Joseph Manchio (New York City RTC), 5:48
Zane Richards (Titan Mercury Wrestling Club) tech fall Dalton Henderson (Davis Wrestling Enterprises, LLC), 10-0 0:24