News
USA Wrestling
International
College
High School & Youth
USAW
Welker vs. Blades finals series set at USMC U20 Women's Nationals, as five 2022 U20 champions win semifinals
by Gary Abbott, USA Wrestling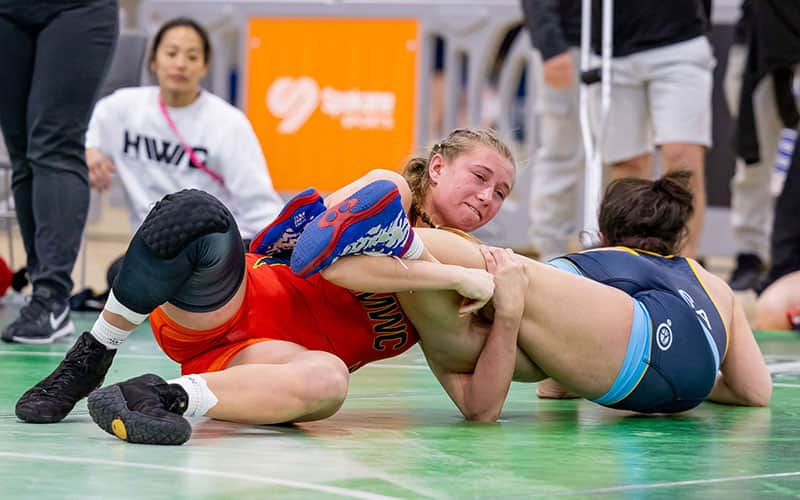 University of Iowa star Kylie Welker works an ankle lace at the USMC U20 Nationals. Photo by AJ Grieves.
SPOKANE, Wash. – The championship finals series have been set at the USMC U20 Women's Nationals, after a highly competitive day of wrestling and an exciting semifinals at The Podium on Saturday night.
The finals matchup that fans were hoping to see came to fruition at 76 kg, as a pair of 2020 U.S. Olympic Trials runners-up,
Kylie Welker
of Wisconsin and
Kennedy Blades
of Illinois will battle in the championship series. Welker, now at the University of Iowa, and Blades, who attends Arizona State with the Sunkist Kids RTC, were teenage high school students when they made the Olympic Trials finals. Welker has also competed on the U.S. Senior World Team.
Amit Elor
of California, who won World titles on the Senior, U23 and U20 levels last year, is one of five returning U20 champions to qualify for the championship finals series. Elor scored a 12-0 technical fall in the semifinals over Rose Cassioppi of Illinois, and will face Missouri high school star Haley Ward in the finals best-of-three series.
Champions of the U17 World Team Trials qualify to compete at the U17 World Championships in Istanbul, Turkey, July 31 – August 6.
Other returning U20 champions who have reached the finals are
Audrey Jimenez
(50 kg),
Katie Gomez
(53 kg),
SaVannah Cosme
of Colorado (62 kg) and
Adaugo Nwachukwu
of California (62 kg).
Jimenez, the No. 1 Pound-For-Pound high school wrestler, won both the U20 Nationals and U17 Nationals last season. She scored a 10-0 technical fall over NCWWC national runner-up Sage Mortimer of Utah in the semifinals, and will battle University of Iowa wrestler and 2022 U23 National champion Nyla Valencia of California in the finals.
Gomez, a student at Arizona State, will face Maryland high school star Alexandra Szkotnicki in the championship series.
Cosme and Nwachukwu were teammates on the 2022 U20 World team, but at different weights, Cosme at 59 kg and Nwachukwu at 62 kg. Cosme beat 2022 U20 Nationals runner-up Skyler Hattendorf of New Hampshire in the semifinals, while Nwachukwu pinned Netavia Wickson of Illinois in her semifinals. Nwachukwu won two NAIA national titles for Iowa Wesleyan, while Cosme attends Arizona State.
2022 U17 World Team member
Shelby Moore
of Washington, who is an EAP athlete at the U.S. Olympic & Paralympic Training Center, reached the 57 kg finals, where she will battle Cristelle Rodriguez of California, who competes in college for Doane.
Virginia Foard of Virginia, who competes in high school for Wyoming Seminary, will battle Amani Jones of Georgia, an NCWWC All-American for North Central, in the 55 kg finals.
Sarah Savidge of Colorado, an NAIA national runner-up for Life University, is in the 59 kg finals against Alexis Janiak of Illinois, who was an NCWWC runner-up for Aurora University.
In addition to Welker and Valencia, the University of Iowa pushed two other student-athletes into the championship finals, Ella Schmit at 65 kg and Isabella Mir of Nevada. Schmit will face Missouri high school star Maddie Kubicki in the finals, while Mir will battle London Houston of North Central in the finals series.
USMC U20 WOMEN'S NATIONALS

At Spokane, Wash., April 15


Champions Series Finals pairings
50 kg - Nyla Valencia (CA) vs. Audrey Jimenez (AZ)
53 kg - Katie Gomez (CA) vs. Alexandra Szkotnicki (MD)
55 kg - Virginia Foard (VA) vs. Amani Jones (GA)
57 kg - Shelby Moore (WA) vs. Cristelle Rodriguez (CA)
59 kg- Sarah Savidge (CO) vs. Alexis Janiak (IL)
62 kg - Adaugo Nwachukwu (CA) vs. SaVannah Cosme (AZ)
65 kg - Ella Schmit (IA) vs. Maddie Kubicki (MO)
68 kg - London Houston (WA) vs. Isabella Mir (NV)
72 kg - Amit Elor (CA) vs. Haley Ward (MO)
76 kg - Kylie Welker (WI) vs. Kennedy Blades (IL)
Semifinals results
50 kg
Nyla Valencia (CA) won by decision over Mia Palumbo (IL) 4-1
Audrey Jimenez (AZ) won by tech fall over Sage Mortimer (UT) 10-0
53 kg
Katie Gomez (CA) won by tech fall over Sydney Petzinger (NJ) 10-0
Alexandra Szkotnicki (MD) won by tech fall over Angelina Vargas (MO) 10-0
55 kg
Virginia Foard (VA) won by fall over Elena Ivaldi (CA) 5:31
Amani Jones (GA) won by decision over Ella Jauregui (CA) 13-6
57 kg
Shelby Moore (WA) won by decision over Jennifer Soto (CA) 3-2
Cristelle Rodriguez (CA) won by decision over Sofia Macaluso (NY) 10-6
59 kg
Sarah Savidge (CO) won by tech fall over Skye Realin (HI) 17-6
Alexis Janiak (IL) won by injury default over Korina Blades (IL) 5:11
62 kg
Adaugo Nwachukwu (CA) won by fall over Netavia Wickson (IL) 1:06
SaVannah Cosme (AZ) won by tech fall over Skylar Hattendorf (NH) 10-0
65 kg
Ella Schmit (IA) won by fall over Grace Stem (PA) 2:00
Maddie Kubicki (MO) won by tech fall over Janida Garcia (CO)10-0
68 kg
London Houston (WA) won by tech fall over Liv Wieber (ID) 10-0
Isabella Mir (NV) won by decision over Nina Makem (MN) 10-3
72 kg
Amit Elor (CA) won by tech fall over Rose Cassioppi (IL) 12-0
Haley Ward (MO) won by tech fall over Stella Steigler (VA) 10-0
76 kg
Kylie Welker (WI) won by tech fall over Lily El-Masri (CA) 10-0
Kennedy Blades (IL) won by tech fall over Brooklyn Hays (UT) 10-0