News
USA Wrestling
International
College
High School & Youth
Women
USAW
Johnson wins gold, Moore and Kelly get silver, Hattendorf and Ogden take bronze at Klippan Lady Open
by Gary Abbott, USA Wrestling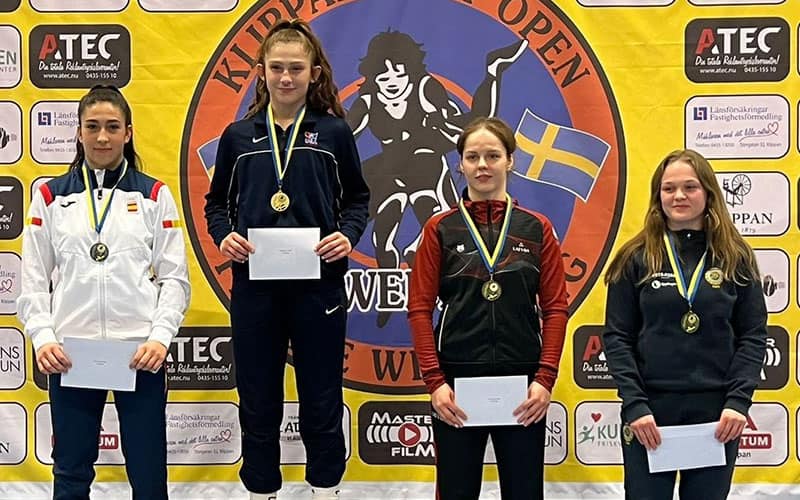 Elleni Johnson (USA) receives her 65 kg gold medal at the Klippan Lady Open. Photo courtesy of the Spanish Wrestling Federation.
KLIPPAN, Sweden – The United States won five medals in the Senior division at the Klippan Lady Open on Sunday, led by gold medalist
Elleni Johnson
of Utah at 65 kg.
The USA brought a team of U20-eligible wrestlers to compete in this traditionally strong Senior-level tournament.
Johnson won a tight 5-4 decision over Nera Pampin Blanco of Spain in the finals. Blanco was seventh in the 2022 U23 World Championships. Johnson, a senior in high school, was second in the 2022 U20 World Team Trials and won a silver medal at the 2022 Pan American U20 Championships.
Johnson won two matches on Saturday, pinning Elma Zeidiere of Latvia in 4:42 in the quarterfinals, then shutting out 2022 U17 World champion Anju Sato of Japan in the semifinals, 4-0.
Claiming silver medals were
Shelby Moore
of Washington at 55 kg and
Tristan Kelly
of Colorado at 76 kg.
Moore, a high school senior and a EAP athlete at the U.S. Olympic & Paralympic Training Center, started her day with a 10-0 technical fall over Laura Stanelyte of Lithuania in the semifinals. In the finals, she was defeated in a 10-0 technical fall by 2018 World bronze medalist Diana Weicker of Canada.
Kelly, a 2022 U20 World bronze medalist and member of the U.S. Army WCAP program, opened her day with a semifinal pin over Nanaha Takasu of Japan in 46 seconds. In the finals, she was pinned by 2016 Olympic champion Erica Wiebe of Canada. On Saturday, Kelly went 2-1 in her pool to advance to the semifinals, losing only to Wiebe.
Bronze medals went to
Skylar Hattendorf
of New Hampshire (62 kg) and
Chloe Ogden
of Florida (68 kg).
Hattendorf pinned Alina Antipova of Latvia in 2:39 in her bronze medal match. Antipova was fifth in the 2021 European Senior Championships. Hattendorf had lost on Saturday to Johanna Lindborg of Sweden but was pulled back into repechage when Lindborg made the finals. Hattendorf is an EAP athlete at the U.S. Olympic & Paralympic Training Center.
Ogden, a student-athlete at North Carolina and a member of the Tarheel WC, also won a bronze-medal match, pinning Alice Bertdahl of Sweden in 1:24.
Two U.S. wrestlers placed fifth, dropping their bronze-medal matches: Elena Ivaldi of California at 53 kg and Ella Schmidt of Iowa at 62 kg. Ivaldi is a high school senior, and Schmit is a student-athlete at the University of Iowa.
The United States placed third in the team standings with 14 points, behind first-place Canada with 20 points and runner-up Japan with 19 points. There were 26 teams from 16 nations in the Senior division.
KLIPPAN LADY OPEN
At Klippan, Sweden, Feb. 18-19

Senior Women medalists
50 kg
Gold - Mihoko Takeuchi (Japan)
Silver - Katie Dutchak (Canada)
Bronze - Taru Vainionpää (Finland)
53 kg
Gold - Jonna Malmgren (Sweden)
Silver - Nagisa Harada (Japan)
Bronze - Samantha Stewart (Canada)
Bronze - Anna Tieliegina (Lithuania)
55 kg
Gold - Diana Weicker (Canada)
Silver - Shelby Moore (USA)
Bronze - Felicitas Domajeva (Norway)
57 kg
Gold - Kanon Yamashita (Japan)
Silver - Nellie Florentin (Arboga AK/Sweden)
Bronze - Giullia Penalber (Brazil)
Bronze - Céleste Sion (France)
59 kg
Gold - Othelie Hoie (Norway)
Silver - Hannah Taylor (Canada)
Bronze - Annatina Lippuner (Switzerland)
62 kg
Gold - Suzu Sasaki (Japan)
Silver - Johanna Lindborg (Sweden)
Bronze - Lydia Perez Tourino (Spain)
Bronze - Skylar Hattendorf (USA)
65 kg
Gold - Elleni Diacoumas Johnson (USA)
Silver - Nerea Pampin Blanco (Spain)
Bronze - Elma Zeidlere (Latvia)
Bronze - Nora Svensson (Sweden)
68 kg
Gold - Olivia Di Bacco (Canada)
Silver - Danuté Domikaityté (Lithuania)
Bronze - Ray Hoshino (Japan)
Bronze - Chloe Blake Ogden (USA)
72 kg
Gold - Cassidy Richter (Team Sachsen/Germany)
76 kg
Gold - Erica Wiebe (Canada)
Silver - Tristan Nicole Kelly (USA)
Bronze - Nanaha Takasu (Japan)
U.S. Senior Women's freestyle results
50 kg - Genesis Cejudo, Phoenix, Colo., dnp/15th
LOSS Svenja Jungo (Switzerland), pin 1:10
53 kg - Elena Ivaldi, Newcastle, Calif., 5th place
LOSS Jonna Malmgren (Sweden), pin 1:28
WIN Amber Wiebe (Canada), pin 5:02
LOSS Samantha Stewart (Canada), tech. fall. 10-0
53 kg - Estrella Dorado Marin. Colorado Springs, Colo. , 10th place
WIN Roberta Luostarinen (Finland), 10-5
LOSS Samantha Stewart (Canada), pin 1:27
55 kg - Shelby Moore, Buckley, Wash., SILVER MEDAL
WIN Sille Buch (Denmark), pin 2:25
WIN Felicitas Domajeva (Norway), 8-0
WIN Laura Stanelyte (Lithuania), tech. fall 10-0 2:49
LOSS Diana Weicker (Canada), tech. fall 10-0, 1:07
62 kg - Skylar Hattendorf, Hookset, N.H., BRONZE MEDAL
LOSS Johanna Lindborg (Sweden), pin 1:21
WIN Alina Aleksandra Antipova (Latvia), pin 2:39
62 kg - Ella Schmit, Bettandorf, Iowa. 5th place
WIN Mathilde Guedon (France), 3:32
LOSS Suzu Sasaki (Japan), pin 0:51
LOSS Lydia Perez Tourino (Spain), tech fall 11-0 3:42
65 kg - Elleni Johnson, West Jordan, Utah, GOLD MEDAL
WIN Elma Zeidiere (Latvia), pin 4:42
WIN Anju Sato (Japan), 4-0
WIN Nerea Pampin Blanco (Spain), 5-4
68 kg - Chloe Ogden, Geneva, Fla. ,BRONZE MEDAL
WIN Lilly Pfau (Team Sachsen/Germany), tech. fall 10-0 1:12
LOSS Olivia DiBacco (Canada), tech. fall 10-0, 0:53
WIN Alice Bertdahl (Klippan BK/Sweden), pin 1:24
76 kg - Tristan Kelly, Colorado Springs, Colo., SILVER MEDAL
WIN Taylor Follensbee (Canada), 6-2
LOSS Erica Wiebe (Canada), tech. fall 10-0 2:36
WIN Kamile Gaucaite (Lithuania), 2-0
WIN Nanaha Takasu (Japan), 0:46
LOSS Erica Wiebe (Canada), 2:07
Team Standings
1. Canada, 20
2. Japan, 19
3. USA, 14
4. Sweden, 9
5. Lithuania, 8
(of 26 teams from 16 nations)