News
USA Wrestling
International
USAW
Oliver reaches semifinals at World Olympic Qualifier, to face Gadzhiev with Olympic berth on line
by Joe Wedra, Special to TheMat.com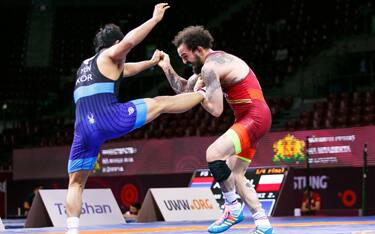 Jordan Oliver (USA) secures high single leg on Junsik Yun (Korea) at the World Olympic Games Qualifier in Bulgaria. Photo by Justin Hoch.

Jordan Oliver (Chapel Hill, N.C./Sunkist Kids/Tar Heel WC) won his first three matches in the World Olympic Qualifier in Thursday morning's session in Sofia, Bulgaria, advancing him to this afternoon's semifinals. With the top two placewinners qualifying their nation for the Tokyo Olympic Games, Oliver would punch his ticket to Tokyo with a win in the semis.
The session begins at 12 p.m. EST, with Oliver set to wrestle Poland's Magomedmurad Gadzhiev shortly after wrestling starts.
Oliver opened the day with Bulgaria's Ruhan Rasim, who took eighth at the 2021 European Championships. Rasim scored first on a step out, but Oliver quickly took control of the match. After notching three straight points on step outs, Oliver managed a takedown in a scramble in the middle of the second period and then posted another point on a lost challenge from Bulgaria, good for a 6-1 lead. Rasim would score one more step out point, but Oliver finished the bout strong to open the tournament with a 6-2 win.
Headed into Thursday's competition, Oliver was expected to face 2020 Asian champion Ilyas Bekbulatov of Uzbekistan in the second round. However, news broke at weigh-ins that Bekbulatov would not compete in the event. Bekbulatov, the 2017 European champion for Russia, did not show up at weigh-ins. This advanced Korea's Junsik Yun into the second round to face Oliver.
Oliver worked his way through the first four minutes with a 3-0 lead against Yun, but the scoring broke open a bit as the match progressed late. Yun found a takedown at the edge with just under two minutes to go, closing the gap to 3-2. Oliver quickly responded with a score off of a low single to push his lead to 5-2, but Yun scored again with just under 30 seconds left to tighten the match to 5-4. Oliver held tough over the final seconds and held off a late attack from Yun, good to advance to the quarters.
There, Oliver met Ukraine's Hor Ohannesian, who took third place at the 2019 European Games. Ohannesian defeated collegiate standout Sebastian Rivera (PUR), 5-1, in the first round and advanced to the quarterfinals via a double forfeit.
Oliver's match against Ohannesian went down to the wire, but the former Oklahoma State Cowboy pulled out late heroics to earn his spot in the semifinals. Down 2-1 and on the shot clock with under a minute to go, Oliver was able to hit a double to take Ohannesian to the mat, good for a 3-3 lead on criteria with less than 30 seconds to go. Oliver held off a late push for the second match in a row, securing the win and the chance for a winner-to-Tokyo match this afternoon.
Oliver will meet Magomedmurad Gadzhiev of Poland in the semifinals. Gadzhiev is a 2016 Olympian who has won a 2017 World silver medal and a 2019 World bronze medal. The Poland representative advanced to the semifinals after a tight 2-1 victory over Georgia's Beka Lomtadze, a 2019 World champion and two-time European silver medalist.
The session will begin at 12pm EST. It can be streamed on FloWrestling, while updates can be found on Twitter @USAWrestling.
WORLD OLYMPIC GAMES QUALIFIER

At Sofia, Bulgaria


U.S. men's freestyle entry
65 kg - Jordan Oliver, Chapel Hill, .N.C (Sunkist Kids/Tarheel RTC)
WIN Ruhan Rasim (Bulgaria), 6-2
WIN Junsik Yun (Korea), 5-4
WIN Hor Ohannesian (Ukraine), 3-3
Semifinals – vs. Magomedmurad Gadzhiev (Poland)
Men's freestyle quarterfinal
s
57 kg
Yuki Takahashi (Japan) vs. Reineri Andreu Ortega (Cuba)
Giorgi Edisherashvili (Georgia) vs. Bekhbayar Erdenebat (Mongolia)
65 kg
David Habat (Slovenia) vs. Georgios Pilidis (Greece)
Jordan Oliver (USA) vs. Magomedurad Gadzhiev (Poland)
74 kg
Vasyl Mikhailov (Ukraine) vs. Mitchell Finesilver (Israel)
Taimuraz Salkazanov (Slovakia) vs. Magomedkhabib Kadimagomedov (Belarus)
86 kg
Zbigniew Baranowski (Poland) vs. Sohsuke Takatani (Japan)
Abubakr Abakarov (Azerbaijan) vs. Boris Makoev (Slovakia)
97 kg
Abraham Conyedo Ruano (Italy) vs. Ahmed Bataev (Bulgaria)
Valerii Andriitsev (Ukraine) vs. Albert Saritov (Romania)
125 kg
Sergei Kozyrev (Russia) vs. Daniel Ligeti (Hungary)
Jose Diaz Robertti (Venezuela) vs. Sumit Sumit (India)