News
USA Wrestling
International
USAW
Oliver gets draw for World Olympic Qualifier on Thursday, opens up against Rasim of Bulgaria
by Gary Abbott, USA Wrestling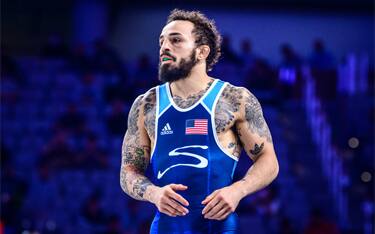 Competition portrait of Jordan Oliver by Tony Rotundo, Wrestlers Are Warriors.
Jordan Oliver (Chapel Hill, N.C./Sunkist Kids/Tarheel RTC) has received his draw for the 65 kg men's freestyle competition at the World Olympic Games Qualifier in Sofia, Bulgaria.
Oliver will compete on Thursday, and possibly on Friday based upon his results. He must qualify for the gold-medal finals of his weight class in order to earn a spot in the Tokyo Olympic Games. Only the top two placewinners in each weight class will qualify their nation for the Olympics. This is the final opportunity to qualify for the Tokyo Games. Since Oliver won the U.S. Olympic Team Trials – Wrestling, April 2-3, if he makes the finals, he will punch his ticket for Tokyo.
There were 28 athletes in the final registration for the weight class. Oliver will need to win four matches in a row to qualify for the Olympic Games.
The competition on Thursday, which includes all 10 men's freestyle weight classes, will include the semifinal round, meaning we will know on Thursday whether or not Oliver will participate in the Olympic Games.
Oliver will open with Ruhan Rasim of Bulgaria, who was eighth in the 2021 Europeans. If he wins, he will battle the winner of 2016 Olympian Junsik Yun of Korea and 2020 Asian champion Ilyas Bekbulatov of Uzbekistan.
Among the other stars in his half-bracket are two-time World medalist Magomed Gadziev of Poland, 2019 World champion Beka Lomtadze of Georgia and 2020 European silver medalist Niurgin Skriabin of Belarus.
Oliver was a two-time NCAA champion for Oklahoma State and a 2009 Junior World bronze medalist. He currently trains at the Tarheel RTC, which is affiliated with the Univ. of North Carolina, and is coached by Coleman Scott, Kenny Monday, Jamill Kelly and others there.
The two USA Greco-Roman wrestlers in the tournament, who compete on Saturday, also received their draws, Another story will be posted shortly on Adam Coon and Jesse Porter's draws.
The event will be broadcast live on FloWrestling. Brackets can be found on United World Wrestling and FloWrestling.
WORLD OLYMPIC GAMES QUALIFIER

At Sofia, Bulgaria,


First round draw for Thursday
65 kg – Jordan Oliver, Chapel Hill, .N.C (Sunkist Kids/Tarheel RTC)
Vs. Ruhan Hyusnyu RASIM (BUL) – 8th in 2021 Europeans
Second round draw if Oliver wins opening bout
Vs. Winner of Junsik YUN (KOR) vs. Ilyas BEKBULATOV (UZB)
Junsik YUN (KOR) – 2016 Olympian, 3rd in 2014 Asian Games, 2x Senior World Team member
Ilyas BEKBULATOV (UZB) – 2020 Asian champion, 2017 European champion for Russia, 2018 Yarygin champ
Other top competitors in Oliver's half-bracket
Magomedmurad GADZHIEV (POL) – 2017 World silver medalist, 2019 World bronze medalist, 2016 Olympian
Beka LOMTADZE (GEO) – 2019 World champion, 2nd in 2016 Worlds, 5th in 2018 Worlds, 2x European silver medalist
Niurgun SKRIABIN (BLR) – 2nd in 2020 Europeans, 9th in 2018 Senior Worlds
Hor OHANNESIAN (UKR) – 3rd in 2019 European Games, 2x World Team member
Jordan Oliver schedule

(local time in Sofia is seven hours ahead of U.S. Eastern time zone)
Thursday, May 6
Qualification rounds (10 am local time/3 am U.S. Eastern Time)
Semifinals (7 pm local/12:00 noon U.S. Eastern Time)
Friday, May 7
Repechage (10 am local time/3 am U.S. Eastern Time)
Medal matches (4:45 pm local/9:45 am U.S. Eastern Time)