News
USA Wrestling
International
College
High School & Youth
USAW
Peacock Original Documentary "My Pursuit: Life, Legacy & Jordan Burroughs" to premier April 1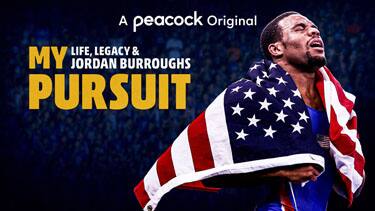 Free Documentary Chronicles the Life and Career of Olympic Wrestler Jordan Burroughs as part of Countdown to Tokyo Programming
NEW ORK, NY—March 29, 2021— Peacock Original documentary, My Pursuit: Life, Legacy & Jordan Burroughs tells the story of American freestyle wrestler Jordan Burroughs as he attempts to make his third Olympic team. Fans will be able to stream the documentary for free on Peacock April 1 as part of NBCUniversal's Countdown to Tokyo programming on Peacock.
"As one of the most storied Olympic sports, wrestling has always held a prominent place in the Olympic Games, uniting fans from around the world," said Rick Cordella, Executive Vice President and Chief Revenue Officer, Peacock. "Jordan Burrough's is one of USA Wrestling's brightest talents, and his iconic story is an exciting addition to Peacock for fans who are eager to watch the Tokyo Olympics this summer."
Jordan Burroughs has lived the ups and downs of the Olympic experience, returning home a hero after winning gold in London and then dealing with deep personal disappointment following a loss in Rio four years later, setting the stage for attempt to make the team for Tokyo.
My Pursuit: Life, Legacy & Jordan Burroughs will examine these competitive moments, introduce viewers to the people who have made Burroughs the man he is today, and include interviews with the wrestler ahead of one of the most challenging Olympic Trials of his career. For a preview of the documentary, click
Jordan Burroughs Peacock Trailer
.
Burroughs is scheduled to compete to qualify for the Tokyo Olympics on April 3. NBC will present coverage of every match of the U.S. Olympic Team Trials for wrestling across Peacock Premium, NBCSN, NBCSports.com, and the NBC Sports app. See more on
NBCSportsPressBox
Additional Peacock Originals available on demand include Lost Speedways, hosted by Dale Earnhardt, Jr., and In Deep with Ryan Lochte. Peacock offers daily sports programming on the NBC Sports channel which streams Peacock Original Brother from Another, as well as The Dan Patrick Show, PFT Live, and The Rich Eisen Show. Peacock Premium also currently features live sports content from Premier League, US Speed Skating, Figure Skating, Rugby, Supercross, Skiing, and Snowboarding. Highlights of Peacock's previous live sports offerings include a Sunday NFL Wild Card playoff game, U.S. Open golf, U.S. Women's Open golf, and upcoming events include Olympics and Paralympics coverage.
Peacock Premium is included at no additional cost for Comcast's eligible Xfinity X1 and Flex customers and Cox Contour customers. Peacock is currently available on the Roku platform; Apple devices, including iPhone, iPad, iPod touch, Apple TV 4K and Apple TV HD; Google platforms and devices, including Android™, Android TV™ devices, Chromecast and Chromecast built-in devices; Microsoft's Xbox One family of devices, including Xbox One S and Xbox One X; Sony PlayStation4, PlayStation 4 Pro, and PlayStation5; and VIZIO SmartCast™ TVs and LG Smart TVs.
About Peacock
Peacock is NBCUniversal's streaming service. Peacock delivers a world-class slate of exclusive originals, on-demand libraries of hit TV shows, plus critically acclaimed films from the vaults of Universal Pictures, Focus Features, DreamWorks Animation, Illumination, and Hollywood's biggest studios. In addition, Peacock taps into NBCUniversal's unmatched ability to deliver a broad range of compelling topical content across news, sports, late-night, Spanish-language, and reality. NBCUniversal is a subsidiary of Comcast Corporation.