News
USA Wrestling
College
USAW
Nick Lee of Penn State to receive Amateur Wrestling News' Hammer Award
by Amateur Wrestling News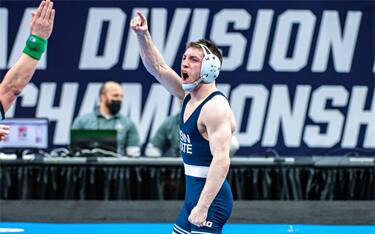 Nick Lee of Penn State celebrates after winning his 2021 NCAA title. Photo by Sam Janicki.
Amateur Wrestling News will present The Hammer, its annual award, to Penn State's Nick Lee.
The award is presented to the wrestler who wins the NCAA national title at what the writers at AWN feel is the most competitive weight class of the season.
Lee won the 141-pound NCAA Division I title this year in St. Louis, defeating Iowa's three-time All American Jaydin Eierman in the finals. There were six returning All Americans at the weight. Lee finished the season 13-1, with that lone loss being to Eierman in the Big Ten finals.
Past Hammer recipients include Alex Dieringer (Oklahoma State), Logan Stieber (Ohio State), Spencer Lee (Iowa), Zahid Valencia (Arizona State), and Bo Nickal (Penn State).
An award is only as prestigious as the quality of those who have previously won it.