News
USA Wrestling
College
USAW
Updated Session VI Notes: Labriola, Elam get revenge in rematches; McKee's run through wrestle-backs; Yahya Thomas, Myles Amine, Kyle Parco and more
by Andy Elder, Special to TheMat.com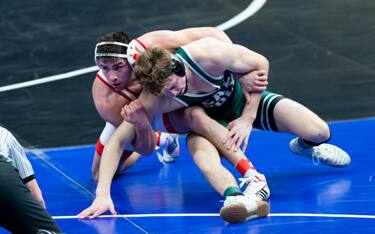 Mikey Labriola of Nebraska controls Bernie Truax of Cal-Poly in 174-pound third place match. Labriola avenged his earlier loss to Truax. Photo by Larry Slater.

Hey, haven't I seen you before?
It doesn't happen often, but sometimes wrestlers have the opportunity to either avenge or affirm a result that happened in the top half of the bracket later in the tournament during the place matches. Four of those opportunities presented themselves today. Two original results were affirmed, while two were reversed.
At 125, seventh-seeded Taylor LaMont of Utah Valley upset second-seeded Sam Latona of Virginia Tech in the quarterfinals. A day later the two met in the fifth-place bout. Apparently the first meeting wasn't a fluke as LaMont won again, 4-1.
At 174, Cal Poly's Bernie Truax, seeded 12th, upset fourth-seeded Mikey Labriola of Nebraska, 7-4, in the quarterfinals. However, in a rematch for fifth place, Labriola took Truax down to his back for a crucial six-point third-period move in an 8-3 victory.
At 197, Missouri No. 7 seed Rocky Elam probably enthusiastically embraced a rematch with Oklahoma's Jake Woodley, the No. 26 seed who upset Elam in the first round, 4-1. Elam earned a measure of revenge in the fifth-place bout with a convincing 9-3 win.
No wrestlers this year lost in the first round and made the long trip back to a third-place finish. Elam was poised to do that but fell to Myles Amine in a consolation semifinal match.
At 285, fifth-seeded Tony Cassioppi of Iowa affirmed his dominance of fourth-seeded Cohlton Schultz of Arizona State. Cassioppi followed up his 4-1 quarterfinal win with a 5-0 win in the third-place bout.
Patrick McKee travels a long, hard road to third-place finish

Minnesota redshirt sophomore Patrick McKee smiled as he assessed his physical condition after finishing third at 125 pounds.
"I feel good. A little bit sore, but that's a given," he said.
Who wouldn't be?
He had just completed his eighth match of the tournament, his only loss coming in the second round to No. 2 seed and sixth-place finisher Sam Latona of Virginia Tech. Once he was knocked into the consolation bracket, McKee won six straight matches to far outperform his No. 15 seed.
"I just kept thinking one match at a time. Some unfortunate stuff happened in my second match, but you've just got to put that behind, put that in the past, have short-term memory. Once I got on a roll, I didn't think there was anyone who could stop me. And it proved that there wasn't anybody," he said.
Asked for a word to describe the grind that he endured to earn his third-place finish, he didn't hesitate.
"I have the perfect phrase, three words, love the fight. That's about it right there. Brandon Paulson has been preaching that to me since I was a little young guy. That's the mentality that I had," he said.
Paulson, a former standout for Minnesota and an Olympic Greco-Roman wrestler, has been a coach in several capacities in the greater Twin Cities area. His Twitter handle is @lovethefight.
McKee said that despite a COVID-shortened season, the competition in the Golden Gopher wrestling room and the rigors of a Big Ten schedule were more than enough to prepare him for the tournament. Now that it is over, he had definite plans for what comes next.
"I'm going go hug my family when I can," he said, adding that he missed them while quarantining. "After that, I'm battling and keep training. Next year I'm not going for just third."

Yahya Thomas draws on international experience to place third
After a disappointing eighth-place finish at the 2021 Big Ten Wrestling Championships, Northwestern redshirt junior 149-pounder Yahya Thomas had to sweat out an at-large bid to the NCAA tournament.
He was afforded one, but it didn't come with much respect. He was faced with navigating the field as the No. 25 seed.
"Looking at the seeding and everything, the only thing in my mind was go out there and execute, go out there and do what I know how to do," he said. "I know how good I am and I know that if I'm able to get to my offense and keep other guys from getting to their offense, then I'll be able to win matches, and win big matches like I did this weekend."
He got off to a good start, knocking off No. 8 seed Jaden Abas of Stanford, 6-2, and then No. 9 seed Legend Lamer of Cal Poly, 10-4, to advance to the quarterfinals. Top-seeded finalist Sammy Sasso of Ohio State bumped him into the consolation bracket with an 8-3 decision.
But the winning didn't stop for Thomas.
He beat Abas again, 7-1, to earn All-America status and followed that up with wins over No. 3 seed Brock Mauller of Missouri, 7-0, and No. 4 seed Boo Lewallen of Oklahoma State, 5-3, for third.
He credited his support system — family, teammates and coaches — for helping him grind through.
"It's definitely a team sport. I think a lot of people think that just because it's you out there that you're the only one responsible for whether you win or lose. Really, it's not the case," he said. "(It's) my family helping me and supporting me through tough times, through matches I've lost, as well as teammates and coaches."
He said that he drew on his experiences competing on the Team USA UWW Junior Freestyle World Team to help him, too.
"I think that it really just helps me with my confidence being able to compete for USA Wrestling at such a high level. Making a Junior World Team is no joke. That's a really big deal, especially for wrestlers in that age group," he said. "I think overall it was a great experience being able to go overseas and see the world. I had never been overseas before."
Fresno freshman Parco battles through adversity for podium finish

Fresno State freshman 149-pounder Kyle Parco would have liked one more win, but considering he went from a No. 17 seed to a sixth-place finish, he had to admit he was pleased with his three days of competition in St. Louis.
"I would have liked to win that last one. Not the finish I wanted, but I'm pretty happy with this weekend considering all of the adversity I've dealt with this year," he said.
And it wasn't just run of the mill adversity that Parco was referencing. Just three years into a program rebuild, Fresno State announced in October it was cutting wrestling, along with two other programs, to help balance a budget ravaged by the effects of the pandemic. And, he wrestled up a weight for unspecified reasons, even though it wasn't his first choice.
"This year was especially hard as everyone in the world knows with the program being cut. There's a lot of politics. We missed a lot duals with some problems with weight. Just all of that stuff. Week after week there was something wrong going on," he said,
"It was tough to keep to keep your head up. It was a lot of self talking, just getting through it, and having a lot of people to support me. It just makes me stronger for the years to come."
He rebounded from a second-round loss to top-seeded Sasso with four wins, three over the Nos. 9, 6 and 7 seeds. He chalked up his podium push to a positive attitude.
"Go out there with the attitude of I don't care what seed you are, I don't care where you're from," he said, "I'm going to go out there and get it done."
After NCAA bronze, Michigan's Myles Amine's next big event: competing for San Marino in Tokyo Olympics
Myles Amine of Michigan came in as No. 1 seed at the NCAA Championships and fell just short, placing third at 197 pounds. All beat and bruised, with a swollen eye and wrap around his head, Amine looked like he just survived a war after his third-place win over
His next big tournament is an even bigger stage
"We are building something really special at Michigan. It first starts off with the training partners I have had the opportunity to work out with, like Dom Abounader, Logan Massa, my cousin Cameron. Getting Alex Dieringer back involved in the room this year. It is a stacked room in the upper weights. I have guys pushing me every day to be at my best," he said.
"You look at our coaching staff. They are second to none, both at the freestyle circuit with Sergei (Beloglazov), and the four coaches on our Michigan coaching staff. I am super thankful for all of them, and my workout partners. Looking back, if I had to do this all over again, I would pick Michigan every time," he continued.
Amine became a four-time All-American with his bronze medal in St. Louis. He chose to compete in college this year, while his Michigan teammate Stevan Micic, who is also qualified for the Olympics competing for Serbia, decided to focus only on freestyle and skip the college year. He actually almost missed the college season due to injury in a freestyle event.
"I take a lot of pride wearing the block M," he said. "It was an interesting start of my year. My first competition was the RTC Cup. I fractured my thumb and tore my ligament and have to have surgery, right before the college season. It put the whole season in jeopardy for me. They said it would be a two-month recovery for me, and I said perfect timing. Wrestle a few dual meets and come back for Big Tens and Nationals. For me it is important. I love the team aspect. Last year, a lot of people's dreams were taken away in 2020. I didn't want to take anything for granted. I wanted to come out here. My goal was to win a national title and it will sting for a while that I didn't, but I am always thankful to compete.
True freshman Rocky Elam, fifth at 197, spent his prep senior year at U.S. Olympic & Paralympic Training Center
It is pretty rare for a true freshman to earn All-American honors in their first NCAA Championships, but Missouri's Rocky Elam turned the trick in St. Louis with his fifth-place finish at 197 pounds.
Elam had some preparation for college that only a select few wrestlers have ever been though. A high school star in Missouri, he chose to spend his senior year by leaving home and going to the U.S. Olympic & Paralympic Training Center in Colorado Springs, Colo. as part of the Elite Accelerator Program (EAP). He trained under Olympic champion and National Freestyle Developmental Coach Kevin Jackson and worked out regularly with World champion and Olympic medalist J'den Cox, and other elite freestyle wrestlers.
"I went my senior year, and honestly, going to the OTC was one of the best decisions of my life. It prepared me for my first year of college. I was nine hours away from home and by myself, living in a dorm room. It prepares you for the World-level competition. There are World-class coaches, athletes and people out there. I couldn't emphasize enough for kids, if you are feeling like it, to definitely do it," he said.
Elam gave some specific examples of how his opportunity helped him improve and prepare for high-level success.
"Coach KJ (Kevin Jackson) worked with me, J'den Cox worked with me, and he also went to Missouri. There were a few other EAP athletes out there and partners out there. There is always camps where guys come in from around the nation, and guys come in from other countries. You see all kinds of high-level competition, all kinds of looks. The best coaches in the world are out there. That was an awesome experience for me," he said.
Multiple All-Americans – including 2020 NWCA selections
Four-time
Spencer Lee (Iowa), 125
Nick Lee (Penn State), 141
Chad Red (Nebraska), 141
Sebastian Rivera (Rutgers/Northwestern), 141
Jaydin Eierman (Iowa/Missouri), 141
Hayden Hidlay (NC State), 157
Myles Amine (Michigan), 197

Three-time
Austin DeSanto (Iowa), 133
Roman Bravo-Young (Penn State), 133
Tariq Wilson (NC State), 141
Austin O'Connor (North Carolina), 149
Brock Mauller (Missouri), 149
Boo Lewallen (Oklahoma State), 149
Kaleb Young (Iowa), 157
Ryan Deakin (Northwestern), 157
Mikey Labriola (Nebraska), 174
Michael Kemerer (Iowa), 174
Dakota Geer (Oklahoma State), 184
Jacob Warner (Iowa), 197
Gable Steveson (Minnesota), 285
Trent Hillger (Wisconsin, 285
Two-time
Drew Hildebrandt (Central Michigan), 125
Brandon Courtney (Arizona State), 125
Daton Fix (Oklahoma State), 133
Sammy Sasso (Ohio State), 149
Jesse Dellavechhia (Rider), 157
Brayton Lee (Minnesota), 157
David Carr (Iowa State), 157
Jacori Teemer (Arizona State), 157
Wyatt Sheets (Oklahoma State), 157
Shane Griffith (Stanford), 165
Travis Wittlake (Oklahoma State), 165
Ethan Smith (Ohio State), 165
Jake Wentzel (Pitt), 165
Lou DePrez (Binghamton), 184
Hunter Bolen (Virginia Tech), 184
Aaron Brooks (Penn State), 184
Trent Hidlay (NC State), 184
Nino Bonaccorsi (Pitt), 197
Mason Parris (Michigan), 285
Tony Cassioppi (Iowa), 285
Tate Orndorff (Ohio State/Utah Valley), 285
Gannon Gremmel (Iowa State), 285