News
USA Wrestling
College
International
USAW
Davidson names Marcus Coleman to coaching staff, and continue career with its Regional Training Center
by Gary Abbott, USA Wrestling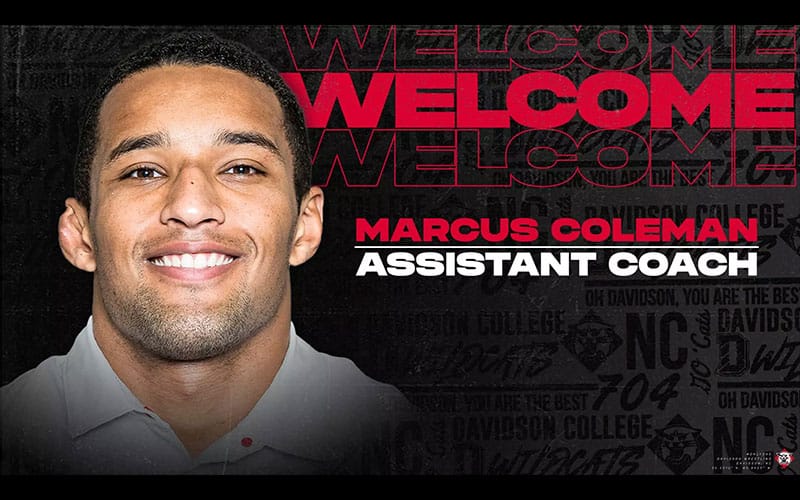 Davidson press release
DAVIDSON, N.C. – Head coach
Nate Carr Jr.
has announced the addition of
Marcus Coleman
to the
Davidson wrestling
staff on Monday.
"We are extremely excited to welcome Marcus to our program and coaching staff," said Carr. "His character and work ethic along with his overall experience in the sport is going to be pivotal in helping us build an elite level culture while also giving our scholar-athletes the best experience possible."
Coleman comes to Davidson after graduating from Iowa State as a distinguished member of the Cyclones wrestling team, who finished the 2022-23 season ranked fifth in Division I.
In his collegiate career, Coleman compiled a 99-42 overall record, is a five-time NCAA Qualifier, and a two-time All-American. Most recently, Coleman took second place at the 2023 Big Ten Championship and fifth at the NCAA Championships at 184 pounds. He also became the second wrestler in Iowa State history to qualify for five NCAA Championships (2019, 2020, 2021, 2022, 2023).
Coleman was named Big 12 and NCAA Wrestler of the Week on December 28th, 2022 after beating No. 1 Aaron Brooks (Penn State) at the Collegiate Duals, handing Brooks' his only loss of the season. Coleman ended his final season with a 24-5 record and claimed 15 wins against ranked opponents.
In 2022, Coleman became the first Iowa State All-American at 184 pounds since 2008 after taking seventh at the NCAA Championships. He also finished third at the Big 12 Championships and ended the season with a 22-6 record.
In 2021, Coleman finished fourth at the Big 12 Championships and was named to the Big 12's All-Academic Second Team.
Coleman graduated from Iowa State with a bachelor's degree in criminal justice, a minor in Family Services, and was selected to ISU's Dean's List in 2020.
"I am really thankful for this opportunity, and I cannot wait to join the Davidson family," said Coleman. "I'm excited to get to work with our scholar-athletes and help build a great program!"
Coleman will join Nate Carr Jr. and Ty Eustice on the Davidson staff for the 2023-24 campaign, and he reunites with his mother, Erica, who is the Director of Operations for the Wildcat wrestling program.
Marcus Coleman Awards and Honors
99-42 Career Record (21 F, 8 TF, 20 MD)
5x NCAA Qualifier (2019, 2020, 2021, 2022, 2023)
2x All-American (2022, 2023)
Big 12 Wrestler of the Week (12/28/22)
NCAA Wrestler of the Week (12/27/22)
2023 NCAA Place-Winner (Fifth Place)
2023 Big 12 Championship (Second Place)
2022 NCAA Place-Winner (Seventh Place)
2022 Big 12 Championship (Third Place)
2021 Big 12 Championship (Fourth Place)
2021 Second Team Academic All-Big 12
2020 Big 12 Championship (Fifth Place)
2019 Big 12 Championship (Fifth Place)
Coleman to compete in freestyle for CLT Regional Training Center

By USA Wrestling
Not only is Iowa State star Marcus Coleman going to Davidson College in a coaching role, but will continue his athletic career as part of the CLT Regional Training Center, which is being formed and will be affiliated with the Davidson program.
"We are taking a significant step forward by founding the CLT Regional Training Center. Marcus will join as an athlete, enabling him to pursue his goal of becoming a World and Olympic champion," said Davidson coach Nate Carr, Jr.
Coleman was second at the 2022 U.S. Open at 86 kg, and was a USA Wrestling freestyle All-American as a youth at the 16U and Junior levels.
Carr also is excited that Marcus, and his mother Erica Andorf, who is the current Director of Operations for the Davidson wrestling team, are now both on his staff at Davidson. Carr believes they may be the only mother-son combination to work together on a college wrestling staff.
"Upon arriving at Davidson, my first hire was Erica Andorf, who joined our team as the Director of Operations. Notablt, Erica is also Marcus' mother. We are excited to work alongside them both, to help build a strong program. Erica and Marcus bring an incredible energy and passion to the sport, which will undoubtedly contribute to our success," said Carr.