News
USA Wrestling
College
USAW
#KeepStanfordWrestling request: Voice your anger to Stanford administration during NCAA finals
by Keep Stanford Wrestling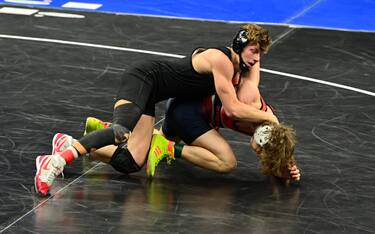 Stanford's Shane Griffith on the way to a victory in the 2021 NCAA Championships semifinals. Photo by Tony Rotundo, Wrestlers Are Warriors.
Tonight on ESPN (4 PM Pacific),
Shane Griffith will be wrestling for the NCAA championship
, wearing a black singlet (no Stanford logo) to protest Stanford's decision to eliminate wrestling as a varsity sport. We have been in contact with the production crew and commentators for the event and expect that they will mention our talking points during the broadcast.
Please tune in and be vocal through your social media channels. Tag both
KSW
and
36 Sports Strong
Twitter accounts. Voice your anger and direct it toward
Stanford AD
and
Stanford
Twitter accounts as well.
Below are talking points to include in your posts:
• Stanford sits at #16 in the NCAA team standings, proving that we are a nationally competitive program
• We've raised enough ($12.5M) to endow the program
• The wrestling team at Stanford is 3x more diverse than overall enrollment (44% vs. 16%)
• Yet admin won't consider reinstatement
• What are the real reasons they canceled us?
At the same time, we are unveiling a new website for
36 Sports Strong
, the group that includes high profile athlete alums from ALL sports at Stanford. We have over 2000 signatures from alumni and have added new ways to voice your anger at the administration. Please visit and share this new site with everyone you know. We are turning up the heat and growing our numbers every day.
By the end of today, two more All Americans will be added to Stanford's proud history of wrestling accomplishments. Jaden Abas is only a freshman, anchoring a young team of future stars at Stanford. Shane Griffith is a sophomore and will be standing on our sport's biggest stage. Five of our seven NCAA qualifiers are underclassmen. The future has never been brighter for Stanford Wrestling.
For a few minutes, all eyes will be on us. Don't let this opportunity slip away. Let it be a catalyst that energizes and amplifies our efforts over the last 9 months.
Get loud!
Robert Hatta '97
Shawn Harmon '01
Patricia Miranda '01
#ForTheFamily