News
USA Wrestling
International
College
Beach
Women
USAW
Application deadline is June 1 for Team Leader/Coach position for ANOC World Beach Games in Bali, Indonesia
by Gary Abbott, USA Wrestling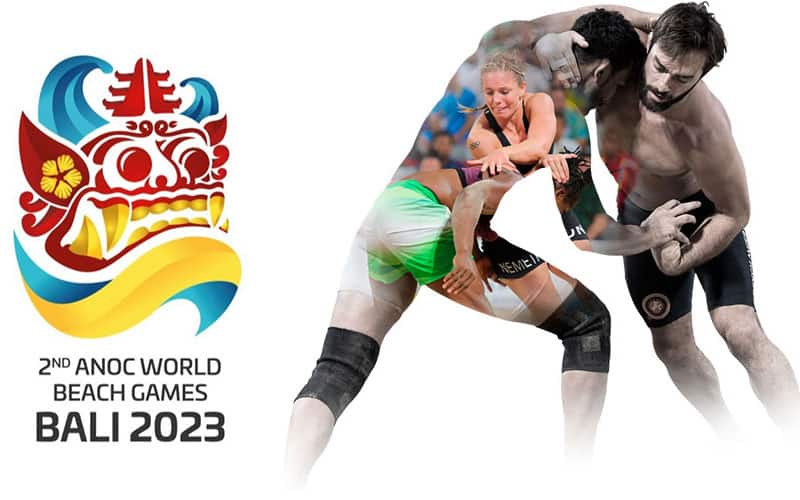 USA Wrestling is accepting applications for a
Team Leader/Coach
to lead the U.S. Beach Wrestling Team which will compete in the
ANOC World Beach Games in Bali, Indonesia
, August 10-11.
The deadline for application for this volunteer position is Thursday, June 1
.
The World Beach Games is a prestigious multi-sport event organized by ANOC (Association of National Olympic Committees). Beach Wrestling is one of only 14 Beach sports on the program for the Beach World Games in Bali.
More information on the ANOC Beach World Games
,
This will be the second ANOC Beach World Games. USA Wrestling participated in the first World Beach Games in Qatar in 2019.
This is a U.S. Olympic & Paralympic Committee funded event, meaning expenses for the Team Leader/Coach will be covered.
There is an approved selection process for the Team Leader/Coach posted on
USA Wrestling's website
(please scroll to the bottom of the page).
USA Wrestling seeks an individual who has proven abilities as both a leader and a coach, with an emphasis on experience within Beach Wrestling.
To be considered for this opportunity, the individual must be a current USA Wrestling Leader member and have a minimum of bronze-level certification in USA Wrestling's National Coaches Education Program (NCEP). Additional requirements are included in the Games Staff Selection Procedures document.
Those who wish to be considered for the Team Leader/Coach position must send the following information to
Jaimie McNab of USA Wrestling at jmcnab@usawrestling.org by June 1
.
• Information on coaching involvement in Beach Wrestling
• Information on leadership involvement in Beach Wrestling
• Information on involvement as an athlete in Beach Wrestling
• Additional information on their experience as a coach, leader and/or athlete in other styles of wrestling
The applications will be reviewed by the USA Wrestling World Beach Games Selection Committee. Top candidates will be asked if they are interested in serving, and may be interviewed by the committee.