News
USA Wrestling
College
USAW
Coe has three champions, Wartburg and Loras get two champions at NWCA Div. III Coaches Association Nationals
by Jon Gremmels, Special to TheMat.com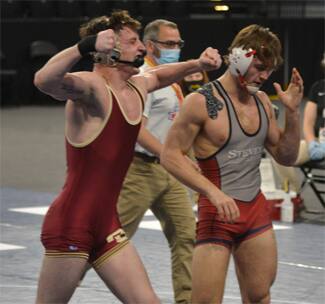 Coe's Josh Gerke, left, celebrates after beating top-seeded Brett Kaliner of Stevens Institute of Technology in the semifinals Saturday. Photo by Jon Gremmels.
CCORALVILLE, Iowa – Last year, Loras ended Wartburg's reign atop the American Rivers Conference.
The Knights got back on top this season, but another conference rival proved Saturday night that it is ready to make a challenge for the top spot.
Coe won more championships than any other team, crowning three champions at the Division III Coaches Association National Wrestling Championships at Xtream Arena.
"That's out goal; that's what we train for, to take that top spot," Coe's Brock Henderson, who won at 133, said.
"We've been working really, really hard, and everybody is buying into the program," said Josh Gerke, who won the title at 149.
Alex Friddle of Coe opened the finals with a 6-3 win against Wartburg's Brady Kyner at 125, his second win this season against the Knight.
"I love setting the pace being the first one out," he said.
Kyner got in an early shot and had Friddle's leg lifted, but Friddle countered as Kyner tried for a tripto record the first points.
Friddle then broke a 2-2 tie on a quick escape and an even quicker takedown in the opening 10 seconds of the third period.
"I saw the shot at the start of the match," Friddle said. "He was leading with his right leg, and I took advantage of it."
Henderson, the second seed, followed his teammate with a more dramatic win at 133. Henderson found an opening for a low shot in the second sudden-victory period, scored a takedown with 17 seconds left and beat top seed Robbie Precin of North Central 4-2.
"I knew I had to put pressure on him," Henderson said. "He had been loosening."
Gerke made it 3-for-3 for the Kohawks at 149 as he beat Wartburg's Brady Fritz for the second time this season. With the match tied at 2 in the third period, Fritz got in a shot that Gerke countered. A scramble then ensued with Gerke finally ending up on top in the flurry, getting the takedown with 9 seconds left. Wartburg issued a challenge, but it was denied and Gerke won 4-2.
"To be honest, I've kind of blacked out what happened," he said. "It's a huge weight off my shoulders."
Wartburg took advantage of strong starts each day, winning their first 17 matches Friday and first seven Saturday. They couldn't do it again in the finals. The Knights lost their first three championship matches and finished 2-4.
"I'm not happy (about that)," said David Hollingsworth, one of the two champions. "Those guys are my brothers. It hurt that they didn't win. It breaks my heart."
Hollingsworth changed Wartburg's fortunes when he pinned Coe's Brady Hollingsworth in 4 minutes, 17 seconds at 157 pounds. Hollingsworth led 3-1 when he tried for an ankle pick that Henderson countered. But after a short scramble, Hollingsworth wound up on top and Henderson wound up on his back.
"I was not giving up that counter," Hollingsworth said. "I have strong hips and used that."
Hollingsworth used his flexibility to get to the finals. He spent much of his semifinals match against Augsburg's Tyler Shilson in full splits after Shilson got in on his leg. But he avoided giving up takedowns and pulled out a 7-6 win.
"I'm the spinmaster," he said. "I practice yoga."
The Knights' only other win came at 174, when Kyle Briggs racked up 6 minutes, 7 seconds of riding time in an 8-0 win against Solomon Nielsen of Augsburg. While he was in control all the way, Briggs couldn't duplicate his earlier success when he pinned all four of his opponents on his way to the finals.
"I kind of laughed when I walked off the mat," Briggs said. "He was the first guy I hadn't pinned the whole tournament, and it was the least emotionally exhilarating I've been and that was probably the biggest victory I've ever had."
Elmhurst's Jimmy McAuliffe added to Wartburg's agony when he beat top-seeded Kristian Rumph 6-3 in the final at 141. Trailing 3-1 entering the second period, McAuliffe escaped to pull within 3-2, then went ahead 4-3 when he got in on Rumph's hips and powered him to the mat for a takedown with 1:15 left in the period.
"I had a two-on-one and tried an inside trip and it worked," McAuliffe said of the go-ahead score. "It opened up a lot of things."
McAuliffe already is thinking about next year, as he plans to take advantage of the year of extra eligibility.
"The first thing I said after winning was I want another one," he said. "I'm so hungry."
Bradan Birt made history in several ways Saturday night. He became the first champion in Millikin history; joined his father, Millikin Coach Ryan Birt, in becoming a Division III champion; and was named the Outstanding Wrestler award. Ryan Birt won the title in 1999 for Upper Iowa.
"I've wanted to be the best Birt of wrestling, and I think I proved that tonight," Bradan Birt said after defeating Wartburg's Zane Mulder 15-0 in 5 minutes, 24 seconds.
Birt jump ahead 8-0 in the first period on a takedown and two near falls and never looked back. He added a takedown and a four-point near fall in the second period and finished the match early with a third-period escape.
"I like to say my style is fast-paced, in your face," he said. "Suffocating is the word I use."
Birt won his first match of the tournament by fall, then outscored his opponents 59-0 in winning by three technical falls and a major decision.
Another College Conference of Illinois and Wisconsin school, North Central crown its first champion when Cody Baldridge scored a 10-2 major decision against Gabe Zierden of Concordia-Moorhead in the final at 197.
Although no team scores were kept, nonofficial totals showed Wartburg finishing ahead of Coe in the race for the top. Loras wasn't far behind those two, and the Duhawks equaled Wartburg by winning two titles Saturday night.
Shane Liegel broke a 1-1 tie with a takedown with 1:22 remaining and defeated Paul Detweiler of Coe 4-1 at 184 pounds.
"I knew if I could get to my attack it would open it up," Liegel said. "I started feeling it and took a chance with a low single and then rode him as hard as I could.
"It's crazy," Liegel said. "For one thing, I'm grateful we were able to have this."
The tournament came about because of the efforts of the National Wrestling Coaches Association, which stepped up after the NCAA decided there would be no Division III championships this winter.
The Duhawks' other title came at heavyweight when Wyatt Wriedt beat Augsburg's Tyler Kim 4-3.
An escape in the third period put Wriedt on top, then he and Kim traded penalty points for stalling after that.
Both Loras champions are sophomores, so Liegel says not to count out the Duhawks when talking about the American Rivers Conference race.
"We're young; that's what I like about us," he said. "I think this is a stepping stone for us."
Wartburg started strong for the second day in a row, winning its first six semifinal matches and its lone wrestleback before Augsburg's Tyler Kim ended the run with a takedown in overtime against Wartburg's Jordan Brandon. On Friday, Wartburg had "bonus-point" wins in its first 17 matches before suffering a loss.
Kyner ignited the Knights' start in the semifinals at 125 pounds when he pinned top seed Samuel Braswell of Averett in 2 minutes, 39 seconds. Kyner put Braswell on his back early for a 6-0 lead and had him in trouble several times before flattening Braswell's shoulders.
The Knights then added a run of semifinal wins from 141 through 174, finishing it off with Briggs' fourth consecutive pin.
In addition to the finalists, Joe Pins won three consecutive matches in the wrestlebacks and placed third at 133 pounds with a 9-8 win on a riding-time point against 2019 All-American Eron Haynes of Nebraska Wesleyan. Brandon forfeited to sixth place after his loss in the semifinals.
AN AMERICAN RIVERS CONFERENCE FLOOD
Teams from the American Rivers Conference showed their strength as Wartburg, Coe and Loras likely would have finished as the top three teams if the tournament was scored.
Coe and Loras each had nine wrestlers designated as All-Americans by the NWCA for placing in the top eight.
Besides its finalists, Coe received a third-place finish from heavyweight Kaleb Reeves, a fifth from Riley Wright (141), a sixth from Ryan Schott (184) and eighth-place finishes from Ryker Kurimski (165) and Tristin Westphal (174).
For Loras, Jacob Krakow (174) took third, Zeke Smith (149) and Gabe Fiser (165) were fourth, Zach Thompson (133) captured fifth, Jalen Schropp (141) placed sixth and Jared Hensley (125) claimed seventh.
In addition to the "Big Three," the rest of the ARC schools combined to put 11 wrestlers in the top eight.
Luther led that group with four: Ira Kuehn, third at 184; Donovan Corn, fourth at 197; Cristian Chavez, sixth at 125; and Tyler Difiore, eighth at 141. Central got seventh-place finishes from Shandon Akeo (133) and Luis Ramos (141) and an eighth from Chase Poston at 125; Nebraska Wesleyan's Haynes was fourth at 133; Simpson's Dylan McChesney claimed fifth at 125; and Dubuque's Chris Nielsen was seventh at 197, pinning conference rival Don Phillips II of Buena Vista in 2:25.
LOWER MIDWEST REGION REIGNS
Westling in their backyard – and totaling 16 of the 34 teams in the field -- schools representing the Lower Midwest Region filled 15 of the 20 spots in the finals.
Most of the damage was done by the American Rivers Conference, but College Conference of Illinois members North Central and Millikin combined for 10 top-eight finishes.
The two CCIW schools had three finalists, while five other North Central wrestlers finished in the top eight: Bradley Rosen (fourth, 125), Brock Montford (fourth, 184), Rafael Roman (sixth, 165), Ben Bergen (seventh, heavyweight) and Cole Cervantes, eighth, 157). Logan Hagerbaumer (third at 197) and Peter McCusker (sixth at 149) had top-eight finishes for Millikin.
Two Cornell wrestlers, Killian Perrigorn (157) and Casey Allen (165), finished with wins in their fifth-place matches.
COAST GUARD LEADS THE EAST
As it makes the longest return trip home, Coast Guard will have plenty of hardware to take along.
Although three of its four semifinalists suffered losses, two of them – A.J. Pagliarulo (141) and Philip Rogers (165) wrestled back to place third. The Bears also got a fourth from Anthony Ulaszek (157), a fifth from Jonathan Wagner (197) and a seventh from Noah Caskey (149).
Top-seeded Brett Kaliner, who lost to Gerke in the semifinals, came back and took third at 149 for Stevens Institute of Technology. Teammate Kyle Slendorn placed fourth at 141.
Averett, a relatively new program in Division III in Danville, Virginia, earned its first three All-America designations.
Braswell bounced back from the loss to Kyner and captured third place with a 7-4 win over Bradley Rosen of North Central. In addition to Braswell, George Moseley placed sixth for the Cougars at 174 pounds, and Alex Turley took seventh at 165.
Another new team from Virginia that also had never had an All-American, Southern Virginia, received a fifth-place finish from top seed Nico Ramirez at heavyweight.
Greensboro produced its second All-American in Joshua Wilson, sixth at 133.
AUGSBURG LEADS THE REST OF THE MIDWEST
Augsburg, which lost four national champions from its 2020 team that hoped to repeat as national champion and tie Wartburg at 14 titles before the NCAA canceled the national meet, began a rebuild this season with seven freshman or sophomores in its lineup.
The Auggies wound up with five All-Americans, including their two finalists. The others were Division I transfer Tyler Shilson, third at 157; Nick Rogge, fifth at 184; and Bentley Schwanebeck-Osterman, sixth at 197.
Two Michigan schools each went home with two All-Americans. Olivet received a pair of fourth-place finishes from Zachary Wells (174) and Dominick Wilson (heavyweight), and Adrian got eighth-place finishes from Noah Nieman (149) and Isaiah Espinoza (285).
Concordia of Wisconsin, which last had an All-American in 2014, got a sixth place from Jack O'Donnell at 157 and an eighth from Austin Vincent in 133.
Concordia of Minnesota also put two in the top eight, with seventh-place finisher Alexander Skaare (174) joining finalist Zierden.
Helton Vandenbush became the fourth All-American for Milwaukee School of Engineering with an eighth-place finish at 184.
NWCA Div. III Coaches Association Nationals
At Coralville, Iowa, March 12-13
125
1st - Alex Friddle (Coe College) DEC Brady Kyner (Wartburg), 6-3
3rd - Samuel Braswell (Averett) DEC Bradley Rosen (North Central), 7-4
5th - Dylan McChesney (Simpson College) DEC Cristian Chavez (Luther), 2-0
7th - Jared Hensley (Loras) MD Chase Poston (Central College), 13-0
133
1st - Brock Henderson (Coe College) DEC Robbie Precin (North Central), 4-2
3rd - Joe Pins (Wartburg) DEC Eron Haynes (Nebraska Wesleyan), 9-8
5th - Zach Thompson (Loras) DEC Joshua Wilson (Greensboro), 6-5
7th - Shandon Akeo (Central College) DEC Austin Vincent (Concordia-WI), 10-4
141
1st - Jimmy McAuliffe (Elmhurst) DEC Kristian Rumph (Wartburg), 6-3
3rd - A.J. Pagliarulo (Coast Guard) DEC Kyle Slendorn (Stevens Institute of Technology), 10-5
5th - Riley Wright (Coe College) DEC Jalen Schropp (Loras), 10-3
7th - Luis Ramos (Central College) DEC Tyler Difiore (Luther), 7-0
149
1st – Josh Gerke (Coe College) DEC Brady Fritz (Wartburg), 4-2
3rd - Brett Kaliner (Stevens Institute of Technology) DEC Zeke Smith (Loras), 7-5
5th - Garret Cornell (Messiah) F Peter Mccusker (Millikin), 1:20
7th - Noah Caskey (Coast Guard) MD Noah Nieman (Adrian), 19-5
157
1st – David Hollingsworth (Wartburg) F Brady Henderson (Coe College), 4:17.
3rd - Tyler Shilson (Augsburg) TF Anthony Ulaszek Greeley, CO (Coast Guard), 23-7 5:44
5th - Killian Perrigon (Cornell College) F Jack O`donnell (Concordia-WI), 1:45
7th - Daniel Ruiz (Loras) DEC Cole Cervantes (North Central), 4-0
165
1st - Bradan Birt (Millikin) TF Zane Mulder (Wartburg), 2:24
3rd - Philip Rogers (Coast Guard) MD Gabe Fiser (Loras), 10-2
5th - Casey Allen (Cornell College) F Rafael Roman (North Central), 3:48
7th - Alex Turley (Averett) F Ryker Kurimski (Coe College), 4:00
174
1st - Kyle Briggs (Wartburg) MD Solomon Nielsen (Augsburg), 8-0
3rd - Jacob Krakow (Loras) DEC Zachary Wells (Olivet College), 8-3
5th - Brian Shermeyer (Messiah) MD George Moseley (Averett), 12-0
7th - Alexander Skaare (Concordia-MN) F Tristin Westphal (Coe College), 4:52
184
1st - Shane Liegel (Loras) DEC Paul Detwiler (Coast Guard), 4-1
3rd - Ira Kuehn (Luther) DEC Brock Montford (North Central), 8-7
5th - Nick Rogge (Augsburg) F Ryan Schott (Coe College), 1:11
7th - David Stevens (Messiah) DEC Helton Vandenbush (Milwaukee School of Engineering), 5-3
197
1at- Cody Baldridge (North Central) MD Gabriel Zierden (Concordia-MN), 10-2
3rd - Logan Hagerbaumer (Millikin) F Donovan Corn (Luther), 4:43
5th - Jonathan Wagner (Coast Guard) DEC Bentley Schwanebeck-ostermann (Augsburg), 3-2
7th - Chris Nielsen (Dubuque) F Don Phillips ii (Buena Vista), 2:25
285
1st - Wyatt Wriedt (Loras) DEC Tyler Kim (Augsburg), 4-3
3rd - Kaleb Reeves (Coe College) F Dominick Wilson (Olivet College), 2:14
5th - Nico Ramirez (Southern Virginia) M FOR Jordon Brandon (Wartburg)
7th - Ben Bergen (North Central) M FOR Isaiah Espinoza (Adrian)
NWCA Div. III champions
3 - Coe
2 – Wartburg, Loras
1 – Elmhurst, Millikin, North Central
NWCA Div. III finalists
6 – Wartburg
4 – Coe
2 – North Central, Augsburg, Loras
1 – Elmhurst, Milliken, Coast Guard, Concordia-MN