News
USA Wrestling
International
College
Women
USAW
19 National Team true third matches added prior to Final X in Newark, N.J., June 10
by Gary Abbott, USA Wrestling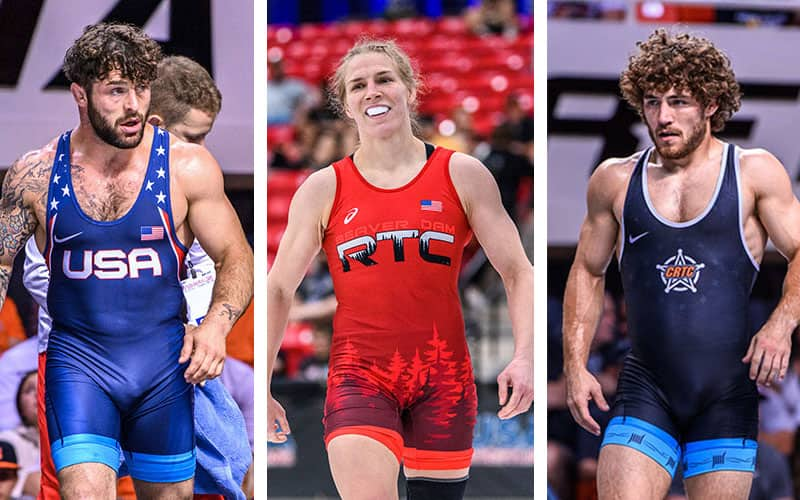 Ben Provisor, Alyssa Lampe, Daton Fix competition portraits by Tony Rotundo, Wrestlers Are Warriors
.
Wrestling fans who will be attending
Final X
in Newark, N.J. at the Prudential Center on Saturday, June 10, or will be watching live on FloWrestling, will have an additional set of high-level matches added for their enjoyment.
USA Wrestling will conduct 19 National Team true third place matches prior to the start of Session I of Final X. Basically, these wrestle-off matches will determine the No. 3 athlete on the 2023-24 Senior National Team at specific weight classes.
Winning a spot on the Senior National Team is important and valuable, as the top three in each weight class earn stipend support and a chance to win bonus funds, based upon performance, as well as receive access to international tours and National Team training camps.
The National Team true third place matches will begin at 12:30 p.m. ET. The doors open for Final X ticketholders at 12:00 Noon, so fans who come at that time will be able to enjoy these additional matches.
There will be seven men's freestyle bouts, six women's freestyle bouts and six Greco-Roman bouts among the true third place matches.
Among those in National Team true third place matches are two-time World bronze medalist
Alyssa Lampe
at 50 kg in women's freestyle and 2021 World silver medalist
Daton Fix
at 61 kg in men's freestyle. Two-time Olympian
Ben Provisor
at 82 kg in Greco-Roman will also be featured.
Past Senior World Team members going for true third are
Maya Nelson
at 59 kg,
Dymond Guilford
at 76 kg and
Kylie Welker
at 76 kg in women's freestyle, plus
Sammy Jones
at 63 kg and
RaVaughn Perkins
at 77 kg in Greco-Roman.
Final X, which includes the top two athletes in the United States in 30 weight classes (10 in each Olympic discipline) will begin at 2:00 p.m.
It is the second straight year Final X will serve as the Beat the Streets New York Annual Benefit. This year's event will be the 13th BTSNY Annual Benefit. These unique and electrifying annual events help BTSNY raise more than $1 million each year to support local youth wrestling programs which empower young people in New York City. The BTSNY Annual Benefit after-party will follow the conclusion of Final X.
Benefit tickets and sponsorship packages (Final X plus exclusive after-party celebration access), that also provide the best wrestling-event seats, are available at
give.btsny.org/beatthestreetsbenefit2023
. For more information on ticket packages, email Katrin Pokalyukhin at katrin@btsny.org.
Proceeds from Benefit tickets and sponsorship packages will directly help BTSNY, which provides a safe, positive atmosphere for student-athletes to learn the essential life lessons of discipline, perseverance, self-reliance, humility and a strong work ethic through wrestling.
Event-only tickets for Final X without access to the BTSNY after-party celebration are available on
Ticketmaster
FloWrestling
will serve as the host broadcasting partner for Final X, presented by Tezos.
NATIONAL TEAM TRUE THIRD PLACE MATCHES

At Newark, N.J., June 10, 12:30 p.m. prior to Final X


Women's freestyle
50 kg - Alyssa Lampe Sunkist Kids, vs. Erin Golston, New York AC
53 kg – Samara Chavez, Team Tornado WC, vs. Felicity Taylor, Iowa Women's WC/Titan Mercury WC
57 kg - Alexandra Hedrick, USOPTC/Titan Mercury WC vs. Amanda Martinez, Cardinal WC/Titan Mercury WC
59 kg - Maya Nelson, Sunkist Kids, vs. Brenda Reyna, Army WCAP
72 kg – Rose Cassioppi, New York AC/USOPTC vs. Brooklyn Hays, Minnesota Gold WC
76 kg – Dymond Guilford, USOPTC/Titan Mercury WC vs. Kylie Welker Iowa Women's WC/ Titan Mercury WC
Greco-Roman
60 kg - Randon Miranda, Rise RTC vs. Dylan Koontz, Dubuque RTC/Titan Mercury WC
63 kg - Sammy Jones, Sunkist Kids WC vs. Dylan Gregerson, Brunson UVRTC
72 kg - Noah Wachsmuth, New York AC, vs. Michael Hooker, Army WCAP
77 kg - Payton Jacobson, Sunkist Kids WC, vs. RaVaughn Perkins, New York AC
82 kg - Ben Provisor, New York AC, vs. Barrett Stanghill, Minnesota Storm
130 kg - Donny Longendyke, Minnesota Storm, vs. Brandon Metz, North Dakota
Men's freestyle
57 kg - Nick Suriano, Sunkist Kids WC, vs. Jakob Camacho, Wolfpack WC/Titan Mercury WC
61 kg - Daton Fix, Cowboy RTC/Titan Mercury WC, vs. Austin DeSanto, Hawkeye WC/Titan Mercury WC
65 kg – Joseph McKenna. Pennsylvania RTC/Titan Mercury WC, vs. Matthew Kolodzik, New York AC/NJRTC
70 kg – Sam Sasso, Ohio RTC/Titan Mercury WC, vs. Alec Pantaleo, Cliff Keen WC /Titan Mercury WC
74 kg – Vincenzo Joseph, Sunkist Kids WC vs. Keegan O'Toole, Tiger Style WC
79 kg – Alex Dieringer, Cliff Keen WC/Titan Mercury WC, vs. David McFadden, Pennsylvania RTC/Titan Mercury WC
92 kg - Kollin Moore, Ohio RTC/Titan Mercury WC vs. Nathan Jackson, New York AC/New Jersey RTC