News
USA Wrestling
High School & Youth
Women
USAW
Ultimate Club Duals to bring top girls and boys freestyle clubs to State College, Pa., April 16-18, 2021
by USA Wrestling and Ultimate Club Duals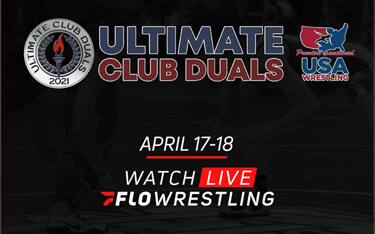 Over the past several years, our biggest U.S. wrestling idols have won World and Olympic Freestyle Individual and Team Gold medals for the Red, White & Blue! The question is, how do we continue this winning trend at the Senior level?
Answer: Many of our biggest advocates in the US believe we need our youth wrestlers to commit to learning how to wrestle freestyle at younger ages. Ultimate Club Duals (UCD) is a national event designed to help grow the sport of freestyle wrestling in the USA. Future UCD events will host multi-national youth teams, becoming the world's largest and toughest Freestyle tournament in the world. UCD's Premier sponsors are: FloWrestling - our media sponsor & Alston Construction - Celebrating 35 years of success, helping to Manufacture Quality.
Founded in 2016 in the heart of the Lehigh Valley (and formerly called the Olympic Club Duals). The vision of the Ultimate Club Duals is to create a world class freestyle event that not only introduces the sport of freestyle wrestling to a new generation of wrestlers in the US but to also crown the best freestyle club team in the United States. We want to help elevate the quality of girls and boys freestyle wrestlers in the US for many generations ahead. This year's event will have over 70 teams from over 20 states.
Ultimate Club Duals utilizes a unique format that combines all age groups (Scholastic, Cadet and Junior) to form one team, to create the most inclusive freestyle wrestling experience in the country.
The 2021 Ultimate Club Duals will be held at Nittany Valley Sports Centre, known as "The Centre", in State College, Pa., April 16-18, 2021 and is a USA Wrestling Premier sanctioned event. This world class facility allows us to grow to 62 mats and over 180+ teams in future years.
Over the past five years, the event has attracted many of the best club teams and individual freestyle talent from across the USA. The 2021 Ultimate Club Duals will feature some of the top freestyle club teams in the country, competing across three separate divisions. National, American & National Girls. In future years we want to have an American Division for the girls as well.
The boys National Division is designed for the absolute elite and advanced freestyle club teams. These are the clubs which have been putting athletes on the top of the podium at major national and international events at a variety of age levels.
Here are a few of the registered teams: M2, KONG, Doughboy, RedHawk Elite, Oklahoma Outlaws, MWC out of Omaha, Bull Trained, Team Oregon, Team Schutt, Wyoming Seminary, Blair, Va Predator, Kindig, Spartan Combat, Team Savage, Vougar Honor WC, Lake Highland Prep, Malvern Prep, Quest/Nauman, Capital Club, LVWC, Tech Squad & many more state, club and HS teams.
The purpose of the American Division is to provide club competition for first and second-year freestyle wrestlers, and it is intended as an intermediate and developmental freestyle experience. The American Division will offer many high school teams a chance to compete with their hometown teams intact and wrestle against other high school teams and other second-string club teams.
The event has also expanded its Girls Division from our inaugural Girls Team Championship in 2020 to a 2-day freestyle dual meet championship. The goal with the girls division is to one day offer enough teams for two divisions, separating the less experienced girls teams from the elite teams. At the moment, we have 18 teams registered for the National Division including Wyoming Seminary.
The field has been capped at 52 boys' teams and 24 girls' teams, competing on 90,000+ square feet. We will have a full service food vendor onsite. To assist the kids with recovery after matches we will have Matryx Recovery Services(Matryx Performance, LLC.). Matryx Recovery Services will provide Chiropractic, Masaging and Cupping services for the wrestlers.
Make sure to watch the Girls & Boys Gold & Silver Pool finals on Flo as we will have some of the best girls and boys in the country fighting for the top UCD Freestyle Club team championship.
The boys' competition will be for athletes in grades 6-12. (34KG - 129KG) The plan is to allow some elementary and middle school wrestlers to join ranks with high school wrestlers on each team, growing the sport with the super talented youth club kids included on each team. It is a great opportunity to bring together the youth wrestlers with their high school counterparts.
The girls' competition will be for athletes that are grades K-12,(23KG - 105KG) with freestyle competition on Saturday and Sunday. There will be qualifying pools on day 1 and Finals pools on day 2. We are guaranteeing six matches. Team trophies for top three in each division.
This is a USA Wrestling Premier sanctioned event, which means, it will require at a minimum, a USA Wrestling Copper Certification and Safe Sport Certification for all coaches and table workers to be on the mat. The website for Copper Certification and
SafeSport found here
:
Hotels in State College are fully negotiated for those participating. Pre-negotiated hotel info is on the website: www.ultimateclubduals.com
This event has already attracted many nationally-ranked teams. Please sign up at your earliest convenience as space is limited. We anticipate registration to be closed by March 30, 2021 or before if the event is full.
Registration for Ultimate Club Duals is found here:
https://ultimateclubduals.com/event1
Boys Weights (in a singlet): 34kgs (75lbs),36kgs (79.3lbs),38kgs (83.7lbs) 40kgs (88.1lbs), 43kgs (94.7lbs),45kgs (99.2lbs),48kgs (105.8lbs),51kgs (112.4lbs),54kgs (119lbs),57kgs (125.6lbs),60kgs (132.2lbs),63kgs (138.8lbs),66kgs (145.5lbs),69kgs (152.1lbs),73kgs (160.9lbs),77kgs (169.7lbs),83kgs (182.9lbs),89kgs (196.2kbs)129kgs (284.3lbs-HWT)
Girls Weights (in a singlet): 30kgs (66.1lbs),33kgs (72.7lbs),36kgs (79.3lbs),39kgs (85.9lbs),41kgs (90.3lbs),44kgs (97.0lbs),48kgs (105.8lbs),52kgs (114.6lbs),55kgs (121.2lbs),58kgs (127.8lbs),61kgs (134.4lbs),65kgs (143.3lbs),70kgs (154.3lbs),75kgs (163.5lbs),79kgs (174.1lbs),105kgs (231.4lbs)
There is a free agent list that will be disseminated to the teams registered every Monday.
Current USA Wrestling membership is required for athletes and coaches. A deposit is required at time of registration ($400 for Team Entry). Full team packets will be emailed with travel and event instructions.
Contact Curt Krazer for additional info at 908-705-2805, or via email at curt.krazer@gmail.com. All Information on The Ultimate Club Duals can be found at
https://ultimateclubduals.com/
Note:
A limited number of weekend passes will be sold to properly control social distancing. The event will be broadcast live via FloSports. Masks are required for coaches and spectators at all times while at the event. Wrestlers will wear masks when not warming up or competing. Temperatures will be checked daily, with those over 100.4 not allowed to enter. Hand sanitizer will be at each mat.