News
USA Wrestling
High School & Youth
Women
USAW
Pennsylvania extends lead over Illinois in combined #Fargo2023 team standings, after winning both men's freestyle events
by Gary Abbott, USA Wrestling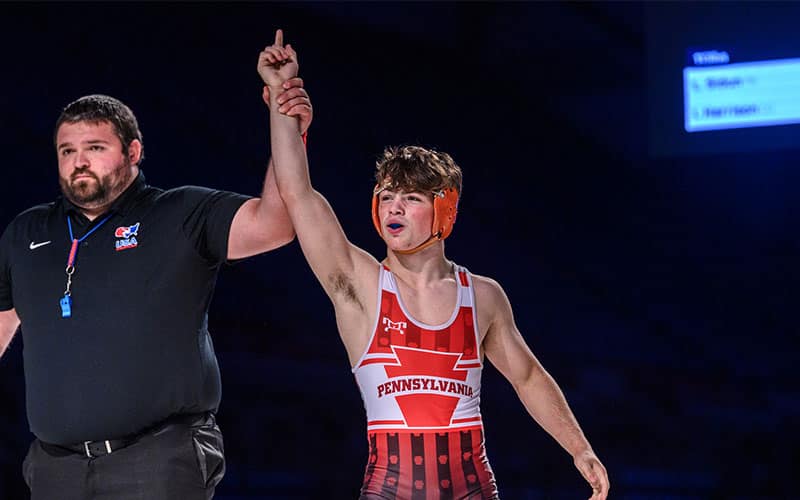 Landon Sidun of Pennsylvania celebrates after winning the gold medal at 113 pounds in the USMC 16U Men's Freestyle Nationals in Fargo. Photo by Tony Rotundo, Wrestlers Are Warriors
.
#Fargo2023 is now two-thirds over, with four of the six national tournaments completed on Wednesday night. The
USMC Junior Nationals and USMC 16U Nationals i
n men's freestyle finished up on Wednesday night in the FargoDome. The USMC Junior Nationals and USMC 16U Nationals for women's freestyle completed on Sunday.
Pennsylvania
won the team title in both of the men's freestyle tournaments, and has climbed to 599 points, which puts them 151 points ahead of second place
Illinois
with 448 points. After the two women's freestyle tournaments, Pennsylvania was in first also, but only 12 points ahead of Illinois.
Pennsylvania has won three of the four tournaments held, also winning the 16U Women's Nationals team title on Sunday. Illinois won the other completed national event, the Junior Women's Nationals.
Rounding out the top five are
California i
n third with 401 points,
Iowa
in fourth with 385 points and
Wisconsin
in fifth with 342 points.
Dropping out of the top five after the men's freestyle events were Michigan (which was third after the women's freestyle and are now eighth) and Missouri (which was fifth after the women's freestyle and are now 11th).
The top 10 after four events include
Ohio
(6th with 292),
Oklahoma
(7th with 248),
Michigan
(8th with 236),
Minnesota
(9th with 233) and
New Jersey
(10th with 225).
More points are available in the final two events, the USMC Junior Greco-Roman Nationals and the USMC 16U Greco-Roman Nationals, which are held on Friday and Saturday.
#FARGO2023 OVERALL TEAM STANDINGS

(After four of six events)
1 Pennsylvania 599
2 Illinois 448
3 California 401
4 Iowa 385
5 Wisconsin 342
6 Ohio 292
7 Oklahoma 248
8 Michigan 236
9 Minnesota 233
10 New Jersey 225
11 Missouri 195
12 Florida 194
13 Indiana 186
14 Arizona 158
15 New York 148
16 Washington 131
17 Tennessee 126
18 Colorado 124
19 Utah 95
20 Georgia 94
21 Idaho 86
22 Texas 81
23 Maryland 79
24 South Dakota 73
25 Virginia 70
26 Connecticut 55
27 Nebraska 46
28 (tie) Alabama, Massachusetts, Montana 44
31 Nevada 38
32 West Virginia 32
33 (tie) Kansas, Kentucky 25
35 (tie) Oregon, South Carolina 22
37 Wyoming 12
38 (tie) North Dakota, Rhode Island 9
40 (tie) Arkansas, Hawaii 5
42 North Carolina 2