News
USA Wrestling
International
USAW
Six U.S. men's freestylers are going for gold at Matteo Pellicone in Italy, with two more in bronze-medal bouts
by Gary Abbott, USA Wrestling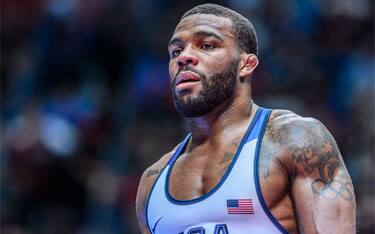 Image of Jordan Burroughs by Tony Rotundo, Wrestlers Are Warriors.
ROME, Italy – It has been a powerful day so far for Team USA in men 's freestyle at the Matteo Pellicone Ranking Tournament on Saturday.
Six U.S. wrestlers have earned spots in today's championship finals: Nick Suriano (Tempe, Ariz./Sunkist Kids) at 57 kg, Alec Pantaleo (Ann Arbor, Mich./Cliff Keen WC/Titan Mercury WC) at 70 kg, 2012 Olympic champion and four-time World champion Jordan Burroughs (Lincoln, Neb./Nebraska WTC/Sunkist Kids) at 74 kg, David McFadden (Philadelphia, Pa./Titan Mercury WC/PRTC) at 79 kg, Zahid Valencia (Tempe, Ariz./Sunkist Kids) at 86 kg and Mark Hall (Philadelphia, Pa./Titan Mercury WC/PRTC) at 86 kg.
Burroughs won two matches, defeating Daniyar Kaisanov of Kazakhstan, 5-0 and Narsingh Yadav of India, 4-1. It sets up a highly-anticipated finals match against one of his greatest rivals, World champion and Olympic medalist Frank Chamizo of Italy.
Two-time Junior World champion Hall will face a fellow American when he battles past Junior World silver medalist Zahid Valencia in the finals. Both have been dominant, with Hall scoring two pins and a technical fall, while Valencia has a pair of technical falls.
Hall beat another tough American on his way to the finals, scoring a pin against Myles Martin (Columbus, Ohio/Ohio RTC/Titan Mercury WC) in 3:57. Martin was pulled back into repechage, where he won his match, and will wrestle in a bronze-medal bout against Clayton Pye (Canada), giving the U.S. a chance for three medals at 86 kg.
Suriano, McFadden and Pantaleo will all face opponents in the finals who they wrestled during the first session on Sunday morning.
Suriano opened with a 3-2 loss to World silver medalist Nurislam Sanayev of Kazakhstan in the first round of his pool competition. Suriano won his next two matches to place second in the pool, putting him in a semifinal bout against Givi Davidovi of Italy, who won the other pool. Suriano's 2-1 win over Davidovi in the semifinals puts in in the finals against Sanayev again, who won the other semifinal.
Pantaleo opened with a 6-2 win over 2019 World silver medalist Daulet Niyazbekov of Kazakhstan, 6-2, then won by forfeit over Mustafa Kaya of Turkey. Pantaleo reached a cross-bracketed semifinal, scoring a 10-0 technical fall over Vishal Kaliramana of India. Niyazbekov won the other semifinal, earning a rematch against Pantaleo in the finals.
McFadden opened up with a l3-2 oss to Galymzhan Usserbayev of Kazakhstan, who was fifth at 2016 Olympics. He defeated U.S. opponent Muhamed McBryde 13-7 to place second in his pool and get into a cross-bracketed semifinals. After defeating Ramazan Sari in the semifinals, 5-2, he earned another chance to face Usserbayev.
In addition to Martin, Joey McKenna (Philadelphia, Pa./Titan Mercury WC/PRTC) earned a bronze-medal bout at 61 kg against Selim Kozan of Turkey. He lost in the semifinals to past World medalist Bajrang Punia of India, 6-3.
Still eligible for a medal in a four-athlete round robin at 61 kg is 2019 World bronze medalist Tyler Graff (Princeton, N.J./NJRTC/Titan Mercury WC), who has a 1-1 record with one more match to go. If Graff defeats Adlan Askarov of Kazakhstan, he should win a medal at the weight class, although the result of the other roundrobin match will help determine what medal he would get.
The medal rounds for the final day of the Matteo Pellicone Ranking Tournament begins at 12:00 noon U.S. Eastern time, and will broadcast live by FloWrestling.
The USA won three men's freestyle medals in this tournament on Saturday, with Kollin Moore winning a gold medal at 97 kg, Tony Nelson claiming a bronze medal at 125 kg and Hayden Zillmer winning a bronze medal at 97 kg.
MATTEO PELLICONE INTERNATIONAL

At Rome, Italy


U.S. men's freestyle results
57 kg: Nick Suriano (Tempe, Ariz./Sunkist Kids)
LOSS Nurislam Sanayev (Kazakhstan), 3-2
WIN Daulet Temirzhanov (Kazakhstan), injury default
WIN Ahmet Peker (Turkey), 4-2
WIN Givi Davidovi (Italy), 3-1
Gold Medal – Vs. Nurislam Sanayev (Kazakhstan)
61 kg: Tyler Graff (Princeton, N.J./NJRTC/Titan Mercury WC)
WIN Anvar Suviniitty (Finland), tech fall 12-2
LOSS Suleyman Atli (Turkey), tech fall 16-6
Round robin #3 - Adlan Askarov (Kazakhstan)
65 kg: Joey McKenna (Philadelphia, Pa./Titan Mercury WC/PRTC)
WIN David Habat (Slovenia), 7-3
LOSS Bajrang Punia (India), 6-3
Bronze Medal – vs. Selim Kozan (Turkey)
70 kg: Alec Pantaleo (Ann Arbor, Mich./Cliff Keen WC/Titan Mercury WC)
WIN Daulet Niyazbekov (Kazakhstan), 6-2
WIN Mustafa Kaya (Turkey), forfeit
WIN Vishal Kaliramana (India), tech. fall 10-0, 2:26
Gold Medal – Daulet Niyazbekov (Kazakhstan)
74 kg: Jordan Burroughs (Lincoln, Neb./Nebraska WTC/Sunkist Kids)
WIN Daniyar Kaisanov (Kazakhstan), 5-0
WIN Narsingh Yadav (India), 4-1
Gold Medal – Frank Chamizo (Italy)
79 kg: David McFadden (Philadelphia, Pa./Titan Mercury WC/PRTC)
LOSS Galymzhan Usserbayev (Kazakhstan), 3-2
WIN Muhamed McBryde (USA), 13-7
WIN Ramazan Sari (Turkey), 5-2
Gold Medal - Galymzhan Usserbayev (Kazakhstan)
79 kg: Muhamed McBryde (Colorado Springs, Colo./USOPTC)
LOSS Galymzhan Usserbayev (Kazakhstan), 7-5
LOSS David McFadden (USA), 13-7
86 kg: Zahid Valencia (Tempe, Ariz./Sunkist Kids)
WIN Yeskali Dauletkazy (Kazakhstan), tech fall 11-0, 5:00
WIN Fatih Erdin (Turkey), tech fall 12-2, 5:23
Gold Medal – Vs. Mark Hall (USA)
86 kg: Mark Hall (Philadelphia, Pa./Titan Mercury WC/PRTC)
WIN Hunter Lee (Canada), tech. fall 11-0, 3:31
WIN Myles Martin (USA), pin 3:57
WIN Clayton Pye (Canada), pin 2:23
Gold Medal – Vs. Zahid Valencia (USA)
86 kg: Myles Martin (Columbus, Ohio/Ohio RTC/Titan Mercury WC)
WIN Ethan Ramos (Puerto Rico), 6-3
LOSS Mark Hall (USA) pin 3:57
WIN Hunter Lee (Canada), tech. fall 10-0, 3:40
Bronze – Vs. Clayton Pye (Canada),
92 kg: Patrick Downey (Deerfield Beach, Fla.)
LOSS Erhan Yaylaci (Turkey), 11-2
LOSS Selim Yasar (Turkey), 6-1
LOSS Elkhan Assadov (Kazakhstan), forfeit
Round robin #4 – Vs. Parveen (India)