News
USA Wrestling
College
Women
USAW
McKendree women repeat as NCWWC national champions; 10 athletes earn spots in U.S. Olympic Team Trials
by Gary Abbott, USA Wrestling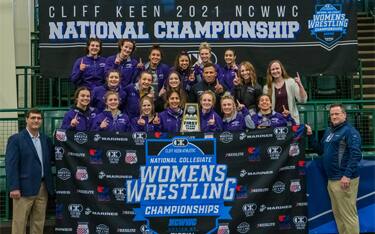 McKendree receives NCWWC team champion trophy. Photo by Carie Dernlan.
TIFFIN, Ohio – Led by six individual champions and strong balance throughout the lineup, McKendree repeated as team champions at the National Collegiate Women's Wrestling Championships (NCWWC) at Tiffin University on Saturday.
Individual champions for McKendree were Felicity Taylor (116), Cameron Guerin (130), Brenda Reyna (136), Emma Bruntil (143), Alara Boyd (155) and Sydnee Kimber (191). Bruntil and Kimber repeated as national champions. Overall, in addition to its five champions, McKendree finished with 14 All-Americans.
In addition to being the annual national championship for NCAA programs, this was also a qualifier for the U.S. Olympic Team Trials – Wrestling in Fort Worth, Texas, April 2-3. According to the procedures, "the highest placed NCWWC Senior Women's Freestyle athlete per weight category who has yet to qualify will qualify to enter the 2020 U.S. Olympic Team Trials – Wrestling at the weight category she chooses." There were 10 athletes who punched their ticket to Fort Worth.
In the team race, McKendree scored 209 team points, followed by King with 171.5 points. Rounding out the top five teams in the standing were third-place Emmanuel with 133.5 points, fourth place Colorado Mesa with 97 points and fifth-place Augsburg with 88.5 points. The top four teams received NCWWC team trophies.
A 2020 NCWWC runner-up, Taylor had to battle back from behind to secure her first title, in a 16-6 technical fall over Sugey Ceja of Tiffin, who was a 2020 NCWWC runner-up at 109. Ceja scored takedowns and a turn to take a 6-2 lead at the break. Taylor scored a second-period takedown, locked up the ankle lace, and turned Ceja six times to secure the technical fall.
Guerin, a freshman, had a tough battle with Amanda Martinez of North Central before emerging with a 9-6 victory. Martinez hit a four-point move in the first period to lead 4-1, but Guerin came back with two takedowns and two tilts for a 9-4 lead. A late Martinez takedown was not enough to close the gap.
Reyna won a 1-1 criteria decision over Ana Luciano, with no offensive points scored by either wrestler. Luciano got her point in the first period when Reyna could not score on the shot clock. Reyna scored in the second with Luciano didn't score on the shot clock. Reyna won by scoring the last point.
Bruntil trailed 1-0 against Ashlyn Ortega of King when she could not score on a shot clock. Bruntil secured a takedown, locked up an ankle lace, and turned Ortega five straight times to finish off a 12-1 technical fall.
Boyd hit a big four-point move in the first period against No. 1 seed Kayla Marano of Emmanuel, then added two more takedowns in an 8-2 victory.
Kimber made short order of Tavi Heidelberg-Tollson of King in the finals, nailing a four-point takedown, then putting Heidelberg-Tollson on her back to secure a pin in 1:01. Kimber received the trophy for the most falls in the least time.
McKendree coach Sam Schmitz won the Coach of the Year award, as well as the Coach of the NCWWC tournament award.
King had one individual champion, Cheyenne Sisenstein (123) and four runners-up. Sisenstein was dominant in a 10-0 technical fall over Marissa Gallegos of Colorado Mesa, leading 6-0 at the break and scoring two second period takedowns for the win.
Other individual champions were Angelina Gomez of Emmanuel (101), Emily Shilson of Augsburg (109) and Yelena Makoyed of North Central (170)
Shilson repeated as NCWWC champion with a 10-0 technical fall over Aleaah Gould of King. Shilson scored a pair of first-period takedowns at the break, then closed it out with takedowns and a gutwrench in the second period for the victory. She received the Outstanding Wrestler award for the tournament. Only a sophomore, it was her third career college national title, as she was also a 2020 WCWA national champion.
Gomez won her first NCWWC Nationals with a tight 3-3 criteria decision over defending champion Pauline Granados of McKendree. Gomez scored the final point in the match to secure the win.
Makoyed, a NCWWC runner-up last year, secured a 12-2 technical fall over Joye Levendusky of McKendree in the finals. Makoyed led 4-2 at the break, then added three takedowns and a turn in the second period.
There were eight athletes entered in the tournament who had already qualified for the Olympic Trials. Therefore, some of the Olympic Trials qualifiers were champions, others were runners-up, and one of those who punched their ticket to Fort Worth placed third in her weight class.
McKendree had five Olympic Trials qualifiers, champions Taylor (116), Reyna (136), Boyd (155) and Kimber (191), plus runner-up Levendusky (170). King had a pair of Trials qualifiers, champion Sisenstein (123) and runner-up Gould (109). Emmanuel had two Trials qualifiers, champion Gomez (101) and third-place finisher Felicity Bryant (143). Also punching her ticket to Fort Worth was runner-up Martinez of North Central (130).
NATIONAL COLLEGIATE WOMEN'S WRESTLING CHAMPIONSHIPS
At Tiffin, Ohio, March 6, 2021
101
1st Place - Angelina Gomez (Emmanuel) 13-5, RS So. over Pauline Granados (McKendree) 7-3, So. (Dec 3-3)
3rd Place - Lizette Rodriguez (McKendree) 11-1, Fr. over Jennesis Martinez (Colorado Mesa) 6-6, So. (Dec 6-4)
5th Place - Jaclyn McNichols (King) 2-2, Jr. over Sam Miller (Presbyterian) 2-3, Fr. (Dec 10-2)
7th Place - Brooke Thurber (UW-Stevens Point) 2-2, RS Sr. over Shanna Morris (Tiffin) 9-6, Jr. (Fall 5:23)
109
1st Place- Emily Shilson (Augsburg) 8-0, So. over Aleeah Gould (King) 3-1, RS Sr. (TF-1.5 3:28 (10-0))
3rd Place - Natalie Reyna (McKendree) 7-3, Jr. over Cassy Lopez (Presbyterian) 3-2, RS So. (Dec 11-2)
5th Place - Alaina Sunlin (Iowa Wesleyan) 5-3, Fr. over Emily Mendez (Adrian) 12-7, Fr. (Dec 5-3)
7th Place - Carly Valleroy (McKendree) 6-4, Jr. over Katerina Pendergrass (Ferrum) 2-3, Fr. (TF-1.5 4:12 (12-1))
116
1st Place - Felicity Taylor (McKendree) 13-0, Jr. over Sugey Ceja (Tiffin) 11-2, RS So. (TF-1.5 5:26 (16-6))
3rd Place - Jaslyn Gallegos (Presbyterian) 5-1, So. over Sophia Mirabella (King) 2-2, Fr. (Fall 5:21)
5th Place - Melanie Mendoza (King) 3-2, Fr. over Kasey Baynon (Emmanuel) 16-10, RS So. (Dec 7-6)
7th Place Match
Abby Nelson (UW-Stevens Point) 3-2, So. over Anja Tschohl (Colorado Mesa) 7-8, So. (Fall 2:58)
123
1st Place - Cheyenne Sisenstein (King) 4-0, Jr. over Marissa Gallegos (Colorado Mesa) 18-3, RS So. (TF-1.5 5:30 (10-0))
3rd Place - Asia Nguyen-Smith (North Central) 15-4, So. over Makayla Welch (King) 4-2, Jr. (Dec 14-10)
5th Place - Payton Stroud (McKendree) 9-6, So. over Mateah Roehl (North Central) 9-8, Fr. (TF-1.5 1:10 (10-0))
7th Place - Elizabeth Miller (Colorado Mesa) 9-5, Fr. over Caleeann Blarr (Gannon) 2-3, Jr. (TF-1.5 3:37 (13-2))
130
1st Place - Cameron Guerin (McKendree) 10-0, Fr. over Amanda Martinez (North Central) 11-3, Sr. (Dec 9-6)
3rd Place - Phoenix Dubose (King) 4-1, So. over Emily Se (Emmanuel) 15-7, So. (TF-1.5 3:53 (10-0))
5th Place - Allison Petix (King) 3-2, Sr. over Lana Perez (Gannon) 2-3, Fr. (Fall 2:47)
7th Place - Eunique Davis (Tiffin) 7-6, Jr. over Naomi Henry (New Jersey City) 2-3, Fr. (Dec 8-6)
136
1st Place - Brenda Reyna (McKendree) 10-1, Sr. over Ana Luciano (King) 3-1, Jr. (Dec 1-1)
3rd Place - Autumn Flanigan (Augsburg) 7-1, Fr. over Michelle Camacho (McKendree) 7-3, Jr. (Fall 2:42)
5th Place - Julia Padilla (Emmanuel) 13-7, Jr. over Daisy Scholz (Iowa Wesleyan) 3-5, Fr. (Fall 1:48)
7th Place - Abigail Denney (North Central) 8-7, Fr. over Elisa Cox (Adrian) 16-4, Fr. (TF-1.5 5:29 (10-0))
143
1st Place - Emma Bruntil (McKendree) 4-0, So. over Ashlynn Ortega (King) 3-1, Jr. (TF-1.5 2:43 (12-1))
3rd Place - Felicity Bryant (Emmanuel) 14-6, RS Jr. over Kya Rybachek (Augsburg) 8-4, Fr. (Dec 8-0)
5th Place - Zoe Nowicki (Adrian) 22-4, Jr. over Kaylee Lacy (Colorado Mesa) 8-6, Jr. (Fall 1:08)
7th Place - Megan Vondrasek (Adrian) 16-8, So. over Jordan Johnston (Schreiner) 1-3, So. (Fall 3:33)
155
1st Place - Alara Boyd (McKendree) 12-1, So. over Kayla Marano (Emmanuel) 17-2, RS Jr. (Dec 8-2)
3rd Place - Marlynne Deede (Augsburg) 10-2, So. over Malea Palahniuk (North Central) 9-8, So. (Fall 1:30)
5th Place - Viktorya Torres (King) 4-2, Fr. over Taylor Hites (Tiffin) 8-6, Jr. (TF-1.5 3:56 (11-0))
7th Place - Zoe Gress (Colorado Mesa) 8-6, Fr. over Mia Dow (Lindenwood) 1-3, Sr. (Inj. 3:19)
170
1st Place - Yelena Makoyed (North Central) 13-0, So. over Joye Levendusky (McKendree) 11-3, Jr. (TF-1.5 5:30 (12-2))
3rd Place - Tristan Kelly (Colorado Mesa) 10-2, Fr. over Nia Crosdale (King) 2-2, Jr. (TF-1.5 1:24 (12-0))
5th Place - Heaven Byrd (Emmanuel) 13-8, Fr. over Morgan Davidson (Tiffin) 9-7, Fr. (Fall 5:20)
7th Place - Faith Tuttle (Augsburg) 4-3, So. over Jasmine Hale (Adrian) 6-9, Fr. (Dec 8-4)
191
1st Place - Sydnee Kimber (McKendree) 18-0, Jr. over Tavi Heidelberg-Tollson (King) 3-1, So. (Fall 1:01)
3rd Place - Grace Kristoff (McKendree) 16-3, Jr. over Jessie Lee (Tiffin) 9-4, Sr. (Fall 5:55)
5th Place - Cristina Santoyo (Emmanuel) 10-5, So. over Isabeau Shalack (Colorado Mesa) 6-5, Fr. (Fall 4:00)
7th Place - Amara Devericks (Gannon) 3-2, So. over Sandra Guerrero (New Jersey City) 1-3, Fr. (Dec 6-4)
U.S. Olympic Team Trials – Wrestling Qualifiers
101- Angelina Gomez (Emmanuel)
109 - Aleeah Gould (King)
116 - Felicity Taylor (McKendree)
123- Cheyenne Sisenstein (King)
130 - Amanda Martinez (North Central)
136 - Brenda Reyna (McKendree)
143 - Felicity Bryant (Emmanuel)
155- Alara Boyd (McKendree)
170 - Joye Levendusky (McKendree)
191- Sydnee Kimber (McKendree)
Team Standings
1 McKendree 209.0
2 King 171.5
3 Emmanuel 133.5
4 Colorado Mesa 97.0
5 Augsburg 88.5
6 North Central 80.5
7 Tiffin 65.5
8 Presbyterian 52.5
9 Adrian 43.0
10 Gannon 34.0
11 Iowa Wesleyan 23.0
12 UW-Stevens Point 19.0
13 Ferrum 11.0
13 New Jersey City 11.0
15 Limestone 10.0
16 Schreiner 7.5
17 Trine 2.5
18 Lindenwood 2.0
19 Lakeland 0.5
20 Delaware Valley 0.0
20 Fontbonne 0.0
20 Westminster 0.0