News
USA Wrestling
High School & Youth
USAW
Corrected: Eight wrestlers still alive for Triple Crown after winning Kids Nationals Greco-Roman titles
by Gary Abbott, USA Wrestling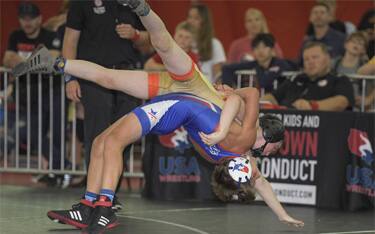 Beautiful throw image from 2021 Kids National Greco-Roman Championships courtesy of Jenni Peterson.
WISCONSIN DELLS, Wis. – The Greco-Roman competition was held today at the 2021 USA Wrestling Kids Nationals, which is the second leg of the coveted USA Wrestling Triple Crown in three Kids age divisions. An athlete wins the Triple Crown in he claims USA Wrestling national titles in folkstyle, Greco-Roman and freestyle in the same year. At the Kids level, the award is given at the 10U, 12U and 14U levels. (It is also given at the 16U and Junior levels in Fargo, N.D.)
There are eight athletes who remain eligible for the Kids Triple Crown after winning Folkstyle National titles in Iowa in April, and claiming Greco-Roman National titles today in Wisconsin Dells. They are:
14U still eligible for Triple Crown
Caleb Noble of Wisconsin (71)
Domenic Munaretto of Illinois (83)
Aaron Stewart of Illinois (114)
Bradley Rodriguez-Little of Minnesota (136)
12U still eligible for Triple Crown
Calvin Rathjen of Iowa (82)
10U still eligible for Triple Crown
Casen Becker of Colorado (67)
Jaden Washington of Illinois (71)
Stetson Gabel of Colorado (84)
Two of the Triple Crown eligible wrestlers actually won their USA Wrestling Greco-Roman Nationals titles at a different weight than where they were Folkstyle Nationals champions. Becker won at 63 pounds and Washington at 67 pounds.
There were only four Kids Triple Crown winners in 2019, the last year that the event was held, since it was cancelled due to the pandemic in 2020. One of those Triple Crown winners remains eligible to win the Triple Crown again, Caleb Noble of Wisconsin in 14U at 71 pounds. Noble was a 2019 Triple Crown winner at 58 pounds in 12U.
A ton of today's Greco-Roman champions were also Regional champions earlier this year.
West and Southern Plains Greco-Roman champion Casen Becker of Colorado was a 10U Greco-Roman National champion. Other 10U Regional champions who won Greco-Roman titles today were Central champions Braxton Sharples of Ohio (53), Elias Faith of Indiana (63) and Hayden Mullins of Indiana (105), plus Southeast champion Jaxon Flood of Georgia (59), West champion Samuel Moran of Washington (77) and Southern Plains champion Whitley Wilscam of Kansas (93).
At 12U, Northeast Greco-Roman champions Corey Brown of Maryland (67) and Taina Fernandez of Maryland (117) won Greco-Roman national titles, as did Central champions Spencer McCammon of Indiana (63) and Urijah Lopez of Ohio (78). Other 12U Regional champions with Greco-Roman national gold today were Northern Plains champion Calvin Rathjen of Iowa (82) and Southeast champion Gary High of Tennessee (92).
There were three 14U Greco-Roman champions today who won two different Regional Greco-Roman titles this year: Zaiyahn Ornelas of Nebraska at 87, Domenic Munaretto of Illinois at 83 and Aaron Stewart of Illinois at 114. Ornelas won both the Northern Plains and Southern Plains Regionals. Munaretto and Stewart were both winners at the Northern Plains and Southeast Regionals.
It was a great day for Northern Plains 14U Greco-Roman champions, as eight others emerged as Greco-Roman national champions today: Caleb Noble of Wisconsin (71), Hudson Loges of Nebraska (92), Jacob Herm of Wisconsin (102), Nolan Fellers of Iowa (125), Kyler Knaack of Iowa (130), Bradley Rodriguez-Little of Minnesota (136), Dreshaun Ross of Iowa (165) and Kai Calcutt of Illinois (250). Two Northeast Regional champions from Pennsylvania added national titles today, Thomas Verrette (110) and Denarii Mickel (187).
8U Regional Greco-Roman champions who went on to win Greco-Roman National titles today were Northern Plains champion Ian Weber of Wisconsin (53) and Northeast champion Tanner McCray-Bey of Maryland (56). (Note: there is no Triple Crown at the 8U level).
The tournament concludes on Saturday with the freestyle competition, broadcast live on Trackwrestling.
USA WRESTLING KIDS NATIONALS
At Wisconsin Dells, Wis., June 25

14U Greco-Roman results
71
1st Place Match
Caleb Noble (WI) won by decision over Hudson Chittum (TN) (Dec 5-1)
3rd Place Match
Liam Collins (MN) won by decision over Cruzer Dominguez (NE) (Dec 13-7)
5th Place Match
Layne Martin (MI) won by fall over Zander Manz (IA) (Fall 2:30)
7th Place Match
Loc Webber (OH) won by tech fall over Glenn Lail (MD) (TF 10-0)
77
1st Place Match
Jose Cordero (TN) won by decision over Vincent DeMarco (IL) (Dec 7-2)
2nd Place Wrestleback
Case Bell (IN) won by tech fall over Vincent DeMarco (IL) (TF 11-1)
3rd Place Match
Case Bell (IN) won by decision over Hayden Schwab (IA) (Dec 7-6)
5th Place Match
Blake Hawkins (CO) won by decision over Logan Johnson (MD) (Dec 10-10)
7th Place Match
Adam Parish (MN) won by injury default over Noah Fenner (PA) (Inj. 0:00)
83
1st Place Match
Domenic Munaretto (IL) won by tech fall over Jensen Boyd (IN) (TF 11-1)
3rd Place Match
Will Detar (PA) won by decision over Julian Rios (MA) (Dec 5-3)
5th Place Match
Grey Burnett (OH) won by tech fall over William Buckley (FL) (TF 12-2)
7th Place Match
James Hemmila (IL) won by decision over Caleb Schaefer (IN) (Dec 9-4)
87
1st Place Match
Zaiyahn Ornelas (NE) won by decision over Titan Friederichs (MN) (Dec 2-0)
3rd Place Match
Paul Kenny (NJ) won by decision over Torin Kuokkanen (WI) (Dec 6-3)
5th Place Match
Lincoln Sledzianowski (FL) won by tech fall over Tas Storer (CA) (TF 10-0)
7th Place Match
Joel Friederichs (MN) won by fall over Caley Graber (MN) (Fall 3:16)
92
1st Place Match
Hudson Loges (NE) won by decision over Bruno Cassioppi (IL) (Dec 8-1)
3rd Place Match
Gavin Landers (IA) won by decision over Seach Hibler (NJ) (Dec 2-2)
5th Place Match
Gus Cardinal (AZ) won by decision over Dawson Youngblut (IA) (Dec 6-4)
7th Place Match
Dominic Way (WV) won by fall over Charlie DeSena (MA) (Fall 2:20)
97
1st Place Match
Derek Barrows (CO) won by decision over Rocco Cassioppi (IL) (Dec 5-1)
2nd Place Wrestleback
Rocco Cassioppi (IL) won by decision over Tyler Dekraker (VA) (Dec 8-4)
3rd Place Match
Tyler Dekraker (VA) won by tech fall over James Tildsley (MA) (TF 12-2)
5th Place Match
Gavin Weichelt (CO) won by decision over Chris Lalonde (CO) (Dec 10-5)
7th Place Match
Deven Casey (IL) won by decision over Valentine Popadiuc (NM) (Dec 1-1)
102
1st Place Match
Jacob Herm (WI) won by decision over Ryan Meier (MA) (Dec 7-4)
2nd Place Wrestleback
Ryan Meier (MA) won by decision over Wil Oberbroeckling (IA) (Dec 4-3)
3rd Place Match
Wil Oberbroeckling (IA) won by decision over Stone Phillips (AL) (Dec 6-1)
5th Place Match
Justis Jesuroga (IA) won by tech fall over Chris Dennis (PA) (TF 14-4)
7th Place Match
Devin Wudtke (WI) won by fall over Zacariah Reno (IN) (Fall 1:05)
106
1st Place Match
Declan Koch (WI) won by decision over Jake Miller (OK) (Dec 5-2)
2nd Place Wrestleback
Jake Miller (OK) won by tech fall over Timothy Koester (IA) (TF 11-0)
3rd Place Match
Timothy Koester (IA) won by decision over Gabriel Logan (NJ) (Dec 15-11)
5th Place Match
Ned Kauffman (PA) won by decision over Blake Fox (IA) (Dec 8-4)
7th Place Match
Rylan Pedroza (CA) won by tech fall over DJ Wince (CO) (TF 11-1)
110
1st Place Match
Thomas Verrette (PA) won by tech fall over Colton Weiler (WI) (TF 10-0)
3rd Place Match
Griffin Van Tichelt (IN) won by fall over Royce Lopez (IL) (Fall 0:35)
5th Place Match
Zaidyn Quinonez (CO) won by decision over Xavier Chavez (AZ) (Dec 9-3)
7th Place Match
Andres Digrigoli (FL) won by tech fall over Gavin Lemen (IN) (TF 10-0)
114
1st Place Match
Aaron Stewart (IL) won by tech fall over Isaiah Jones (OK) (TF 15-5)
2nd Place Wrestleback
Isaiah Jones (OK) won by decision over Hayden Andrus (PA) (Dec 15-9)
3rd Place Match
Hayden Andrus (PA) won by decision over Victor MarksJenkins (MD) (Dec 4-1)
5th Place Match
Joshua Requena (CA) won by tech fall over Connor Olson (IN) (TF 10-0)
7th Place Match
Kalob Ybarra (CO) won by tech fall over Christian Wilson (OH) (TF 11-0)
119
1st Place Match
Brody Sendele (IL) won by tech fall over Gino Schinina (NJ) (TF 13-1)
2nd Place Wrestleback
Gino Schinina (NJ) won by decision over Jimmy Mastny (IL) (Dec 13-12)
3rd Place Match
Jimmy Mastny (IL) won by decision over Grayson Woodcock (OH) (Dec 8-7)
5th Place Match
Trevor Jones (NJ) won by forfeit over Angelo Vargo (IN) (FF)
7th Place Match
Sammy Spaulding (NJ) won by tech fall over Cash Bachicha (NM) (TF 13-3)
125
1st Place Match
Nolan Fellers (IA) won by tech fall over Garrison Sartain (CA) (TF 11-0)
3rd Place Match
Sullivan Ramos (WI) won by decision over Ian Hawkins (IL) (Dec 5-2)
5th Place Match
Tyler Reinhardt (NM) won by tech fall over Aiden Colbert (IL) (TF 14-4)
7th Place Match
Cael Gilmore (OH) won by decision over Lucas Boe (IN) (Dec 9-2)
130
1st Place Match
Kyler Knaack (IA) won by tech fall over Liam Fox (WY) (TF 12-1)
3rd Place Match
Blake Sloan (MI) won by tech fall over Braxton Walter (WI) (TF 10-0)
5th Place Match
Luke Kaiser (OH) won by tech fall over Conner Hoar (IN) (TF 10-0)
7th Place Match
Tyren Emberson (KS) won by fall over Carter Brown (MO) (Fall 2:40)
136
1st Place Match
Bradley Rodriguez-Little (MN) won by decision over Carlos Valdez (ID) (Dec 10-2)
2nd Place Wrestleback
Carlos Valdez (ID) won by tech fall over Gage Losiewicz (WI) (TF 11-0)
3rd Place Match
Gage Losiewicz (WI) won by fall over Keenan Sheridan (SD) (Fall 1:39)
5th Place Match
Blue Stiffler (SC) won by tech fall over Jonathan Sims (OH) (TF 11-1)
7th Place Match
Moose Bringer (GA) won by fall over Nolan Kielcheski (WI) (Fall 0:53)
149
1st Place Match
John Murphy (MN) won by fall over Owen McMullen (PA) (Fall 0:27)
2nd Place Wrestleback
Owen McMullen (PA) won by decision over Mikel David Uyemura (CA) (Dec 9-1)
3rd Place Match
Mikel David Uyemura (CA) won by decision over Cael Mielnik (MD) (Dec 6-4)
5th Place Match
Evan Perez (CO) won by decision over Mario Fornini (NJ) (Dec 11-7)
7th Place Match
Lucas Ricketts (KY) won by tech fall over Jesse Romero (MO) (TF 13-0)
165
1st Place Match
Dreshaun Ross (IA) won by tech fall over Miguel Rojas (IN) (TF 15-2)
2nd Place Wrestleback
Terrell McFarland (PA) won by tech fall over Miguel Rojas (IN) (TF 11-0)
3rd Place Match
Terrell McFarland (PA) won by tech fall over Tyson Martin (WI) (TF 13-2)
5th Place Match
Michael Mocco (FL) won by tech fall over Colton Zipp (WI) (TF 10-0)
187
1st Place Match
Denarii Mickel (PA) won by decision over Garett Kawczynski (WI) (Dec 13-7)
3rd Place Match
Alex Taylor (OH) won by tech fall over Adonis Bonar Ii (NE) (TF 13-2)
5th Place Match
Brodie Purtle (MO) won by fall over Henry Vander Heiden (WI) (Fall 1:49)
7th Place Match
James Bechter (OH) won by tech fall over Raymond Morales (IL) (TF 10-0)
250
1st Place Match
Kai Calcutt (IL) won by decision over Jaquan McMiller (MI) (Dec 9-4)
3rd Place Match
Milan Colvin (KS) won by decision over Brayden Hill (KS) (Dec 4-0)
5th Place Match
Maxwell Robinson (KS) won by fall over Brady Vaughan (MI) (Fall 1:41)
7th Place Match
Noah Mordecai (AZ) won by fall over Landon Morris (MI) (Fall 2:32)
12U Greco-Roman results
58
1st Place - Keian Linnell of UT
2nd Place - Kamari Tate of IL
3rd Place - Xander Webber of OH
Kamari Tate (IL) won by decision over Xander Webber (OH) (Dec 16-9)
Keian Linnell (UT) won by tech fall over Xander Webber (OH) (TF 14-4)
Keian Linnell (UT) won by fall over Kamari Tate (IL) (Fall 3:12)
63
1st Place Match
Spencer McCammon (IN) won by decision over Jack Thrush (AZ) (Dec 7-4)
3rd Place Match
Shiloh Joyce (NJ) won by decision over Rylen Wax (OH) (Dec 8-2)
5th Place Match
Jacob Naylor (MD) won by tech fall over Damien Yeoman (IA) (TF 10-0)
7th Place Match
Thales Silva (CA) won by tech fall over Maximillian Shvartsman (MA) (TF 10-0)
67
1st Place Match
Corey Brown (MD) won by tech fall over Brody Sayers (MA) (TF 11-0)
2nd Place Wrestleback
Brody Sayers (MA) won by fall over Thiago Silva (CA) (Fall 1:34)
3rd Place Match
Thiago Silva (CA) won by tech fall over Chad Artman (WV) (TF 10-0)
5th Place Match
Jay McQuiston (PA) won by decision over Tyler Verceles (MD) (Dec 10-6)
7th Place Match
Michael Rundell (IL) won by fall over Christopher Roos (CA) (Fall 1:02)
70
1st Place Match
Brock Humphrey (WV) won by decision over Gavin Boller (MI) (Dec 9-1)
2nd Place Wrestleback
Dominic Cordero (TN) won by tech fall over Gavin Boller (MI) (TF 10-0)
3rd Place Match
Dominic Cordero (TN) won by decision over Wyatt Rossi (MD) (Dec 12-11)
5th Place Match
Chase Karenbauer (PA) won by tech fall over Isaiah Neitzel (WI) (TF 14-4)
7th Place Match
Caleb Kirk (LA) won by tech fall over Cael Saldana (IL) (TF 12-2)
74
1st Place Match
Reece Movahead (VA) won by decision over Sean Kenny (NJ) (Dec 10-4)
3rd Place Match
Blake Nevils (OK) won by decision over Braeden Hamill (WI) (Dec 7-1)
5th Place Match
Isaac Weber (WI) won by decision over Tomas Campian (FL) (Dec 5-3)
7th Place Match
Chad Votta (MD) won by fall over Bryson Coyer (MI) (Fall 1:18)
78
1st Place Match
Urijah Lopez (OH) won by tech fall over Coleton Klipa (PA) (TF 12-2)
2nd Place Wrestleback
Jojo Burke (NJ) won by tech fall over Coleton Klipa (PA) (TF 12-1)
3rd Place Match
Jojo Burke (NJ) won by fall over Alden Walker (IN) (Fall 1:31)
5th Place Match
Cain Crosson (IA) won by decision over Michael Daleiden (WI) (Dec 4-0)
7th Place Match
Xavier Flores (IN) won by tech fall over Gavin Etchison (MT) (TF 18-8)
82
1st Place Match
Calvin Rathjen (IA) won by decision over Arseni Kikiniou (NY) (Dec 9-8)
2nd Place Wrestleback
Arseni Kikiniou (NY) won by fall over Martez Sheard (WI) (Fall 1:26)
3rd Place Match
Martez Sheard (WI) won by fall over Brody Schmitt (NE) (Fall 1:16)
5th Place Match
Carson Blum (MI) won by decision over Grayson Baumann (IN) (Dec 6-5)
7th Place Match
Kolten Bollig (WI) won by fall over Gavyn Kemp (IN) (Fall 1:28)
86
1st Place Match
Keegan Bassett (PA) won by fall over Caden Yanarella (PA) (Fall 1:50)
2nd Place Wrestleback
Caden Yanarella (PA) won by no contest over Nathan Matthis (MD) (NC)
3rd Place Match
Nathan Matthis (MD) won by decision over Daniel Dennis (PA) (Dec 5-2)
5th Place Match
Alexander Penzkover (WI) won by tech fall over Aiden Jalajel (OK) (TF 11-0)
7th Place Match
Dylan Villers (TN) won by decision over Braden Jones (NJ) (Dec 12-5)
92
1st Place Match
Gary High (TN) won by tech fall over William Moran (WA) (TF 15-4)
2nd Place Wrestleback
Hendrix Schwab (IA) won by decision over William Moran (WA) (Dec 10-8)
3rd Place Match
Hendrix Schwab (IA) won by tech fall over Evan Marvin (MN) (TF 11-0)
5th Place Match
Gavin Ryhal (PA) won by tech fall over Isaac Foster (WI) (TF 10-0)
7th Place Match
Mason Boulanger (WI) won by fall over David A. Burchett (IL) (Fall 0:19)
98
1st Place Match
Asher Bacon (FL) won by tech fall over Jacob Lootans, Jr. (WI) (TF 10-0)
2nd Place Wrestleback
Jacob Lootans, Jr. (WI) won by no contest over Kameron Green Jr. (NE) (NC)
3rd Place Match
Kameron Green Jr. (NE) won by decision over Thunder Page (KS) (Dec 9-6)
5th Place Match
Sean Breedlove (IN) won by decision over Jax Shekleton (IA) (Dec 6-6)
7th Place Match
Brandon Brown (MD) won by tech fall over William Harding (ME) (TF 10-0)
108
1st Place Match
Salah Tsarni (MD) won by fall over Corbin Wooley (OK) (Fall 1:20)
2nd Place Wrestleback
Corbin Wooley (OK) won by decision over Ivan Ivanov (ID) (Dec 11-3)
3rd Place Match
Ivan Ivanov (ID) won by decision over Ryder Schulte (AZ) (Dec 10-3)
5th Place Match
Owen Schacht (WI) won by tech fall over Preston Burroughs (NJ) (TF 11-0)
7th Place Match
Bear Bringer (GA) won by decision over Chase Wilson (MO) (Dec 17-8)
117
1st Place Match
Taina Fernandez (MD) won by decision over Mihai Necula (GA) (Dec 6-1)
2nd Place Wrestleback
Mihai Necula (GA) won by no contest over Jakobi Hagar (ME) (NC)
3rd Place Match
Jakobi Hagar (ME) won by decision over Tristen Rich (MD) (Dec 13-9)
5th Place Match
Layden Acevedo (PA) won by decision over Tyrus Alley (MO) (Dec 10-8)
7th Place Match
Tracey Dennard (TN) received a bye () (Bye)
135
1st Place Match
Max Firestine (PA) won by tech fall over Isaac Westfall (MI) (TF 10-0)
2nd Place Wrestleback
Isaac Barrientos (IL) won by fall over Isaac Westfall (MI) (Fall 0:34)
3rd Place Match
Isaac Barrientos (IL) won by fall over Michael Garcia (CO) (Fall 2:22)
5th Place Match
Elias Reed (WI) won by tech fall over James Hill (KS) (TF 10-0)
160
1st Place - Peter Mocco of FL
2nd Place - Grady Isaacs of MN
3rd Place - Ibrahim Zaky of VA
4th Place - Ryder Balkema of MI
5th Place - Brendan David of WA
Grady Isaacs (MN) won by decision over Ryder Balkema (MI) (Dec 10-9)
Ibrahim Zaky (VA) won by fall over Brendan David (WA) (Fall 1:28)
Peter Mocco (FL) won by tech fall over Ibrahim Zaky (VA) (TF 11-1)
Ryder Balkema (MI) won by fall over Brendan David (WA) (Fall 2:11)
Peter Mocco (FL) won by fall over Brendan David (WA) (Fall 1:06)
Grady Isaacs (MN) won by tech fall over Ibrahim Zaky (VA) (TF 10-0)
Peter Mocco (FL) won by decision over Grady Isaacs (MN) (Dec 6-2)
Ibrahim Zaky (VA) won by decision over Ryder Balkema (MI) (Dec 11-9)
Peter Mocco (FL) won by tech fall over Ryder Balkema (MI) (TF 14-4)
Grady Isaacs (MN) won by tech fall over Brendan David (WA) (TF 10-0)
10U Greco-Roman results
49
1st Place - Jacob Graber of MN
2nd Place - Jackson Allen of IL
3rd Place - Travis Barraclough of KS
4th Place - Tyson Linnell of UT
5th Place - Greyson Goodwin of CO
Jackson Allen (IL) won by tech fall over Tyson Linnell (UT) (TF 12-0)
Jacob Graber (MN) won by tech fall over Greyson Goodwin (CO) (TF 11-1)
Travis Barraclough (KS) won by injury default over Greyson Goodwin (CO) (Inj. 0:29)
Jacob Graber (MN) won by tech fall over Tyson Linnell (UT) (TF 10-0)
Jacob Graber (MN) won by tech fall over Travis Barraclough (KS) (TF 12-2)
Jackson Allen (IL) won by forfeit over Greyson Goodwin (CO) (FF)
Jackson Allen (IL) won by decision over Travis Barraclough (KS) (Dec 20-14)
Tyson Linnell (UT) won by injury default over Greyson Goodwin (CO) (Inj. 0:00)
Travis Barraclough (KS) won by fall over Tyson Linnell (UT) (Fall 1:05)
Jacob Graber (MN) won by tech fall over Jackson Allen (IL) (TF 10-0)
53
1st Place - Braxton Sharples of OH
2nd Place - Korbin Kiessling of MD
3rd Place - Mason Allen of IL
4th Place - Avery Anderson of CO
5th Place - Bishop Green of SC
Korbin Kiessling (MD) won by tech fall over Mason Allen (IL) (TF 10-0)
Avery Anderson (CO) won by tech fall over Bishop Green (SC) (TF 12-0)
Braxton Sharples (OH) won by tech fall over Bishop Green (SC) (TF 14-0)
Mason Allen (IL) won by decision over Avery Anderson (CO) (Dec 14-9)
Braxton Sharples (OH) won by tech fall over Avery Anderson (CO) (TF 11-0)
Korbin Kiessling (MD) won by fall over Bishop Green (SC) (Fall 1:25)
Braxton Sharples (OH) won by decision over Korbin Kiessling (MD) (Dec 14-12)
Mason Allen (IL) won by tech fall over Bishop Green (SC) (TF 10-0)
Braxton Sharples (OH) won by tech fall over Mason Allen (IL) (TF 14-4)
Korbin Kiessling (MD) won by tech fall over Avery Anderson (CO) (TF 10-0)
56
1st Place Match
Teagan VanBebber (CA) won by fall over Hayes Daniel (AR) (Fall 3:41)
3rd Place Match
Giovonni Nix (IL) won by decision over Chase Warm (MD) (Dec 20-13)
5th Place Match
Brodie Harmon (OK) won by decision over Logan Noonan (MD) (Dec 19-10)
59
1st Place - Jaxon Flood of GA
2nd Place - Colton Hamill of WI
3rd Place - Jace Rooney of NY
4th Place - Arto Khachatryan of CA
5th Place - Knox Lopez of OK
Jace Rooney (NY) won by tech fall over Knox Lopez (OK) (TF 12-1)
Jaxon Flood (GA) won by decision over Arto Khachatryan (CA) (Dec 10-2)
Colton Hamill (WI) won by fall over Arto Khachatryan (CA) (Fall 1:51)
Jaxon Flood (GA) won by fall over Knox Lopez (OK) (Fall 1:18)
Jaxon Flood (GA) won by tech fall over Colton Hamill (WI) (TF 10-0)
Jace Rooney (NY) won by decision over Arto Khachatryan (CA) (Dec 6-3)
Colton Hamill (WI) won by decision over Jace Rooney (NY) (Dec 7-6)
Arto Khachatryan (CA) won by tech fall over Knox Lopez (OK) (TF 10-0)
Colton Hamill (WI) won by tech fall over Knox Lopez (OK) (TF 11-0)
Jace Rooney (NY) won by decision over Jaxon Flood (GA) (Dec 4-1)
63
1st Place Match
Elias Faith (IN) won by tech fall over Julian Smith (NJ) (TF 14-1)
3rd Place Match
Logan Goodreau (WI) won by fall over Christian West (KS) (Fall 2:19)
5th Place Match
Dylan Verceles (MD) won by fall over Beaudin Murphy (MT) (Fall 2:46)
7th Place Match
Gavin Brent (MI) won by fall over Jon Luke Austin (IN) (Fall 0:18)
67
1st Place Match
Casen Becker (CO) won by tech fall over Tucker McLennan (MN) (TF 10-0)
2nd Place Wrestleback
Tucker McLennan (MN) won by fall over Jarron Beltran Jr (AZ) (Fall 1:17)
3rd Place Match
Jarron Beltran Jr (AZ) won by fall over Maddox Stultz (IN) (Fall 0:36)
5th Place Match
Mason Rivera (KS) won by tech fall over Haedyn Cochran (IN) (TF 12-2)
7th Place Match
Jace Barnes (MI) won by decision over Adrian Serrano (WI) (Dec 6-3)
71
1st Place - Jaden Washington of IL
2nd Place - Brogan Sendele of IL
3rd Place - Bo Link of IA
4th Place - Gabriel Waite of MI
5th Place - Sawyer Newton of ME
Brogan Sendele (IL) won by tech fall over Bo Link (IA) (TF 10-0)
Gabriel Waite (MI) won by fall over Sawyer Newton (ME) (Fall 1:49)
Jaden Washington (IL) won by fall over Gabriel Waite (MI) (Fall 0:33)
Bo Link (IA) won by tech fall over Sawyer Newton (ME) (TF 10-0)
Jaden Washington (IL) won by fall over Sawyer Newton (ME) (Fall 0:56)
Brogan Sendele (IL) won by fall over Gabriel Waite (MI) (Fall 2:56)
Jaden Washington (IL) won by fall over Brogan Sendele (IL) (Fall 0:37)
Bo Link (IA) won by fall over Gabriel Waite (MI) (Fall 1:32)
Jaden Washington (IL) won by tech fall over Bo Link (IA) (TF 10-0)
Brogan Sendele (IL) won by tech fall over Sawyer Newton (ME) (TF 10-0)
77
1st Place Match
Samuel Moran (WA) won by tech fall over Liam Jennett (IA) (TF 14-4)
2nd Place Wrestleback
Liam Jennett (IA) won by tech fall over Taber McBurney (KS) (TF 10-0)
3rd Place Match
Taber McBurney (KS) won by tech fall over Sam Dagel (SD) (TF 15-4)
5th Place Match
Rocky Thompson (MO) won by fall over Hunter Erdmann (WI) (Fall 3:43)
84
1st Place Match
Stetson Gabel (CO) won by decision over Nathan Fenner (PA) (Dec 11-10)
2nd Place Wrestleback
Jacob Penzkover (WI) won by fall over Nathan Fenner (PA) (Fall 2:26)
3rd Place Match
Jacob Penzkover (WI) won by fall over Kayden Murphy (TN) (Fall 0:44)
5th Place Match
Terriq Mayrose (IA) won by tech fall over Jacob Scott (IN) (TF 12-1)
7th Place Match
Evan Owens (GA) received a bye () (Bye)
93
1st Place - Whitley Wilscam of KS
2nd Place - Xander Fronhofer of CA
3rd Place - Henry Scott McDoniel of AR
4th Place - Brody Brewer of MI
5th Place - Peter Dranger of IN
Xander Fronhofer (CA) won by decision over Brody Brewer (MI) (Dec 11-4)
Henry Scott McDoniel (AR) won by fall over Peter Dranger (IN) (Fall 1:51)
Whitley Wilscam (KS) won by fall over Peter Dranger (IN) (Fall 0:20)
Henry Scott McDoniel (AR) won by fall over Brody Brewer (MI) (Fall 1:08)
Whitley Wilscam (KS) won by fall over Henry Scott McDoniel (AR) (Fall 0:15)
Xander Fronhofer (CA) won by fall over Peter Dranger (IN) (Fall 0:56)
Whitley Wilscam (KS) won by decision over Xander Fronhofer (CA) (Dec 10-4)
Brody Brewer (MI) won by fall over Peter Dranger (IN) (Fall 2:00)
Whitley Wilscam (KS) won by fall over Brody Brewer (MI) (Fall 1:20)
Xander Fronhofer (CA) won by fall over Henry Scott McDoniel (AR) (Fall 1:21)
105
1st Place - Hayden Mullins of IN
2nd Place - Braylen Brown of MD
3rd Place - Brogan Bingham of ID
4th Place - Noah Fitzgerald of IN
Braylen Brown (MD) won by fall over Noah Fitzgerald (IN) (Fall 1:55)
Hayden Mullins (IN) won by tech fall over Brogan Bingham (ID) (TF 10-0)
Braylen Brown (MD) won by fall over Brogan Bingham (ID) (Fall 1:26)
Hayden Mullins (IN) won by fall over Noah Fitzgerald (IN) (Fall 2:58)
Hayden Mullins (IN) won by fall over Braylen Brown (MD) (Fall 0:33)
Brogan Bingham (ID) won by fall over Noah Fitzgerald (IN) (Fall 0:55)
120
1st Place Match
Kody Doran (MO) won by decision over Gavin Brown (IN) (Dec 8-5)
3rd Place Match
Amirr Wright (OH) won by fall over Kellan Hansen (WI) (Fall 0:48)
5th Place Match
Bryce Gushee (ME) won by tech fall over Grant Penney (OH) (TF 13-0)
8U Greco-Roman results
43
1st Place - Daniel Khachatryan of CA
2nd Place - Immanuel Morales of IL
Immanuel Morales (IL) won by forfeit over Daniel Khachatryan (CA) (FF)
Daniel Khachatryan (CA) won by tech fall over Immanuel Morales (IL) (TF 12-1)
Daniel Khachatryan (CA) won by tech fall over Immanuel Morales (IL) (TF 10-0)
45
1st Place - Trey Bell of TN
49
1st Place - Zayne Wieneke of KS
2nd Place - Jaxsen Brown of MD
3rd Place - Trey Bell of TN
4th Place - Ronin Webber of OH
5th Place - Giovanni Rocco of IL
Ronin Webber (OH) won by tech fall over Giovanni Rocco (IL) (TF 10-0)
Zayne Wieneke (KS) won by disqualification over Trey Bell (TN) (DQ)
Jaxsen Brown (MD) won by tech fall over Trey Bell (TN) (TF 17-6)
Zayne Wieneke (KS) won by tech fall over Giovanni Rocco (IL) (TF 10-0)
Zayne Wieneke (KS) won by fall over Jaxsen Brown (MD) (Fall 3:09)
Trey Bell (TN) won by tech fall over Ronin Webber (OH) (TF 12-2)
Jaxsen Brown (MD) won by decision over Ronin Webber (OH) (Dec 14-7)
Trey Bell (TN) won by fall over Giovanni Rocco (IL) (Fall 0:27)
Jaxsen Brown (MD) won by tech fall over Giovanni Rocco (IL) (TF 10-0)
Zayne Wieneke (KS) won by tech fall over Ronin Webber (OH) (TF 12-1)
53
1st Place Match
Ian Weber (WI) won by fall over Dixon Starr (WI) (Fall 0:26)
2nd Place Wrestleback
Dixon Starr (WI) won by no contest over Adam Husk (WI) (NC)
3rd Place Match
Adam Husk (WI) won by tech fall over Scott Kilmer (IL) (TF 14-2)
5th Place Match
Kason Wolfe (OK) won by fall over Kinnick Smit (SD) (Fall 0:24)
56
1st Place - Tanner McCray-Bey of MD
2nd Place - Jaxsyn Walk of IA
3rd Place - Ayden Sebesta of WI
4th Place - Jaxton Coyer of MI
5th Place - Leah Hatfield of IA
Jaxton Coyer (MI) won by fall over Leah Hatfield (IA) (Fall 0:41)
Tanner McCray-Bey (MD) won by tech fall over Ayden Sebesta (WI) (TF 11-0)
Jaxsyn Walk (IA) won by fall over Ayden Sebesta (WI) (Fall 2:27)
Tanner McCray-Bey (MD) won by tech fall over Jaxton Coyer (MI) (TF 17-6)
Tanner McCray-Bey (MD) won by tech fall over Jaxsyn Walk (IA) (TF 10-0)
Ayden Sebesta (WI) won by fall over Leah Hatfield (IA) (Fall 0:16)
Jaxsyn Walk (IA) won by fall over Leah Hatfield (IA) (Fall 0:13)
Ayden Sebesta (WI) won by decision over Jaxton Coyer (MI) (Dec 18-13)
Jaxsyn Walk (IA) won by tech fall over Jaxton Coyer (MI) (TF 10-0)
Tanner McCray-Bey (MD) won by tech fall over Leah Hatfield (IA) (TF 12-0)
62
1st Place - Jace Evers of MN
2nd Place - Jayce Leclaire of WI
Jace Evers (MN) won by tech fall over Jayce Leclaire (WI) (TF 14-4)
Jace Evers (MN) won by fall over Jayce Leclaire (WI) (Fall 3:27)
70
1st Place Match
Ben Howenstein (SD) won by fall over Paxton Turner (IN) (Fall 0:26)
2nd Place Wrestleback
Paxton Turner (IN) won by decision over Azariah Bonar (NE) (Dec 11-10)
3rd Place Match
Azariah Bonar (NE) won by tech fall over Brian Flynn (MD) (TF 18-7)
5th Place Match
Carter Votta (MD) won by decision over Bryson Wilkinson (IL) (Dec 10-3)
7th Place Match
Josiah Bilby (KS) won by tech fall over Deonna Smith (IN) (TF 10-0)
85
1st Place - David Harrell of IN
2nd Place - Henry Begg of MI
3rd Place - Gavin Olenek of IL
David Harrell (IN) won by fall over Henry Begg (MI) (Fall 0:58)
Henry Begg (MI) won by tech fall over Gavin Olenek (IL) (TF 10-0)
David Harrell (IN) won by fall over Gavin Olenek (IL) (Fall 1:10)