News
USA Wrestling
College
High School & Youth
USAW
Hall of Fame biography: Gary Chopp, Medal of Courage
by National Wrestling Hall of Fame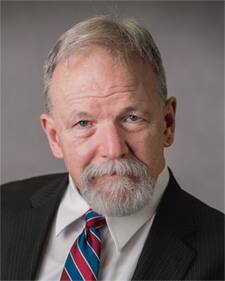 By overcoming seemingly insurmountable odds and providing inspiration to many others, former wrestler Gary Chopp is recognized with the 2020 Medal of Courage by the National Wrestling Hall of Fame.
In 1975, a few months after concluding his wrestling career at Grand Valley State University with a sixth-place finish at the National Association of Intercollegiate Athletics national tournament, Chopp went skydiving. During the 3,000-foot jump, his main and reserve parachutes malfunctioned, causing him to fall freely during the last 300 feet. He crashed into the ground, fracturing his spine and shattering his pelvis. Surgeons removed his damaged kidney and spleen, but he suffered paralysis in one leg.
Chopp credits the physical, mental and emotional strength he gained as a wrestler for helping him not only to stay alive at the time of the accident but also to achieve inspired goals during the ensuing seven months in the hospital and throughout his life.
After recovering in the hospital where he lost 90 pounds as he fought to stay alive, he returned to school and changed his major. He eventually entered law school, sat on the school's first law review, graduated in the top ten percent of his class in 1981, and won the Distinguished Student Award. Successfully practicing as a trial lawyer for 35 years, Chopp continued to experience complications from the accident. He underwent several surgeries, including the amputation of a leg and the development of Complex Regional Pain Syndrome, a chronic pain condition that recently forced him to retire from the practice of law.
Chopp lettered four years (1971-1975) in wrestling at Grand Valley State which began its wrestling program in 1968. He had a career record of 67-26 and was one of the team leaders who helped Grand Valley achieve its goal of becoming a nationally competitive wrestling program. At Grand Ledge (Michigan) High School, Chopp lettered four years in wrestling and two years in football. In wrestling, he won conference championships as a junior and senior, helping Grand Ledge capture the team title both years. Chopp was team captain and qualified for the state tournament as a senior while also placing in Greco-Roman at the Junior World Olympics.