News
USA Wrestling
Women
College
High School & Youth
USAW
North Central places seven into the Midlands finals in women's freestyle as four high school athletes make finals
by Gary Abbott, USA Wrestling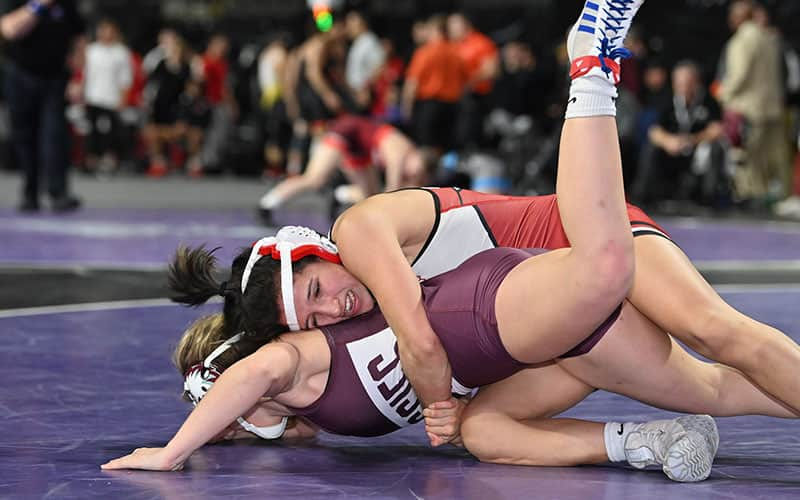 Action image by Sam Janicki.
HOFFMAN ESTATES, Ill. NCAA No. 2
North Central
put the most athletes in the finals of the first Midlands Championships in women's freestyle, taking a healthy lead over NCAA No. 5
Augsburg
as the semifinals were completed.
North Central finalists include Madison Avila (101), Sydney Petzinger (109), Jaslynn Gallegos (116), Sara Sterner (130), Yele Aycock (136), Tiera Jimerson (155) and Traeh Haynes (191).
Augsburg put three into the finals, Gabby Skidmore (123), Nina Makem (136) and Marlynne Deede (155).
Four of the finalists are talented high school wrestlers. The 170-pound finalists are two athletes from Wyoming Seminary, Alex Alli and Stella Steigler. Also in the finals are Indiana high school star Rianne Murphy at 101 and Illinois high school star Carly Ceshker (123).
Six different college teams have finalists: North Central, Augsburg,
McKendree
,
Lock Haven
and
Aurora
from the NCAA, plus
Grand View
from the NAIA.
MIDLANDS CHAMPIONSHIPS

At Hoffman Estates, Ill.


Finals pairings
101 - Rianne Murphy (Unattached) vs. Madison Avila (North Central)
109 - Sydney Petzinger (North Central) vs. Kaelani Shufeldt (Lock Haven)
116 - Jaslynn Gallegos (North Central) va. Chloe Ayres (Unattached)
123 - Carly Ceshker (Unattached) vs. Gabby Skidmore (Augsburg University)
130 - Alexis Janiak (Aurora) vs. Sara Sterner (North Central)
136 - Blanche `Nina` Kemu Makem (Augsburg University) vs. Yele Aycock (North Central)
143 - Alexis Gomez (Grand View) vs. Alara Boyd (McKendree University)
155 - Marlynne Deede (Augsburg University) vs. Tiera Jimerson (North Central)
170 - Alex Alli (unattached) vs. Stella Steigler (unattached)
191 - Sydnee Kimber (McKendree University) vs. Traeh Haynes (North Central)
Finalists by team
North Central (7)– Avila (101), Petzinger (109), Gallegos (116), Sterner (130), Aycock (136), Jimerson (155), Haynes (191)
Unattached (5) – Murphy (101), Ayres (116), Ceshker (123), Alli (170), Steigler (170)
Augsburg (3)– Skidmore (123), Makem (136), Deede (155)
McKendree (2) – Boyd (143), Kimber (191)
Lock Haven (1)– Shufeldt (109)
Aurora (1)– Janiak (130)
Grand View (1) – Gomez (143)
Semifinal results
101
Rianne Murphy (Unattached) won by fall over Amber Turner (North Central) Fall 0:26
Madison Avila (North Central) won by decision over Samantha Miller (Presbyterian College) Dec 2-2
109
Sydney Petzinger (North Central) won by tech fall over Clare Booe (Wyoming Seminary) TF 13-2
Kaelani Shufeldt (Lock Haven) won by decision over Kendra Ryan (North Central) Dec 10-8
116
Jaslynn Gallegos (North Central) won by fall over Amaya Yoshizumi (North Central) Fall 0:41
Chloe Ayres (Unattached) won by decision over Ainslie Lane (Presbyterian College) Dec 6-0
123
Carly Ceshker (Unattached) won by decision over Amani Jones (North Central) Dec 7-6
Gabby Skidmore (Augsburg University) won by decision over Catherine Bertrand (Presbyterian College) Dec 8-0
130
Alexis Janiak (Aurora) won by tech fall over Autumn Flanigan (Augsburg University) TF 10-0
Sara Sterner (North Central) won by fall over Sierra Marie Miller (Presbyterian College) Fall 1:36
136
Blanche `Nina` Kemu Makem (Augsburg University) won by fall over Bethany Regione (Aurora) Fall 0:16
Yele Aycock (North Central) won by decision over Paige Wehrmeister (Presbyterian College) Dec 2-0
143
Alexis Gomez (Grand View) won by tech fall over Kendall Bostelman (North Central) TF 12-1
Alara Boyd (McKendree University) won by decision over Katie Lange (Augsburg University) Dec 2-1
155
Marlynne Deede (Augsburg University) won by tech fall over Malea Palahniuk (North Central) TF 10-0
Tiera Jimerson (North Central) won by decision over London Houston (North Central) Dec 6-3
191
Sydnee Kimber (McKendree University) won by fall over Melissa Jacobs (Augsburg University) Fall 0:30
Traeh Haynes (North Central) won by tech fall over Maia Foster (Augsburg University) TF 10-0
Teams after morning session
1 North Central 86.5
2 Augsburg University 47.0
3 Presbyterian College 38.5
4 McKendree University 26.5
5 Aurora 14.5
6 Grand View 12.0
7 Lock Haven 12.0
8 Wyoming Seminary 6.0
Note: Unattached wrestlers have scored 33 points