News
USA Wrestling
International
High School & Youth
USAW
Hall of Fame biography: Dremiel Byers, Distinguished Member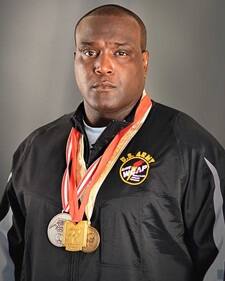 One of only two Americans to win three medals at the Greco-Roman World Championships, Dremiel Byers is considered one of the best Greco-Roman wrestlers in U.S. history.
Byers won a gold medal at the 2002 World Championships and is one of just five Americans to win a gold medal in Greco-Roman wrestling. He added a bronze medal in 2007 and a silver medal in 2009 joining Distinguished Member Matt Ghaffari as the only Americans to medal three times. His 2007 bronze medal helped the United States win its first and only Greco-Roman World team title, by a single point over Russia.
Between 1999 and 2011, Byers made eight World Greco-Roman and two Olympic teams, finishing seventh in 2008 and ninth in 2012. He is the winningest wrestler, in any style, in Dave Schultz Memorial International history with six gold medals and 11 total medals. He was named USA Wrestling's Greco-Roman Wrestler of the Year in 1999, 2002 and 2009.
Byers attended Kings Mountain High School in Kings Mountain, North Carolina, where he was an All-State wrestler and won the North Carolina state high school heavyweight championship in 1993. He attended North Carolina A&T on a football scholarship, but was forced to leave college to take care of family matters.
He enlisted in the U.S. Army and joined the Army's World Class Athletes Program in 1996. He retired from the Army as a Sergeant First Class and currently serves as an assistant coach for the WCAP team.
Byers was inducted into the National Wrestling Hall of Fame Dan Gable Museum's Alan and Gloria Rice Greco-Roman Hall of Champions in 2015.
For his record-setting performances during his storied Greco-Roman wrestling career, Dremiel Byers is named as a Distinguished Member of the National Wrestling Hall of Fame.