News
USA Wrestling
College
Women
USAW
NAIA No. 6 Jamestown women win third straight KCAC Conference title, led by seven champions
by Gary Abbott, USA Wrestling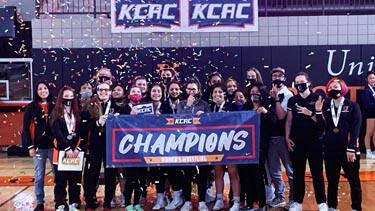 JAMESTOWN, N.D. - NAIA No. 6 Jamestown women's wrestling team was dominant in winning its third straight KCAC conference championship on its home mats on Saturday.
The Jimmies were led by seven individual champions: Rayana Sahagun (109), Josie Bartishofski (116), Arianna Marrufo (123), Alexandra Baudhuin (130), Luisita Jara (136), Sierra Talmadge (170) and Kelly Lacost (191).
Winning their championship match by technical fall were Sahagun, Baudhuin, Talmage and Lacost.
Jamestown head coach Shauna Kemp and Midland head coach Daviare Dickerson were named Coaches of the Year. It was the third straight year Kemp received this honor.
Jamestown scored 208.5 points, with Midland second at 173 points and York College third with 114.5 points. Rounding out the team race was Ottawa in fourth with 100 points and Hastings in fifth with 28 points.
Midland, ranked No. 11 in the most recent NAIA poll, won three individual titles, with Esther Walker (101), Waipuilani Estrella-Beauchamp (143) and Mahea Lewis (155) reaching the top of the podium. Estrella-Beauchamp, a freshman, is currently ranked No. 1 in the nation at her weight class.
There were no repeat KCAC champions this season.
KCAC Women`s Championships

at Jamestown, N.D.
101
1st Place - Esther Walker of Midland University
2nd Place - Kylie Marlin of York College
3rd Place - Ella Whitaker of York College
Kylie Marlin (York College) won by tech fall over Ella Whitaker (York College) (TF 10-0)
Esther Walker (Midland University) won by fall over Ella Whitaker (York College) (Fall 0:33)
Esther Walker (Midland University) won by tech fall over Kylie Marlin (York College) (TF 12-0)
109
1st Place Match - Rayana Sahagun (University of Jamestown) won by tech fall over AnnMarie Hidalgo (University of Jamestown) (TF 12-2)
3rd Place Match - Claire Payne (York College) won by tech fall over Alessia Cokeley (Ottawa University) (TF 10-0)
5th Place - Salem Scobee (Midland University)
116
1st Place Match - Josie Bartishofski (University of Jamestown) won by decision over Serenity Durham Goree (Midland University) (Dec 12-5)
3rd Place Match - JoNiesha M Kennedy (Ottawa University) won by fall over Emily Fergeson (York College) (Fall 5:11)
5th Place - Diana Leyva (York College)
123
1st Place Match - Arianna Marrufo (University of Jamestown) won by decision over Samantha Weeks (University of Jamestown) (Dec 5-1)
3rd Place Match - Prethy Enriquez (Midland University) won by decision over Avery Thomason (Midland University) (Dec 8-1)
5th Place - Katy Figuerou (York College)
130
1st Place Match - Alexandra Baudhuin (University of Jamestown) won by tech fall over Corinne Robertson (Ottawa University) (TF 12-2)
3rd Place Match - Mika Rae Mauldin (York College) won by tech fall over Xandra Edwards (University of Jamestown) (TF 10-0)
136
1st Place Match - Luisita Jara (University of Jamestown) won by decision over Lyric Gonsalves (Ottawa University) (Dec 6-6)
3rd Place Match - Tayler Peligrino-Hayase (Midland University) won by fall over Remy Vargas (University of Jamestown) (Fall 1:01)
5th Place Match - Amy Fuller (Hastings) won by fall over Ashlee Palimo`o (Midland University) (Fall 3:55)
7th Place - Kami Fiordalis (York College)
143
1st Place Match - Waipuilani Estrella-Beauchamp (Midland University) won by fall over Cameryn Hulbert (York College) (Fall 0:48)
3rd Place Match - Samantha Segura-Veliz (Midland University) won by fall over Kimberly Pollak (Hastings) (Fall 1:31)
5th Place Match - Brittani Burgess (Ottawa University)
155
1st Place Match - Mahea Lewis (Midland University) won by decision over Bella Mitchell (York College) (Dec 7-7)
3rd Place Match - Joycelyn Katcheak (University of Jamestown) won by tech fall over Derriane Jovan Morrison (Ottawa University) (TF 10-0)
5th Place Match - Hannah Nicole Dickinson (Ottawa University) won by fall over Jacqueline Carreras (Hastings) (Fall 2:33)
170
1st Place - Sierra Talmadge of University of Jamestown
2nd Place - Jasmin Ballesteros of Midland University
3rd Place - Mandy Camacho of University of Jamestown
Jasmin Ballesteros (Midland University) won by tech fall over Mandy Camacho (University of Jamestown) (TF 11-1)
Sierra Talmadge (University of Jamestown) won by tech fall over Mandy Camacho (University of Jamestown) (TF 10-0)
Sierra Talmadge (University of Jamestown) won by tech fall over Jasmin Ballesteros (Midland University) (TF 10-0)
191
1st Place - Kelly Lacost of University of Jamestown
2nd Place - Serena Sanchez of Midland University
3rd Place - Jythssel Mascorro of Ottawa University
Serena Sanchez (Midland University) won by fall over Jythssel Mascorro (Ottawa University) (Fall 1:57)
Kelly Lacost (University of Jamestown) won by tech fall over Serena Sanchez (Midland University) (TF 10-0)
Kelly Lacost (University of Jamestown) won by fall over Jythssel Mascorro (Ottawa University) (Fall 5:00)
Team Standings
1. University of Jamestown, 208.5
2. Midland University, 173.0
3. York College, 114.5
4. Ottawa University, 100.0
5. Hastings, 28.0