News
USA Wrestling
College
USAW
Southern Conference announces seeding for 2021 Wrestling Championship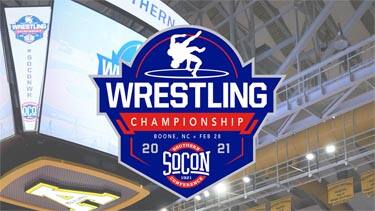 SPARTANBURG, S.C. – The Southern Conference has released the seeds for the 2021 SoCon Wrestling Championship, the league office announced Wednesday afternoon. The No. 1 seed in each weight class will receive a bye for the first match. The championship is set to take place Sunday, Feb. 28, at the Holmes Convocation Center in Boone, North Carolina. Seven squads will compete for the 2021 SoCon title with 13 NCAA allocations available for the NCAA Championships.
Campbell seeks to defend its last two tournament titles under first-year head coach Scotti Sentes. The Camels won their third straight regular-season title, going undefeated in SoCon action this season. App State, the 2021 preseason favorite, finished second in the conference standings with its only loss to Campbell as the Mountaineers look to uphold the preseason prediction at home.
A pair of last year's SoCon individual champions return to the mat this season for the chance to defend their 2020 titles, both competing in the same weight class at 149 pounds. Campbell's Joshua Heil took home the 141-pound title at last year's championship, returning to 149 pounds this season after taking home the weight class title in 2019. Heil is a three-time SoCon individual champion, and if he takes the title again this season, he will be one of only 16 wrestlers to become a four-time champion in SoCon wrestling history. App State's Jonathan Millner (149) returns to defend his 2020 title after defeating No. 2 seed Tanner Smith of Chattanooga in final last year. The SoCon earned two NCAA allocations each at 149 pounds, 184 pounds and heavyweight. The remaining weight classes earned one allocation each, which is the automatic qualifier for the conference tournament champion.
App State's Codi Russell (125), Millner (149) and Will Formato (165) enter the championship all seeded No. 1 in their respective weight classes. The Mountaineers' remaining seeded wrestlers include Anthony Brito (141, No. 2), Cody Bond (157, No. 2), Thomas Flitz (174, No. 2), Julian Gorring (184, No. 5), Mason Fiscella (197, No. 4) and Michael Burchell (285, No. 4).
Campbell holds a league-best four No. 1 seeds for this year's championship in Benjamin Barton (157), Austin Murphy (174), Caleb Hopkins (184) and Chris Kober (197). The Camels will see Zurich Storm seeded third at 125 pounds and Gabriel Hixenbaugh (133) and Shannon Hannah (144) both seeded fourth, while Heil will have to settle for the No. 2 seed at 149 behind App State's Millner.
The Citadel's Michael McAleavey headlines the heavyweight class seeded at the top, followed by Gardner-Webb's Anthony Perrine and Campbell's Taye Ghadiali, seeded second and third, respectively. App State's Burchell, Chattanooga's Grayson Walthall, Presbyterian's Airin Spell and VMI's Giomar Ramos will have to compete against the top seeds for a chance to take the 2021 SoCon heavyweight title.
Jake Rotunda, competing at 133 pounds for the Bulldogs, is also seeded first in his weight class, while the remaining Citadel wrestlers, Jordie White (125, No. 5), Tyler Seeley (141, No. 4), Selwyn Porter (149, No. 4), Grant Speer (157, No. 7), Dazjon Casto (165, No. 4), Cole Burke (174, No. 4) Kyle Kretzer (184, No. 6) and Ben Stemmet (197, No. 6), will take the mat Sunday with hopes to earn the championship crown.
Chattanooga's Franco Valdes (141) will enter the championship seeded first after going undefeated in SoCon action this season. Fabian Gutierrez (125) went 7-1 in conference duals and will arrive in Boone as the No. 2 seed in his weight class. Colton Landers (133), Weston Wichman (157), Drew Nicholson (165), Matthew Waddell (184) and Logan Andrew (197) all enter the tournament as the No. 3 seed in their respective weight classes. The Mocs' Austin Murphy (149) and Carial Tartar (174) sit as the No. 5 seeds for their matches.
Gardner-Webb's RJ Mosley (165) sits behind App State's Formato seeded second, along with redshirt freshman Jha'Quan Anderson (184), who is also seeded second in his weight class. Teammates Trevon Majette (141) and Evan Schenk (174) are the No. 3 seeds in their individual weight classes.
Presbyterian will compete in its first conference championship, as the squad finished its second season as a member of the SoCon. Seven Blue Hose wrestlers are set to take the mat Sunday, as they compete for their first individual conference titles.
VMI's Job Chisko (149) will face tough competition seeded third behind the two returning SoCon individual champions, Millner and Heil. Teammate Tyler Mousaw sits as the No. 2 seed at 197 pounds, while Zach Brown is seeded fourth at 184 pounds.
Davidson, which has paused team activities due to positive COVID-19 test results among Tier 1 personnel, and first-year SoCon member Bellarmine, which is transitioning from NCAA Division II, will not compete in this year's championship.
Due to COVID-19 protocols and adherence with local and state guidelines, there will be no general ticket sales at the SoCon Wrestling Championship. In addition to the teams, essential staff, workers and administrative personnel on site, a maximum of 13 student-athletes and three coaches per team are permitted to request two non-transferrable tickets each for immediate family members. A clear-bag policy will be in effect at the Holmes Convocation Center. The championship will be streamed in its entirety on ESPN+.
Seeds

125 (1 NCAA allocation)
#1 Codi Russell, Appalachian State
#2 Fabian Gutierrez, Chattanooga
#3 Zurich Storm, Campbell
#4 B. Gomez, Presbyterian
#5 Jordie White, The Citadel
#6 Aedyn Concepcion, Gardner- Webb
#7 Cliff Conway, VMI
133(1 NCAA allocation)
#1 Jake Rotunda, The Citadel
#2 Sean Carter, Appalachian State
#3 Colton Landers, Chattanooga
#4 Gabriel Hixenbaugh, Campbell
#5 Dominic Chavez, Presbyterian
#6 Todd Carter, Gardner-Webb
#7 Cameron Chicella, VMI
141 (1 NCAA allocation)
#1 Franco Valdes, Chattanooga
#2 Anthony Brito, Appalachian State
#3 Trevon Majette, Gardner-Webb
#4 Shannon Hanna, Campbell
#5 Jacob Brasseur, Presbyterian
#6 Tyler Seeley, The Citadel
#7 Freddy Junko, VMI
149 (2 NCAA allocations)
#1 Jonathan Milner, Appalachian State
#2 Josh Heil, Campbell
#3 Job Chishko, VMI
#4 Selwyn Porter, The Citadel
#5 Austin Murphy, Chattanooga
#6 Brandon Bright, Gardner-Webb
#7 Reid Stewart, Presbyterian
157 (1 NCAA allocation)
#1 Benjamin Barton, Campbell
#2 Cody Bond, Appalachian State
#3 Weston Wichman, Chattanooga
#4 Taylor Parks, Gardner-Webb
#5 Blake Showers, VMI
#6 Zachary Phillips, Presbyterian
#7 Grant Speer, The Citadel
165 (1 NCAA allocation)
#1 Will Formato, Appalachian State
#2 RJ Mosley, Gardner-Webb
#3 Drew Nicholson, Chattanooga
#4 Dazjon Casto, The Citadel
#5 Austin Kraisser, Campbell
#6 Jon Hoover, VMI
No Entry for Presbyterian
174 (1 NCAA allocation)
#1 Austin Murphy, Campbell
#2 Thomas Flitz, Appalachian State
#3 Evan Schenk, Gardner-Webb
#4 Cole Burke, The Citadel
#5 Carial Tarter, Chattanooga
#6 Joel Diaz, VMI
#7 Victor Tello, Presbyterian
184 (2 NCAA allocations)
#1 Caleb Hopkins, Campbell
#2 Jha'Quan Anderson, Gardner-Webb
#3 Matthew Waddell, Chattanooga
#4 Zach Brown, VMI
#5 Julian Gorring, Appalachian State
#6 Kyle Kretzer, The Citadel
No Entry for Presbyterian
197 (1 NCAA allocation)
#1 Chris Kober, Campbell
#2 Tyler Mousaw, VMI
#3 Logan Andrew, Chattanooga
#4 Mason Fiscella, Appalachian State
#5 Samuel Mora, Gardner-Webb
#6 Ben Stemmet, The Citadel
No Entry for Presbyterian
285 (2 NCAA allocations)
#1 Michael McAleavey, The Citadel
#2 Anthony Perrrine, Gardner-Webb
#3 Taye Ghadiali, Campbell
#4 Michael Burchell, Appalachian State
#5 Grayson Walthall, Chattanooga
#6 Airin Spell, Presbyterian
#7 Giomar Ramos, VMI