News
USA Wrestling
Women
College
USAW
Grand View women win NAIA Heart of America Conference title with five individual champions
by Gary Abbott, USA Wrestling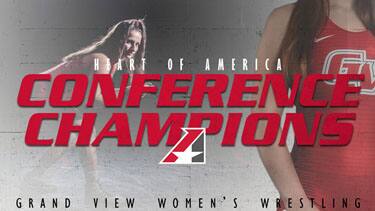 FAYETTE, Mo. – Led by five individual champions, Grand View edged Baker to win the first Heart of America Conference Championships team title, the first of the NAIA conference events in the women's wrestling post-season.
Individual champions for the Vikings were Alaura Couch (101), Emma Cochran (109), Isabella Gonzalez (130), Andrea Schlabach (136), and Hunter Robinson (170).
Grand View, ranked No. 4 in the NAIA going into the post-season, scored 100 points, ahead of No. 10 ranked Baker, which finished with 96 points. Rounding out the team standing were Missouri Valley in third with 59.5 points, William Penn in fourth with 43.5 points, Waldorf in fifth with 27 points and host Central Methodist in sisxth with 12 points.
Baker was led by individual conference champions Nichole Moore (116), Morgan Mayginnes (155) and Elisa Robinson (191).
Other individual champions were Mami Selemani of William Penn (123) and Nancy Becerra (Missouri Valley College (143).
The conference championships in the NAIA are not qualifiers for the NAIA Women's Wrestling National Invitational, which will be held at Jamestown, March 12-13. A total of four NAIA conference tournaments will be held in women's wrestling this year.
HEART OF AMERICA CONFERENCE WOMEN'S WRESTLING CHAMPIONSHIPS

At Fayette, Mo., February 20
101
1st Place Match - Alaura Couch (Grand View) won by tech fall over Chalimar Rodriguez (William Penn) (TF 14-3)
109
1st Place Match - Emma Cochran (Grand View) won by tech fall over Chloe Krebsbach (Grand View) (TF 14-4)
3rd Place Match - Lillianna Campbell (Missouri Valley College) won by tech fall over Kassidy Leiszler (Baker University, KS) (TF 11-0)
116
1st Place Match - Nichole Moore (Baker University, KS) won by fall over Jasmine Alexander (Grand View) (Fall 2:18)
2nd Place Match - Jasmine Alexander (Grand View) won by fall over Katherine Heath (Baker University, KS) (Fall 4:46)
3rd Place Match - Katherine Heath (Baker University, KS) won by fall over Savannah Kiddoo (Central Methodist University) (Fall 3:00)
123
1st Place Match - Mami Selemani (William Penn) won by fall over Olivia Branson (Baker University, KS) (Fall 3:30)
3rd Place Match - Giovanna Loza (Central Methodist University) won by decision over Daviona Bonner (Central Methodist University) (Dec 2-1)
130
1st Place Match - Isabella Gonzalez (Grand View) won by decision over Diana Dzasezeva (Waldorf University) (Dec 5-1)
3rd Place Match - Willow Barnes (Missouri Valley College) won by decision over Jennifer Castaneda (Waldorf University) (Dec 2-0)
136
1st Place Match - Andrea Schlabach (Grand View) won by decision over Jocelyn Murphy (Missouri Valley College) (Dec 7-2)
2nd Place Match - Savanna McCutchen (Missouri Valley College) won by decision over Jocelyn Murphy (Missouri Valley College) (Dec 12-4)
3rd Place Match - Savanna McCutchen (Missouri Valley College) won by fall over Jaimes Clark (Baker University, KS) (Fall 2:23)
143
1st Place Match - Nancy Becerra (Missouri Valley College) won by decision over Akina Yamada (Waldorf University) (Dec 13-4)
3rd Place - Joylynn Wegman (William Penn)
155
1st Place Match - Morgan Mayginnes (Baker University, KS) won by decision over Salima Omari (William Penn) (Dec 11-10)
3rd Place Match - Brooke-Lynn Rush (Missouri Valley College) won by decision over Berenice Espino (Waldorf University) (Dec 8-3)
170
1st Place Match - Hunter Robinson (Grand View) won by fall over Jennifer Curry (Baker University, KS) (Fall 4:46)
2nd Place Match - Jennifer Curry (Baker University, KS) won by fall over Mahealani Ramirez (Missouri Valley College) (Fall 2:42)
3rd Place Match - Mahealani Ramirez (Missouri Valley College) won by decision over Kassandra Lindemann (Grand View) (Dec 9-0)
191
1st Place Match - Elisa Robinson (Baker University, KS) won by decision over Martha Vizcarra (Baker University, KS) (Dec 7-0)
3rd Place Match - Samantha Ruano (William Penn) won by tech fall over Yahaira Vargas (Central Methodist University) (TF 10-0)
Team Standings
1. Grand View, 100.0
2. Baker University, 96.0
3. Missouri Valley College, 59.5
4. William Penn, 43.5
5. Waldorf University, 27.0
6. Central Methodist University, 12.0