News
USA Wrestling
College
Women
USAW
RMAC announces Women's Wrestling as Conference-Sponsored sport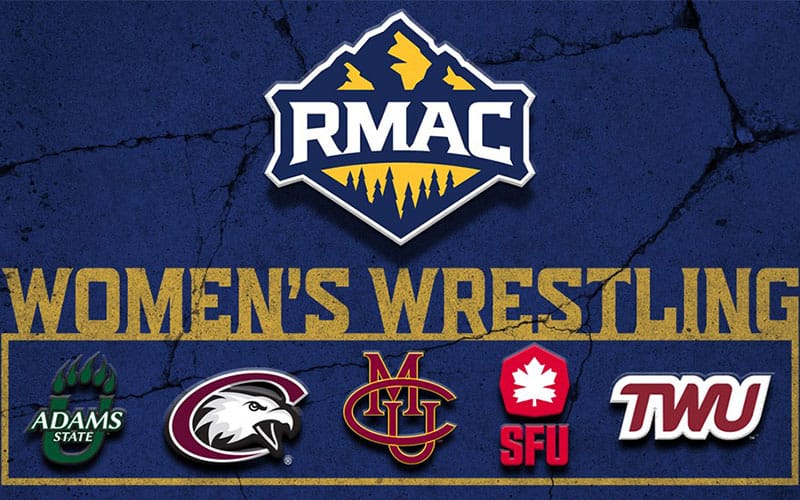 Adams State, Chadron State, Colorado Mesa, Simon Fraser and Texas Woman's named inaugural RMAC women's wrestling member institutions
COLORADO SPRINGS, Colo. – The
Rocky Mountain Athletic Conference
has announced the adoption of women's wrestling as the 22nd conference-sponsored sport, the league announced Thursday. The RMAC mandates that a minimum of five member institutions, including associate members, sponsor a sport to earn conference-sport sponsorship from the league. The announcement comes during the celebration of the 50th anniversary of the enactment of Title IX.
"Today's historic announcement comes at a fitting time as we close out a celebration of the 50th anniversary of Title IX by adding another women's championship," RMAC Commissioner
Chris Graham
stated. "The RMAC leads NCAA Division II in many ways and we are proud to provide the first sole league championship to women's wrestlers."
Prior to the start of the 2022-23 academic year, 54 NCAA member institutions self-reported sponsorship of women's wrestling as a sport. Of those 54 institutions, 20 are active, reclassifying or provisional members at the Division II level. The National Wrestling Coaches Association (NWCA) lists an additional 11 women's wrestling programs that either currently or will soon be sponsored by active, reclassifying or provisional members in Division II. The RMAC will begin sponsoring women's wrestling in the 2023-24 academic year with five inaugural members,
Adams State
,
Chadron State
,
Colorado Mesa
,
Simon Fraser
and
Texas Woman's
.
With its five inaugural members, RMAC women's wrestling will serve as the first NCAA Division II conference to solely sponsor the sport. Upon the conclusion of regular-season competition in the 2023-24 season, RMAC women's wrestling institutions will advance to the National Collegiate Women's Wrestling Championship (NCWWC) due to the NCAA's classification of women's wrestling as an "emerging sport."
Although the league will enter its first season of existence in the 2023-24 season, its members have already experienced significant success on their own. Simon Fraser's program began in the 1990s and has developed Olympic gold medalists such as USA's Helen Maroulis, who competed in Rio De Janeiro in 2016, and Canada's Carol Huynh, who earned a gold medal at the 2008 event in her home country.
More recently, Colorado Mesa's Marissa Gallegos secured the program's first national championship at the 2023 NCWWC event after earning a 7-2 victory that sealed an undefeated season in the 123-pound weight class for the redshirt junior.
What Others are Saying
:
Sally Roberts, Wrestle Like A Girl CEO
"We're thrilled about the Rocky Mountain Athletic Conference's decision to add women's wrestling as a conference-sponsored sport, as it will create more opportunities for women to attend college and compete in athletics. With nearly 40% of female wrestlers competing at the NCAA level identifying as first-generation college students and another 50% identifying as non-white, the RMAC's decision will help Wrestle Like A Girl further our mission to provide more opportunities for girls and women."
Travis Mercado, Colorado Mesa Women's Wrestling Head Coach
"It is exciting news to hear that the Rocky Mountain Athletic Conference is going to sponsor women's wrestling, especially with women's wrestling being very close to being recognized as a championship sport in the NCAA," said Travis Mercado, Colorado Mesa women's wrestling head coach. "Being a sponsored sport in the RMAC will not only give more opportunities for regional competition to our female student-athletes in the sport of wrestling but also 'elevates' women's wrestling in the region. Our athletes are ecstatic about the opportunity of being RMAC Champions as individuals and as a team."
Justin Abdou, Simon Fraser Women's Wrestling Head Coach
"Women's wrestling in the NCAA is growing rapidly and we've been championing these incredible athletes since the beginning. A conference affiliation is the next step to becoming a full-fledged NCAA sport, enabling our wrestlers to compete for a conference championship and weekly recognition. We are looking forward to developing rivalries with Colorado Mesa and the other RMAC schools."
Joel Smith, Chadron State Athletic Director
"Women's wrestling has been an unqualified success at Chadron State. It allows 25-30 women athletes the opportunity to compete at the college level. With the RMAC sponsorship announcement they now have an opportunity to compete for team and individual awards and gain recognition. It's a win-win. "
About the RMAC
The RMAC is a premier NCAA Division II conference, in Colorado Springs, Colorado, with 15 member schools. The RMAC sponsors 21 varsity NCAA sports and has produced 62 NCAA Division II national champions and 52 national runners-up since 1992.