News
USA Wrestling
High School & Youth
Women
USAW
Beat the Streets Providence merges with Boston Youth Wrestling to create Beat the Streets New England
by Victoria Diaz, Beat the Streets New England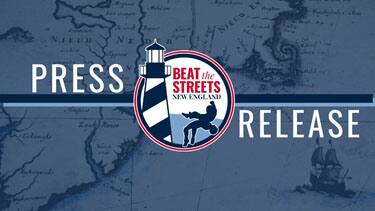 Launch of Beat the Streets New England Extends Youth Wrestling Engagement to New Communities
BOSTON – February 18, 2021 – Beat the Streets (Providence) and Boston Youth Wrestling today announced a merger to form Beat the Streets New England (BTSNE), a coalition making history as the nation's first regional youth wrestling organization. By expanding its reach to the greater New England region, BTSNE will establish new community based regional training centers, collaborate with more schools, engage additional stakeholders and partners, host regional fundraising campaigns, and empower more communities by serving the needs of a broader population of youth wrestlers.
Beat the Streets delivers youth wrestling programs to underserved communities, helping students develop a goal oriented mindset through on the mat training that translates into off the mat life skills. Its programs are designed to encourage a desire for excellence, respect, teamwork, leadership, integrity, and perseverance through the instruction of quality wrestling programs. Coupled with off the mat resources to develop students' full academic potential, these programs open doors to prestigious universities for a diverse group of young women and men.
"Wrestling creates leaders. These kids become leaders and that's transformative. Having someone who believes in you at the right point of your life is transformative, which is where our mentors come in," said Billy Watterson, Founder of Beat the Streets Providence and Co-founder of BTSNE. "Realizing our goal is to grow the community together with more mentors and leaders, the question we had to answer was, 'how do we best create a community that supports each other?' That's how BTSNE was born."
As part of the merger, BTSNE has announced its appointment of Bior Guigni as Chief Executive Officer. A Connecticut native with strong roots in the New England wrestling community, Guigni serves as the USA Wrestling Chairperson for the State of Massachusetts and the President of the Massachusetts Wrestling Association. She previously served as Executive Director of Boston Youth Wrestling and interim Executive Director of Beat the Streets Providence. In this new role, Guigni will be the first female wrestler and woman of color to take the helm of this sports-based youth development regional organization.
"Nationally, the nine existing Beat the Streets organizations have served communities individually nationwide, impacting over 7,366 youth and 208 teams through wrestling based youth development," said Guigni. "BTSNE is the flagship regional model for Beat the Streets National that will serve several new cities within New England. By merging the founding programs in Boston and Providence, we hope to grow opportunities throughout New England for wrestling-based youth development with intentional programming and mentoring. Together we are uniting wrestling in our region and building a sustainable foundation for our youth to grow all over New England - from Boston and Providence to Hartford, Worcester, Springfield, and more." View the Strategic Plan here and a Letter from the CEO here.
Wrestling continues to be the fastest growing sport nationally for girls both at the high school and collegiate level. As of January 2020, there are a total of 86 collegiate programs across 30 states and one Canadian based amongst the NAIA, NCAA, and NJCAA institutions (Transition Wrestling). Spanning 27 sites in 2020, BTS Providence and Boston Youth Wrestling completed 500,000 hours of youth engagement, 200,000 hours of trainer development last season. Since the start of Covid, BTSNE also distributed 25,000 meals amongst participating youth families. BTSNE is looking to raise $750,000 for its programs this year, and expects to raise $3.5 million over the next 4 years.
"For all the sport's popularity, wrestling has remained a tight-knit community," said José Valenzuela, Founder of Boston Youth Wrestling and Co-founder of BTSNE. "I met Billy early on, when he started the BTS program in Providence. We realized our wrestlers could compete even while our coaching staff groups could work together. We would come together on the mat. What I'm most excited about is the potential of BTSNE when you think about the future. I truly believe bringing the BTSNE model to other New England cities will have the potential to help create a lot of good and assist in providing more opportunities to kids than our organizations had separately."
As BTSNE launches, it is also expanding its Board of Directors, headed by Chair Craig Powell, a former Brown University wrestler and current CEO of mobile workforce management company Motus. Additional board members include Co-Founders José Valenzuela of Boston Youth Wrestling and Billy Watterson of Beat the Streets Providence. The remainder of the board is made up of founding Boston and Providence board members: Kevin McCarthy, treasurer; Vince Domestico, secretary; and Joe Mocco and Nic Miragliuolo both members at large. View the Board of Directors here.
"I've seen the powerful impact that sports – and wrestling in particular – can have on someone's life and personal confidence. And not just on the mat – the lessons learned by 'betting on oneself' bring perspective to an individual's confidence, grit, and determination to achieve success in life," said Powell. "This merger will enable BTSNE to bring those valuable teachings and the organization's proven impact to at-risk youth across a much broader footprint of the Northeast; starting with Boston and Providence. At this time, these critical lessons have never been more important, so we could not be more excited to see this extended reach manifest itself in several incredible ways as these young wrestlers, boys and girls, learn and grow."
For more information or to donate to Beat the Streets New England, please visit
BTSNE.org
.
About Beat the Streets New England
Beat The Streets New England (BTSNE) utilizes the sport of wrestling to provide opportunities for our youth to discover their full potential by building relationships with themselves, their team, and their community. The organization is uniting wrestling and building a sustainable foundation for youth to grow all over New England - from Boston and Providence to Hartford, Worcester, Springfield, and beyond. Learn more at
BTSNE.org
.