News
USA Wrestling
International
USAW
Rau, Germinaro, Gregerson go winless at Olympic Preparation Tournament in Hungary
by Gary Abbott, USA Wrestling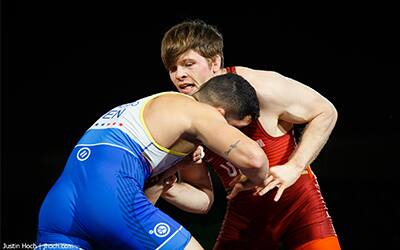 Joe Rau picture by Justin Hoch.
TATA, Hungary – Three U.S. Greco-Roman wrestlers competed on Saturday at the Olympic Preparation Tournament, held at the Tata Olympic Training Center on Saturday. All three lost their bouts and did not reach the medal rounds. The competition was attended by about 150 wrestlers from 18 countries.
Two-time Senior World Team member Joe Rau (Titan Mercury WC/Illinois RTC) lost a pair of matches at 87 kg. In his opening bout, Rau lost a 5-1 decision to 2019 Junior World champion Istvan Takacs of Hungary. Takacs advanced to the finals (and ultimately won the gold medal), pulling Rau back into repechage against 2020 Zagreb Open champion Oskar Johansson of Sweden, who edged Rau, 3-1.
Two-time Senior Nationals runner-up Calvin Germinaro of the Minnesota Storm dropped his only match at 67 kg to 2017 World silver medalist Mateusz Bernatek of Poland, 10-1.
2020 U23 Nationals champion Dylan Gregerson of the Brunson UVRTC was defeated in his opening match by three-time German World Team member Etienne Kinsinger.
Neither Germinaro or Gregerson were pulled back into repechage, as their opponents failed to reach the finals.
A number of other U.S. athletes are in Hungary for training. Many of these wrestlers are planning to also compete at the Matteo Pellicone Ranking Tournament in Rome, Italy in early March.
OLYMPIC PREPARATION TOURNAMENT

At Tata, Hungary, February 13
55 kg –
Gold – Denis-Florin Mihai (Romania)
Silver –Harsem Snorre (Norway)
Bronze – Sargis Gevorgizyan (Austria)
60 kg
Gold – A. Razvan (Romania)
Silver –D. Ersetic (Poland)
Bronze – M. Tracz (Poland)
Bronze – J. Latvala (Finland)
63 kg
Gold – A. Papi (Germany)
Silver –A Ginc (Germany)
Bronze – E. Torba (Hungary)
67 kg
Gold – A Vancza (Hungary)
Silver –M. Nemes (Serbia)
Bronze – I. Bernatek (Poland)
Bronze – S Nad (Serbia)
72 kg
Gold – A. Sleiva (Lithuania)
Silver –M. Peltokangas (Finland)
Bronze – R Fritsch (Hungary)
Bronze – A. Maksimovic (Serbia)
77 kg
Gold – Z, Levai (Hungary)
Silver –P. Eisele (Germany)
Bronze – R. Purlolainen (Finland)
Bronze – A Gutu (Moldova)
82 kg
Gold – L. Szabo (Hungary)
Silver –B. Kourninoi (Sweden)
Bronze – V. Gutu (Moldova)
Bronze – T. Levai (Hungary)
87 kg
Gold – I. Takacz (Hungary)
Silver –Z. Berg (Sweden)
Bronze – A. Stjepanetic (Sweden)
Bronze – O. Johannson (Sweden)
97 kg
Gold – N. Kakhelashvili (Italy)
Silver –A. Szoke (Hungary)
Bronze – F. Baldauf (Norway)
Bronze – E. Kousamanen (Finland)
130 kg
Gold – O. Marvik (Norway)
Silver –C. Alexuc (Romania)
Bronze – A Varga (Hungary)
Bronze – J. Krahmer (Germany)
U.S. entries
60 kg - Dylan Gregerson (Brunson UVRTC)
LOSS Etienne Kinsinger (Germany), score not available
67 kg - Calvin Germinaro (Minnesota Storm)
LOSS Mateusz Bernatek (Poland), tech fall 10-1, 5:17
87 kg - Joe Rau (Titan Mercury WC/Illinois RTC)
LOSS Istvan Takacs (Hungary), 5-1
LOSS Oskar Johansson (Sweden), 3-1