News
USA Wrestling
College
Women
USAW
BREAKING: Midlands Championships announces cancellation of the event Dec. 29-30
by Midlands Championships
The twitter site for the Midlands Championships posted the following information: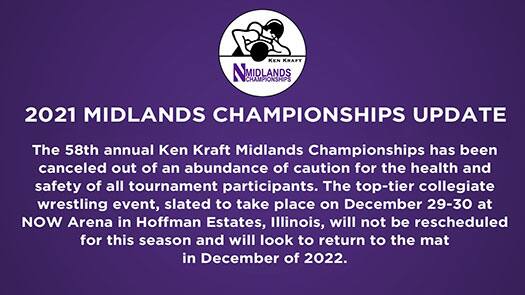 The official press release follows:
HOFFMAN ESTATES, Ill. – The 58th annual Ken Kraft Midlands Championships, slated to take place on December 29-30 at NOW Arena in Hoffman Estates, Illinois, has been canceled out of an abundance of caution for the health and safety of all tournament participants. The top-tier collegiate wrestling event, hosted by Northwestern University, will not be rescheduled for this season and will look to return to the mat in December of 2022.
Tickets will be refunded at the original place of purchase. For any questions, please contact NOW Arena at 847-649-2270 or at BoxOffice@NOWArena.com with any questions.
"The tradition of the Midlands is a major part of the wrestling community, however ensuring the health and safety of all participants, coaches, staff members, and fans is our top priority," said Director of the Midlands Championships Tim Cysewski. "Given the evolution of the most recent COVID-19 variant and a recent surge in cases, we certainly understand the gravity of the situation and our responsibility to limit its spread. While we are disappointed that we do not get to host this year's event, we fully expect the Midlands to be back and better than ever in 2022."
Considered to be the nation's premier non-conference collegiate wrestling tournament, the Midlands feature some of the country's highest-ranked wrestlers and teams each year. This year's tournament was expected to bring in top-ranked wrestlers from 35 schools across the country, along with the introduction of a women's division for the first time ever composed of 150 women's wrestlers. A separate communication regarding tournament fees will be sent out to programs at a later date.