News
USA Wrestling
International
High School & Youth
USAW
Amos wins bronze in Greco, second medal of Junior World Championships
by Taylor Miller, USA Wrestling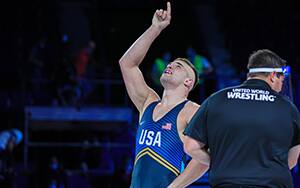 Photo: Photo of Braxton Amos by Kadir Caliskan, United World Wrestling.
UFA, Russia – Braxton Amos closed out the 2021 Junior World Championships with a win for USA Greco-Roman—claiming the bronze medal at 97 kg, his second Junior World medal of the week—on Sunday night in Ufa, Russia.
Days after winning gold in the Junior men's freestyle division, Amos advanced to the semifinals in Greco-Roman action before falling to Aleksei Mileshin from Russia, which put him in the bronze match.
There, he faced Arkyt Orozbekov from Kyrgyzstan, who was fifth at the 2018 Cadet Asian Championships. Amos scored quickly for a takedown and turn for an early 4-0 lead. He added on two step outs before earning a final takedown to end the match with an 8-0 technical fall in just 1:13.
Amos joins an elite group of athletes that have brought two Junior World medals home for the USA in the same year; Gary Albright, who won a silver in men's freestyle and bronze in Greco-Roman in 1983 as well as Adam Coon, who won bronzes in both men's freestyle and Greco-Roman in 2014.
In Greco-Roman, the USA finished in 17th place. Taking the podium in the team race was Russia, Iran and Azerbaijan, respectively.
Across all three styles, the USA won four gold medals, four bronze medals.
2021 JUNIOR WORLD CHAMPIONSHIPS

Aug. 16-22 | Ufa, Russia
U.S. Greco-Roman results
55 kg: Billy Sullivan (Las Vegas, Nev./Legends of Gold Las Vegas) – 15th

LOSS Iskhar KURBAYEV (Kazakhstan), 11-2
60 kg: Nic Bouzakis (Shavertown, Pa./XCalibur Athletics) – EIGHTH

WIN Miguel LOUREIRO DOS SANTOS (Portugal), 11-2

LOSS Arslanbek SALIMOV (Poland), 12-5
63 kg: Chayse La Joie (Gaylord, Mich./Spartan Combat RTC) – 19th

LOSS Iman MOHAMMADI (Iran), 8-0
67 kg: Dominic Damon (Seattle, Wash./NMU RTC) – 24th

LOSS Muslim IMADAEV (Russia), 8-0
72 kg: Justus Scott (Henderson, Nev./Legends of Gold Las Vegas) – 22nd

LOSS Omer DOGAN (Turkey), 9-0
77 kg: Matthew Singleton (College Park, Ga./Woodward Academy) – 22nd

LOSS Andreas VASILAKOPOULOS (Greece), 7-0
82 kg: Jon Fagen (Fruitland, Idaho/Spartan Combat RTC) – eliminated

LOSS Mikhail KHACHATURAU (Belarus), 7-2
87 kg: Kodiak Stephens (Arnold, Calif./Ebbetts Pass WC) – 20th

LOSS Tyrone STERKENBURG (Netherlands), 8-0

LOSS Maksat SAILAU (Kazakhstan), 10-0
97 kg: Braxton Amos (Mineral Well, W.V./Wisconsin RTC) – BRONZE

WIN Yerzat YERLANOV (Kazakhstan), 8-0

WIN Mustafa OLGUN (Turkey), fall 5:58

LOSS Aleksei MILESHIN (Russia), 8-0

WIN Arkyt OROZBEKOV (Kyrgyzstan), 8-0
130 kg: Luke Luffman (Urbana, Ill./Illinois RTC) – 14th

LOSS Razmik KURDYAN (Armenia), 6-1