News
USA Wrestling
International
College
High School & Youth
USAW
O'Toole and Elam win Junior World golds, Team USA finishes third in men's freestyle
by Taylor Miller, USA Wrestling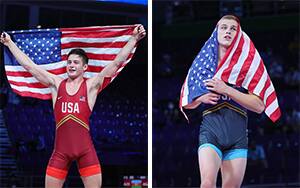 Photos of Keegan O'Toole and Rocky Elam by Kadir Caliskan, United World Wrestling.
UFA, Russia – A pair of Mizzou wrestlers topped the podium on Wednesday night at the 2021 Junior World Championships in Ufa, Russia, ultimately helping Team USA to a third-place team finish in the men's freestyle division.
U.S. Men's Freestyle Development coach Kevin Jackson interview
Picking up the first gold of the night, Keegan O'Toole cruised to the 74 kg Junior World title with a dominant performance against 2019 Cadet World bronze medalist Nurdaulet Kuanyshbay from Kazakhstan. O'Toole took a 5-0 lead into the break with exposure from a scramble as well as a turn from a leg lace and a step out. In the second period, O'Toole added another step out before he and Kuanyshbay got into a long scramble, from which O'Toole was eventually awarded two sets of exposure. The Kazakh corner challenged the call, but it failed, resulting in another point for O'Toole for an 11-0 win and the Junior World gold medal. O'Toole becomes the fifth-straight American to win the Junior World 74 kg title, dating back to Mark Hall in 2016.
At 92 kg, Rocky Elam grinded out a last-second win in the gold-medal match against Iran's Mahdi Hajiloueianmorafah. Elam took a 2-0 lead into the break, drawing a passivity point from his opponent and adding a step out. In the second period, Elam was in deep on a single, but as the two scrambled for position, Hajiloueianmorafah came out on top to take over the lead on criteria, 2-2. With less than 20 seconds left, Elam got in on another single and fought his way to a takedown to steal back the match, 4-2, and become a Junior World champion. It is the second Junior World medal for the Elam family as his brother Zach won silver at 97 kg in 2018.
Competing for bronze at 125 kg, Air Force Academy wrestler Wyatt Hendrickson faced 2021 Junior European champion Andrei Bestaev of Russia. Thanks to a step out and a late takedown, Hendrickson entered the second period with a 3-0 lead. In the bout's final frame, Hendrickson stayed aggressive, but Bestaev's counter offense was on point as he scored four-pointer and later a takedown to take the bronze, 7-3. Hendrickson finished fifth in his Junior World debut.
With three World champions, two bronze medalists and three other top-10 placers, the U.S. took third in the team race with 129 points. Iran earned with the team gold with 178 points and Russia finished second with 142 points.
The tournament continues tomorrow with the second half women's freestyle action, beginning at 11 a.m. local time (2 a.m. U.S. ET). Medal matches begin Wednesday at 6 p.m. local time (9 a.m. ET). Fans can watch live on FloWrestling or follow along on USA Wrestling's twitter @USAWrestling.
2021 JUNIOR WORLD CHAMPIONSHIPS

Aug. 16-22 | Ufa, Russia
U.S. men's freestyle results
57 kg: Richard Figueroa (Sanger, Calif./Sunkist Kids) – 12th

LOSS Ali Gholi Zadegan Koloukhi (Iran), 15-2
61 kg: Jesse Mendez (Crown Point, Ind./Region Wrestling Academy) – EIGHTH

WIN Hamza Zopali (Turkey), 9-6

LOSS Fedor Baltuev (Russia), 10-0
65 kg: Beau Bartlett (State College, Pa./Nittany Lion WC) – BRONZE

WIN Marcell Budai Kovacs (Hungary), 12-1

WIN Davit Margaryan (Armenia), 11-0

LOSS Ziraddin Bayramov (Azerbaijan), 6-2

WIN Mustafo Akhmedov (Tajikistan), 7-4
70 kg: Bryce Andonian (Blacksburg, Va./SERTC) – BRONZE

LOSS Erfran Elahi (Iran), 8-7

WIN Josley Dibo (Republic of Congo), fall 0:59

WIN Asset Bauyrzhanov (Kazakhstan), 9-6
WIN Stanislav Novac (Moldova), 18-8
74 kg: Keegan O'Toole (Hartland, Wisc./Tiger Style WC) – GOLD

WIN Balint Balazs (Hungary), 10-0

WIN Turan Bayramov (Azerbaijan), fall 4:52

WIN Idar Khatanov (Russia), fall 4:55

WIN Nurdaulet Kuanyshbay (Kazakhstan), 10-0
79 kg: Donnell Washington (Portage, Ind./Indiana RTC) – 11th

LOSS Mohammad Nokhodilarimi (Iran), 6-3

LOSS Richard Schroeder (Germany), 7-6
86 kg: Colton Hawks (Wentzville, Mo./Tiger Style WC) – SEVENTH

WIN Ilya Khamtsou (Belarus), 12-1

LOSS Daviti Koguashvili (Georgia), 11-9
92 kg: Rocky Elam (Kansas City, Mo./Tiger WC) – GOLD

WIN Mukhammadrasul Rakhimov (Uzbekistan), 8-3

WIN Pruthviraj Patil (India), 12-2

WIN Ivan Kirillov (Russia), 5-3

WIN Mahdi Hajiloueianmorafah (Iran), 4-2
97 kg: Braxton Amos (Mineral Wells, W.V./Wisconsin RTC) – GOLD

WIN Yunus Gafurov (Kazakhstan), 6-4

WIN Milan Korcsog (Hungary), 10-0

WIN Deepak Deepak (India), 9-1

WIN Polat Polatci (Turkey), 11-4
125 kg: Wyatt Hendrickson (Colorado Springs, Colo./Air Force RTC) – FIFTH

WIN Danila Danilov (Belarus), win by forfeit

WIN Jakub Czerczak (Poland), 10-0

LOSS Ali Akbarpourkhordouni (Iran), 8-5

LOSS Andrei Bestaev (Russia), 7-3