News
USA Wrestling
International
College
High School & Youth
Women
USAW
3rd annual Greg Strobel "Make A Weight" Challenge starts February 8
by Greg Strobel Leadership Academy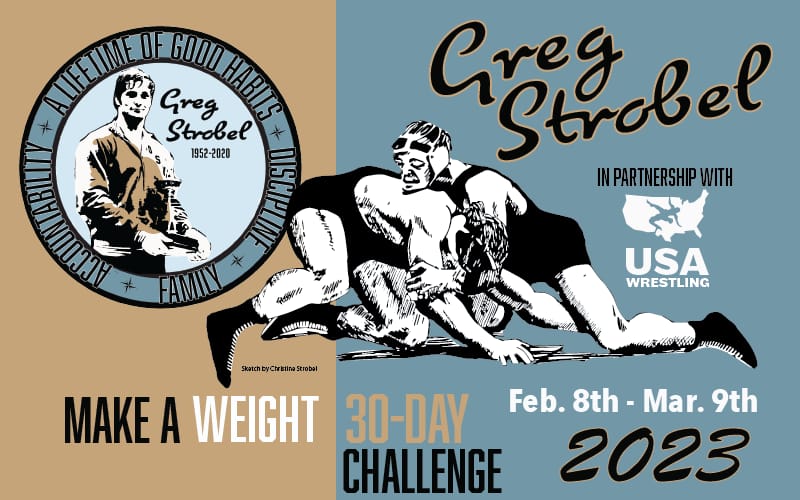 USA Wrestling, in partnership with the Greg Strobel Leadership Academy (GSLA) announces the 3rd Annual Greg Strobel 'Make A Weight' 30-Day Challenge. Plan now to participate in the challenge by signing up and getting pledges.
The 30-Day Challenge will run from Wednesday, February 8 – Thursday, March 9, 2023.

Greg Strobel was an outstanding athlete, coach, mentor and ambassador to the sport of wrestling. The teachings and life lessons he left behind are profound, including the value he placed on creating a "lifetime of good habits".

Every year Greg challenged himself to make his college wrestling weight to demonstrate the importance of discipline, accountability and consistency, while also enriching the lives of others by fostering positive relationships, making connections, and creating a family atmosphere within the wrestling communities he served.

To honor his commitment of creating and teaching others a Lifetime of Good Habits, the Greg Strobel 'Make A Weight' 30-day Challenge has been named in his honor. Funds raised will go directly to the Greg Strobel Leadership Academy, which has been created to continue Greg's legacy of teaching others and unleashing human potential in all areas of life for current and future National Team athletes.

Founded on the core beliefs of one of our sport's greatest athletes and coaches, the Greg Strobel Leadership Academy is a training and development program focused on supporting all members of USA Wrestling with a focus on bridging any gaps for our Senior Level athlete's needs.

How does GSLA support Team USA?
- Athlete Leadership Opportunities & Recognition
- Athlete High Performance Tools
- Support of Senior National Team Athlete Career Transition
- Growth in Female Coaching
- Wrestling Coaches & Officials Well-Being

Looking ahead into 2023, the GSLA will remain focused on curriculum and resource development, partnering with USA Wrestling's Athlete Advisory Council (AAC) to continue the annual leadership award (to be presented at the US Open annually), as well as content development and building functional teams for GSLA.

LEARN MORE ABOUT GSLA

Get involved

Sign-up and get your 'Family' of donors to contribute to the fundraiser! REGISTER TO PARTICIPATE . Additional participation information will be sent to you by email.

The goal is to seek out donors to sponsor your fundraising efforts – either per pound, total pounds lost, or a flat donation.

If you are already at your goal weight, number of workouts per week, duration of workout, or a flat donation. It's up to you!

Choose a goal weight

With a 4 – 8 lb. weight loss goal over 30 days, this challenge is about creating healthy habits through consistency and goal setting. USA Wrestling recommends no more than 1 - 2 pounds weight loss per week.

If you have a very low percentage of body fat, those numbers could be lower. If you ever have doubts on how much weight you can safely lose in 30 days, we recommend consulting your physician to determine a safe weight loss plan.

As quoted by one of Coach Strobel's former wrestlers, "If you're as tough as Coach, you will make the weight you competed at in college (if you wrestled). Coach Strobel would make his college weight class every year on his birthday. It was his way of ensuring he was disciplined and as tough as the day he won his NCAA title, as well as showing the athletes he coached that he practiced what he preached."

Create a workout plan that fits your lifestyle

For the duration of the challenge, the goal is to work out a minimum of 3 – 6 times per week. You pick the duration and type of workout that best suits your lifestyle and goals.

"Coach always told us we needed to continue working out when we finished our wrestling careers and suggested that we work out 6 days a week for our lifetime." As athletes he would say that "we were practicing to win matches, but also working to create a lifetime of good habits."

Hold yourself accountable

Post on social media using #StrobelStrong or on our social media platforms with updates, success stories, healthy eating tips, daily workout routines or anything you believe ties to the spirit of the challenge. Be creative!

Twitter: @StrobelLegacy
Facebook: https://www.facebook.com/groups/246251190234994
Instagram: @strobel_legacy_project

Donate today

Funds raised for this program directly supports and other program expenses. the continued development of and execution of the program, of curriculum, a guest lecture series, and other program expenses.

If you are making a one-time donation you can donate at any time during the challenge – simply submit your donation via USA Wrestling's donation page. MAKE A ONE TIME DONATION TO GSLA. Alternatively, you can send contributions to USA Wrestling to the following address: Greg Strobel Leadership Academy, USA Wrestling, 6155 Lehman Drive, Colorado Springs, CO 80918. For questions, contact Stephanie Jezwinski at sjezwinski@usawrestling.com.