News
USA Wrestling
International
College
USAW
21st Maccabiah Games Wrestling Trials scheduled for October 17 in Philadelphia area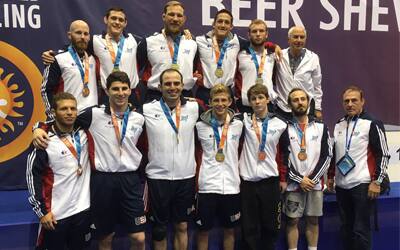 The members of the 2017 U.S. Maccabiah Games wrestling team pose together after the freestyle competition. Photo courtesy of Maccabi USA wrestling team.
Maccabi USA, the sponsor for American participation in the World Maccabiah Games is proud to announce that the trials for the 21st World Maccabiah Games wrestling team are scheduled for Sunday, October 17, 2021 in the Philadelphia area. A specific location for the event will be determined shortly.
The 21st World Maccabiah Games will be held in Israel in July, 2022, bringing together Jewish athletes from around the globe to compete in the world's third largest multi-sport event.
The USA wrestling team will be led by Head Coach Nate Engel, an assistant coach at Oregon State University and aided by Assistant Coach Rob Prebish, assistant coach at St. Christopher's School in Richmond, VA.
Engel, a four-time World Maccabiah Games medalist, earning double gold in 2013 and bronze medals in both styles in 2017 was recently named USA Wrestling Greco Roman Coach of the Year. Prebish, a double gold medalist in the 13th Maccabiah Games was the assistant coach for the 2017 World Maccabiah Games wrestling team that earned a total of 19 medals,including 7 gold.
Jewish wrestlers born in 2003 or earlier are encouraged to sign up to compete in the Maccabiah Trials in October by completing the athlete application on the
Maccabi USA website
. Cost for the Open athlete application is $50.
The overall commissioner for the Maccabiah Games wrestling program is former New Jersey standout wrestler, Todd Volyn, and is chaired by two-time World Maccabiah Games medalist and NCAA qualifier David Groverman of Philadelphia, PA.
Standout wrestlers on the 2017 Maccabiah Games wrestling team include All-Americans Zach Sherman (University of North Carolina), and Mitchell Finesilver (Duke) and NCAA qualifiers Mosha Schwartz (Northern Colorado), Parker Kropman (Drexel), Matt Finesilver (Duke), Gordon Wolfe (Lehigh), Donald McNeil (Rider), and Michael Kosoy (North Carolina State).
For more information, please contact Head Wrestling Coach Nate Engel at wrestler1111265@gmail.com or Assistant Coach Rob Prebish at: Robinson_Prebish@ccpsnet.net.
Once the final information about the tournament location has been determined, it will be made available.
The team will travel to Israel in July, 2021, spending the first week exploring Israel with the Israel Connect program, before making final preparations for the Greco Roman and freestyle tournaments.