News
USA Wrestling
College
Women
USAW
Northwest Tech, a community college in Kansas, launches women's wrestling program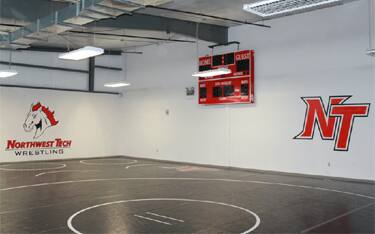 Wrestling room image courtesy of Northwest Tech website
Northwest Tech is pleased to announce the launch of collegiate Women's Wrestling at the college, with competition beginning in the Fall of 2021. The move comes following a decision at the March board meeting as the college works to strengthen enrollment and increase female student-athletes on campus.
"We have discussed adding the program for a few years, but with the recent decision by the NJCAA to recognize women's wrestling as an emerging sport the timing was right to make the move," said Athletic Director Rory Kling.
Editor's Note: The school is officially Northwest Kansas Technical College.
Northwest Tech is no stranger to women's wrestling, as it was a club sport during the 2012/2013 and 2013/2014 academic years.
"We are excited to bring the program back and provide an additional opportunity for student-athletes to earn a degree in a high-demand and high-wage field of study," said Kling.
Women's wrestling is on the rise all across the country. According to the National Wrestling Coaches Association website, the number of women wrestling at the high school level has grown from 804 athletes in 1994 to well over 21,124 by 2019 – and that was as of two years ago. Even while participation has increased, opportunities for female wrestlers in Kansas to compete at the collegiate level in-state are few and far between. According to the Kansas Wrestling Coaches Association website, there are only five private NAIA colleges and universities in Kansas with women's wrestling.
"High school programs have grown rapidly in Kansas and all around the Midwest," said Northwest Tech President Ben Schears. "This is an opportunity for us to be among the first in the state to meet the growing demand and provide an equal opportunity to compete."
The creation of the women's program will be a great addition to a highly successful NJCAA Men's Wrestling program at Northwest Tech. The men's program is currently ranked 9th in the nation and has already produced three national champions, eleven All-Americans, and has several nationally-ranked wrestlers heading to the national competition in late April.
"We want to see the same success, talent, and skill with our women's program as we have with our men's program," said Wrestling Head Coach Chris Guillot. "Our goal is to develop high-quality student-athletes in the classroom and on the mat."
Both the men's and women's programs will be under the guidance of Head Coach Chris Guillot and Assistant Coaches Lelund Weatherspoon, Ramico Blackmon, and Ben Kritsonis. "Our coaching staff are the right people at the right time to get this off the ground," said Schears. "They have the vision, skills, and mindset to get the program started on the right foot."
For more information about the new wrestling program, contact Wrestling Coach Chris Guillot at chris.guillot@nwktc.edu or by phone at 785.890.1545.
Northwest Tech Women's Wrestling website